Canexus Corporation (OTCPK:CXUSF) is a mid-sized chemical manufacturer transforming itself into an interesting play on the increasing need for Alberta crude oil producers to ship their growing production via railway in the face of lagging pipeline capacity.
I put a buy out on Canexus exactly three months ago, in anticipation of the formal NATO plan and corporate operating guidance for 2013, which were announced yesterday.
The Corporation expects $155 to $165 million in 2013 cash operating profit up from a $135 to $140 million range for 2012, with distributable cash in 2013 of $100 to $110 million, and a payout ratio of 65-75%.
Canexus had closed at $8.22 CAD on September 20 and had a few bumps in the road since then, namely, a slightly less than robust Q3 released on November 6, and then an issuance of 9.5 million new shares at $7.90 on November 29 (10.925 million with the greenshoe exercised).
But at 12:45 today the shares are trading at $8.53 up 4.4% on 678,000 volume. CIBC World Markets upgraded their price target for the stock to $10 from $9, and I expect TD Securities to initiate coverage with a similar target within the next few days.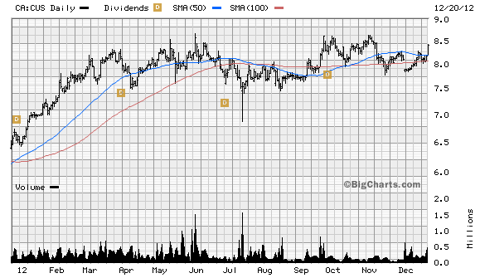 Three and a half years ago, Canexus shut its 70,000 tpy Bruderheim, Alberta sodium chlorate plant, but was already planning ahead with what to do with the 480 acre site, just outside of the provincial capital Edmonton and strategically located on both of the two Canadian Class I railways.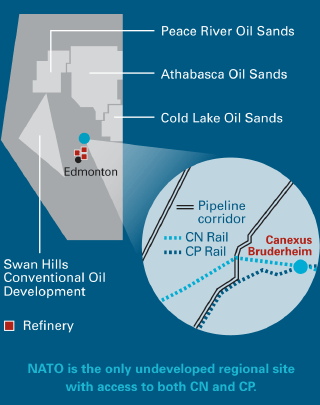 The plan to develop Canexus' North American Terminal Operations called NATO, at Bruderheim, has slowly gained form and speed, with a formal plan to connect NATO to MEG Energy's (OTCPK:MEGEF) planned and nearby Stonefell terminal via pipelines.
This would allow MEG to ship dilbit south (a mixture of bitumen and condensate diluent) production from its Christina Lake play to NATO through MEG's 50% owned Access Pipelines and diluent in the opposite direction.
On December 10, MEG Energy announced a $1.9 billion capital spending plan including $100 million for the Stonefell Terminal and $700 million to bring Christina Lake up to 32,000 to 35,000 barrels per day bitumen.
MEG raised $800 million in a bought deal and private share placement the same day, so these plans will come to fruition, including the pipeline to NATO from Stonefell. MEG has another terminal (Sturgeon) that is connected to the Enbridge (NYSE:ENB) pipeline system, so rail is not the primary transportation solution being selected here, due to its higher direct cost.
'However, dependence on pipelines is indirectly and increasingly more expensive for bitumen and heavy oil producers, as a glut of Canadian product threatens the pricing available through traditional and increasingly constrained systems offered by Enbridge and TransCanada (NYSE:TRP).
In my view, the need for rail optionality for Alberta oil sands producers can only grow, as production outstrips pipeline capacity due to delays in approval and the dwindling likelihood major pipelines through environmentally sensitive areas will be tolerated, and whether pipelines will be built at all.
A key advantage of rail is that it allows precise marketing by shipping point to point to a greater variety of refineries and ports, thereby reducing oil producers' vulnerability to oversupply and poor differential pricing (discounts) at major terminals such as at Cushing, Oklahoma.
The current phase of Canexus' NATO terminal expansion, which was originally announced December 7, will include the two 10 km pipelines for bitumen blend and condensate from Stonefell, with capacity of 150,000 bbls/day each.
Two

120,000 barrel bitumen storage tanks.

Rail

loading facilities capable of loading 72,000 barrels in 16 hours.

More

than 5 km of loop track which will allow Canexus to manage two unit trains at the terminal simultaneously.
An additional 6.3 km of rail spur for the logistics of moving the trains efficiently. They expect 118 car unit trains carrying 70,000 bbls each and be able to store 600 railcars for hydrocarbon service on site.
There is also the potential second pipeline connection for both bitumen blend and condensate.
Until the pipelines are built, NATO offers truck to rail transloading, and Canexus expects oil throughput to increase from 8,000 bbls/day in 2012 to 30,000 bbls/day in 2013.
It should be noted that NATO will also be used to transload hydrochloric acid from Canexus' North Vancouver, B.C. chlor-alkali plant to fracking drill fluid users in Alberta, thereby reducing the company's reliance on very volatile commodity export markets for both HCl and chlorine. NATO already handles 12 types of liquids and does custom blending.
In a September 18 presentation, CEO Gary Kubera said he expected incremental cash flow from this new fee for service business to increase from $3-5 million estimated for 2012 to $20 million in 2013.
The cost of the NATO expansion phase is budgeted at $125 million with $25 to $35 million already pre-spent for long lead items and the rest of the funding from the share issue ($86.5 million gross proceeds) and presumably, internal cash flow exclusive of the approximate $72 million annual dividend requirement.
Icing on the cake for NATO goes back to its sodium chlorate roots, a chemical that is produced by the electrolysis of salt. The Bruderheim site sits on two 900,000 barrel salt caverns which have been tested for pressure integrity and eventually could be used as an oil storage facility down the road.
Canexus goes "ex" its 13.68 cent quarterly dividend on December 27 and yields 6.42% at current prices.
Our target for the stock was $9.17 CAD in September, and we are loathe to increase this target because Canexus carries a fairly high debt load with debt/EBITDA of 2.4X in Q3.
We are going to update that target as markets and prices for Canexus' traditional sodium chlorate, caustic soda and chlorine products unfold.
There is always the possibility that one of the Canadian rail companies decides the NATO transload business is attractive enough to buy out from Canexus, or make an offer for the whole company and sell off the chemical divisions to competitors such as Akzo Nobel, (OTCQX:AKZOF), Superior Plus (OTCPK:SUUIF) or even Fibria (NYSE:FBR), the latter being Canexus' main customer at their Espirito Santo plant in Brazil.
Canexus expects modest single digit improvement in prices and volumes for 2013, but a recession in the U.S. could obviously reduce demand for its chemicals which are economically sensitive and primarily dependent on pulp production and water treatment. In particular, chlorine volumes and prices have been depressed due to the lack of demand for vinyl chloride plastics in China.
Disclosure: I am long OTCPK:CXUSF. I wrote this article myself, and it expresses my own opinions. I am not receiving compensation for it (other than from Seeking Alpha). I have no business relationship with any company whose stock is mentioned in this article.