Hawaiian Airlines, owned by Hawaiian Holdings, Inc. (NASDAQ:HA), was started as Inter-Island Airways in 1929 as a subsidiary of the Inter-Island Steam Navigation Company. The company has undergone three major periods of change in its history. The company's founding along with the changes it has undergone have largely been the result of changing transportation technologies.
The first change started in the 1960s when jet service first arrived to the inter-island market. This cut travel time between the islands less than 30 minutes allowing residents and visitors easy travel between islands.
Second, the airline expanded outside of Hawaii starting with DC-8 service to the South Pacific in 1984 and later L-1011 service to the west coast. As aircraft aged the company modernized the fleet, first switching from L-1011's to DC-10's acquired from American Airlines (AAMRQ.PK), and then in the 2000s, replacing the DC-10s with leased 767s. At the same time Hawaiian replaced its DC-9 inter-island fleet with similar 717s.
The third period of change is the one Hawaiian is going through now, adding Airbus A330-200s to its fleet as the 767s exit the fleet. These A330s, which Hawaiian will have almost 30 of by the end of decade, make flights from the US East Coast economically feasible. They also increase Hawaiian's capacity throughout the Pacific and have been instrumental to the airline's international expansion. Starting in 2017 the company will add the Airbus A350-800 to its fleet. While the -800 has been less popular than the A350-900, Hawaiian has stuck by its commitment to the A350-800. This plane will have a longer range and lower operating costs than the A330s making ultra-long haul flights possible for Hawaiian. This will allow Hawaiian to connect Honolulu with almost any city in the world including the possibility of direct service to Europe. Hawaiian has also added two ATR 42 aircraft to its fleet they will operate under a different brand expanding inter-island service to new destinations. This should only further improve Hawaiian's dominating inter-island position where it currently has about 85% market share.
While I believe Hawaiian has differentiated itself somewhat it does face strong competition on some of its routes. The US West Coast to Hawaii routes face the strongest competition. This comes from large US carriers United (NYSE:UAL), Delta (NYSE:DAL), US Airways (LCC), Alaska (NYSE:ALK) and American as they fly from their hubs and focus cities to Hawaii. They largely use a point-to-point network from Los Angles, San Francisco, Portland, Seattle, Anchorage and Phoenix connecting each of those cities to each Island with mostly narrow body 73's and 757s aircraft. Hawaiian's advantage in this market is better service on larger wide body aircraft with lower per seat operating costs when flights are near full. The other airlines compete by offering more nonstop flights to each of the islands without having to travel through Honolulu. I believe the ETOPS 737 and 757 planes have made the point-to-point service from the US West Coast possible and has driven Hawaiian to move into the long haul international market. This moves Hawaiian away from completion from Alaska Air and Allegiant (NASDAQ:ALGT) which have aircraft that cannot cover the distance to Asia and the South Pacific. Furthermore they face limited competition from most other large domestic carriers on these routes has they do not have large enough operations in Honolulu to support a large international route network from that location.
I believe changes in technology have had a larger impact on the airline business than any other factor, and I believe this continues to be true today. I believe A330 and 777 aircraft have made point-to-point service between secondary international cities economically feasible. Later A350s and 787s will further reduce operating costs on these routes. While Honolulu would not work well a connection from the US mainland to Asia it could and does service as a hub between the US and Australia, New Zealand and the South Pacific. Hawaiian is also in a position to expand on service to Hawaii from around the Pacific Rim and the world.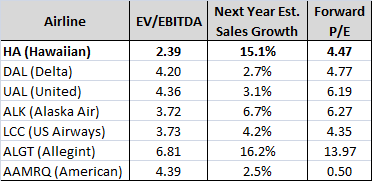 The table above shows Hawaiian's valuation compared to other domestic airlines. Hawaiian stands out having the lowest EV/EBITDA ratio, the second fastest sales growth rate and a below average forward P/E ratios. Analysts see a fair amount of upside in the stock, with a price target range from $8 to $12 per share, and a mean price target of $10 per share. I believe there is more upside, given Hawaiian's expanding route network and the possibility of multiple expansion as the airline becomes more successful. An EV/EBITDA multiple of 4, below the average of these other airlines, would put the stock price over $14 per share.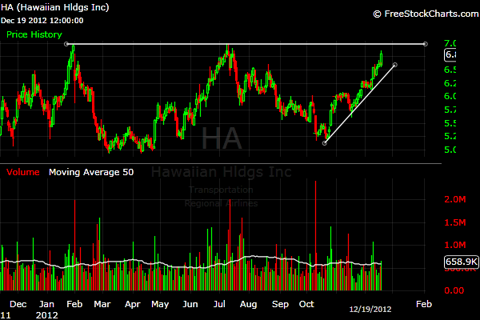 The chart of Hawaiian Holdings however presents a potentially different story then the fundamentals are pointing too. The stock has benefited from a strong uptrend that started back in October and while the trend remains in place for now the stock is approaching significant resistance the at $7 per share level. Trading on Wednesday 12/19 along with the trend in volume is indicating that this might not be the time Hawaiian breaks above $7 per share level. Should this be the case and volume remains light at these levels and the stock pulls back from $7 per share sharply I would avoid the stock until it comes down to at least $5.50. In the unlikely event that it breaks $7 per share on strong volume I would be a buyer as it could signal another leg higher for this stock. I believe timing is important with this somewhat volatile stock and that your next move with Hawaiian could be decided in a matter of days.
Data sourced from: Company filings, and Yahoo!Finance. Chart from: Freestockcharts.com
Disclosure: I have no positions in any stocks mentioned, and no plans to initiate any positions within the next 72 hours. I wrote this article myself, and it expresses my own opinions. I am not receiving compensation for it (other than from Seeking Alpha). I have no business relationship with any company whose stock is mentioned in this article.