Commodity Chart Of The Day
Daily Silver
(click image to enlarge)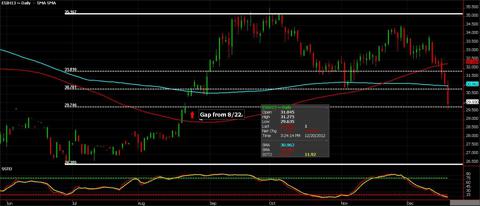 Silver happens to be one of my favorite commodities to trade, but it is not for the faint of heart. Very early in my career, a very successful commodity trader told me silver takes the escalator up and the elevator down. Translation: when silver cracks, it can be a big move in a hurry, as displayed by the last week's action. In the last six sessions, silver has been down every day, dropping roughly 11%. In dollar terms, this represents almost $19,000 per future contracts. With moves like this, fortunes can be made and lost, so make sure you know what you are doing or dealing with a professional if swimming in these waters.
My objective has been reached, as I've been saying at a trade under $30, bearish trades should be taken off and with a 61.8% Fibonacci retracement completed today, that is good enough for me and my clients. If you notice, I point out that we filled the gap from 8/22 mentioned in previous posts. My stance now is aggressive -- traders can reverse and start scaling into bullish trade. At current levels, I suggest buying one-third of the ultimate position you want to own. Lightly start scaling into futures or call options on the upside. I will be suggesting various strategies depending on clients' account size and risk tolerance. Use the Fibonacci numbers on the upside on the chart above as your target. At a minimum into early 2013, I think we can trade back near $32/ounce. The chart above is March, and for options, I suggest May or even July contracts, depending on the strategy.
Risk Disclaimer: The opinions contained herein are for general information only and not tailored to any specific investor's needs or investment goals. Any opinions expressed in this article are as of the date indicated. Trading futures, options, and Forex involves substantial risk of loss and is not suitable for all investors. Past performance is not necessarily indicative of future results.
Disclosure: I have no positions in any stocks mentioned, and no plans to initiate any positions within the next 72 hours. I wrote this article myself, and it expresses my own opinions. I am not receiving compensation for it. I have no business relationship with any company whose stock is mentioned in this article.