Since my previous mention of Western Refining Inc (NYSE:WNR) in a piece entitled 3 Reasons To Consider Going Long Western Refining, published August 6, 2012, shares are up more than 12%.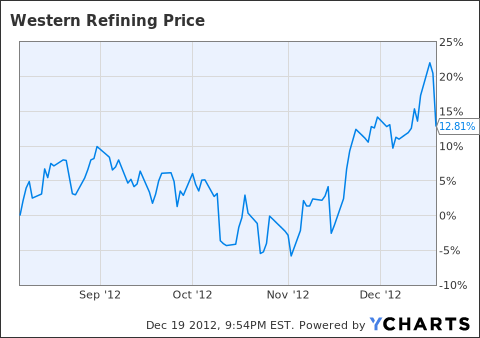 WNR data by YCharts
Special Dividends
Over the past two months, WNR has declared two special dividends. The first, a $1 payout to shareholders of record on November 19 and the second, a $1.50 payout to shareholders of record December 21. In total, after December 28, the payout date for the most recently announced dividend, WNR will have paid out $2.50 in the past two months. This means that the real return for shareholders in WNR since August 6 should be increased by about 8% as the dividend represents an additional 8% return. There is, of course, an upside and downside to these special dividend announcement. In terms of upside, the special dividends are good for shareholders as the income will be taxed at 2012 rates not 2013 rates, which are widely expected to increase. In terms of downside, WNR shareholders will likely not see any more significant payouts anytime soon as the company will have spent a good deal of its available funds. In short, the special dividend means that this bullish catalyst has already played out.
Brent/WTI Spread
The spread between Brent oil and WTI oil continues to widen. As shown by the chart below, the spread has widened an additional 27% since August 6. In my previous piece, I discussed the reasons why the widening of the Brent/WTI spread was bullish for WNR and other refiners such as Tesoro (TSO) and Valero (NYSE:VLO). The current spread remains bullish for WNR.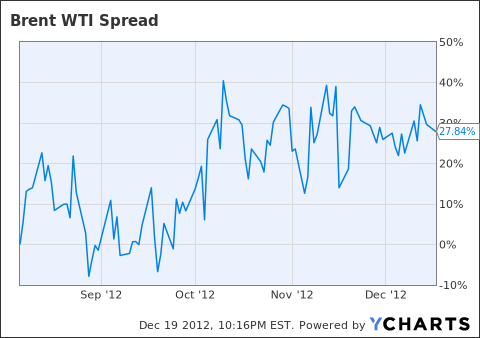 Brent WTI Spread data by YCharts
Momentum
In addition to the Brent/WTI spread, another reason why I was bullish on WNR was momentum. At the time of my previous article, WNR was just breaking out of a multi month trading range. Now, WNR is in a well defined uptrend which I expect to continue. Over the past two trading sessions, as shown by the chart below, WNR shares have pulled back significantly from 52 week highs. However, this pullback looks to be healthy as the stock continues to make higher highs and higher lows. The recent decline in WNR presents investors with an opportunity to buy.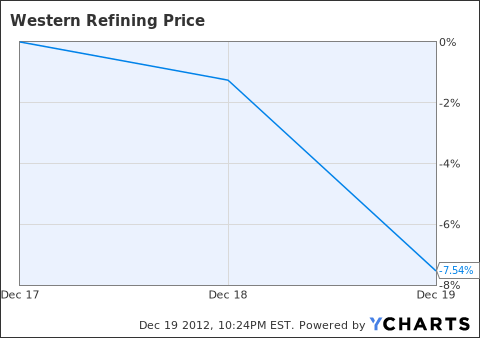 WNR data by YCharts
Short Interest
At the time of my previous piece, short interest in WNR stood at more than 14 million shares or 25% of the float. Now, short interest stands at 11.23 million shares or 19.5% of the float. Clearly, some of the rally over the past few months has been due to short covering. While the short interest has declined, 19.5% is still a very large number. I expect shorts to continue covering their positions and thus pushing prices higher.
Conclusion
Given the continued widening of the Brent/WTI spread, bullish trend for WNR shares,\ and continued high short interest, I expect WNR to continue moving higher. My outlook for the stock would become less bullish if either the Brent/WTI spread tightens or short interest declines to a level no longer capable of causing a short squeeze.
Disclosure: I have no positions in any stocks mentioned, but may initiate a long position in WNR over the next 72 hours. I wrote this article myself, and it expresses my own opinions. I am not receiving compensation for it (other than from Seeking Alpha). I have no business relationship with any company whose stock is mentioned in this article.