We have been following Oracle Corporation (NYSE:ORCL) off and on for the last 13 years and we have seen its shares transition from a go-go growth-oriented tech company into a more-value-oriented business-enterprise software company. We remembered Oracle's old tagline about how "software powers the Internet." We can see by Oracle's performance that software powers Oracle's top and bottom lines, even after taking into account its 2010 blockbuster acquisition of Sun Microsystems. Oracle gets 73% of its revenues from its software solutions, 12% from services and 15% from its hardware systems products and supporting activities. Oracle has seen double-digit growth in its software solutions revenues over the last two and a half years from organic growth and timely acquisitions and this has served to offset weakness in its hardware product line.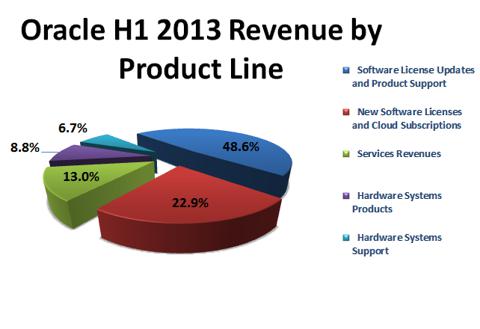 Source: Oracle's Q2 2013 Earnings Report
Oracle Hardware
We were surprised that Oracle's CEO Larry Ellison said that Sun Microsystems was one of the most strategic and profitable acquisitions Oracle ever made. Based on the sales figures and gross margins of Oracle's hardware business, we have to disagree with Ellison's evaluation of the Sun Microsystems deal. But we think that Oracle's former Vice President of North American Sales and Consulting Keith Block said it best when he said "We bought a dog. Mark wants us to sell the dog. ... Nobody wants to sell Sun. ... nobody talks about Sun. ... not even the Sun customers. It's dead, dead, dead. Pig with lipstick. ... at best." We think Mr. Block's refreshingly candid evaluation of Sun probably explains why Oracle's Hardware system product revenues declined by 23% on a reported and constant currency basis for Q2 2013 and by 24% on a reported basis (22% constant currency) for H1 2013.
Although Oracle's hardware system support revenues declined less than its product revenues during the period, it still declined by 6% in Q2 2013 and by 9% in H1 2013. Although Oracle's hardware related operating expenses declined at a similar rate in relation to its revenue declines, it was not enough to prevent a double-digit decline in its hardware related operating income for Q2 2013 (14%) and H1 2013 (17%). This followed up the poor performance in FY 2012 for the hardware product suite in which its revenues declined by 9.25% and its operating income declined by 19%. Fortunately for Oracle, its hardware revenue proportion has been declining ever since it purchased Sun in FY 2011 and its strong software performance has offset the soft performance of its hardware segment.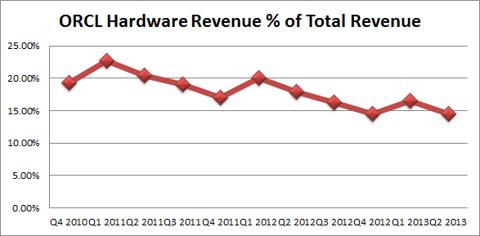 Source: Oracle's Last 11 Quarterly Reports
Oracle Services
Oracle Services has seen mixed results. Oracle Services' revenues received a boost in FY 2010 and FY 2011 from the inclusion of service related revenues attributed to the Sun Microsystems acquisition. Oracle Services' revenues increased by 1% in FY 2012 on a reported basis and a constant currency basis due to increased consulting and managed cloud services revenues including incremental contributions from its recently acquired companies, which were partially offset by decreases in its education services revenues. The incremental revenue increase coupled with declines in its service related expenses was enough to generate a 20% increase in operating income and a 3% increase in its operating margin. Oracle Services has seen headwinds to its performance in H1 2013, as its revenues have declined by 2% on a constant currency basis while its operating expenses have increased by 1% on a constant currency basis.
Oracle Software
Oracle Software generates the lion's share of Oracle Corporation's revenue and profits. Oracle Software enjoyed 10% constant currency revenue growth in H1 2013 due to a 14% increase in new software licenses and cloud software support. Cloud related revenue for Q2 2013 was $230M, up 3.5% from $222M in Q1 2013. On a geographic basis for Q2 2013, Oracle Software's revenue increased by 22% in the Americas, APAC was up 13% and EMEA was up 12%. Oracle Software enjoyed an 8% increase in constant currency revenues for Q1 2013 and topped it in Q2 2013 with 11%. Oracle Software's reported results benefited from easy currency comparisons on a year-over-year basis which resulted in currency only affecting Q2 2013 revenue by 1%, versus 5% for Q1 2013. According to Oracle's President Mark Hurd, Oracle's Health Sciences cloud offering has seen strong growth. According to our channel checks, BioPharm Systems Inc recently performed a webinar on an Oracle Health Science application and it generated over 350 registrants so we can see that there is much interest in Oracle's offerings that are tailored to industry needs and practices.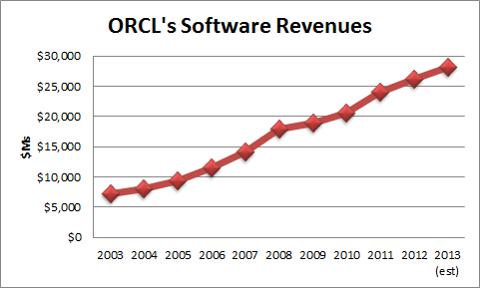 Source: Morningstar Direct and Our Estimates
Corporate Cash Management
Oracle announced that it was accelerating the payment of its quarterly dividend payments for FY 2013 into December. Instead of investors receiving $.06/share in January, April and July, investors will receive $.18/share in December in order to avoid facing potentially higher dividend tax rates. We're amused by this action by Oracle's management considering that Larry Ellison is a staunch Democrat and he attended that dinner with Obama and the other tech titans. Anyway, we're not going to call shenanigans on Oracle's dividend decision because that would be worth a separate report by itself. Plus it might distract investors from Oracle's gargantuan free cash flows for H1 2013 of $5.45B, which was slightly below the $5.7B achieved in H1 2012. We're not worried because we believe that this decline is only temporary and due to timing differences for working capital expenditures. Oracle repurchased $5.2B in shares during the first half of the year and has $33.7B in cash and marketable securities (mostly domiciled outside the US) versus $19.75B in outstanding debt.
Source: Morningstar Direct
Conclusion
In conclusion, we like Oracle. We like that it has been able to generate strong EPS through incremental organic growth, share repurchases, acquiring smaller up-and-coming tech firms and creating synergies between the companies. We can see why Oracle's share price has increased by 19% over the last year. While we are not expecting the company's multiple to expand much over the next twelve months, we believe that Oracle is a great company to buy on the dips and we expect its share price to at least track its expected long-term EPS growth of 10%. Although Oracle made a mistake with regards to buying Sun Microsystems, we believe that Oracle's acquisition strategy will enable it to supplement its incremental organic growth from its software offerings and serve as an additional engine of growth.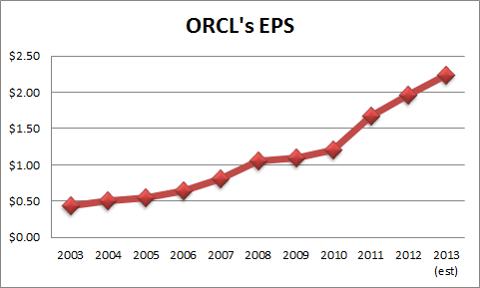 Source: Morningstar Direct and Our Estimates
Disclosure: I have no positions in any stocks mentioned, and no plans to initiate any positions within the next 72 hours. I wrote this article myself, and it expresses my own opinions. I am not receiving compensation for it (other than from Seeking Alpha). I have no business relationship with any company whose stock is mentioned in this article.
Additional disclosure: Additional disclosure: This article was written by an analyst at Saibus Research. Saibus Research has not received compensation directly or indirectly for expressing the recommendation in this article. We have no business relationship with any company whose stock is mentioned in this article. Under no circumstances must this report be considered an offer to buy, sell, subscribe for or trade securities or other instruments.