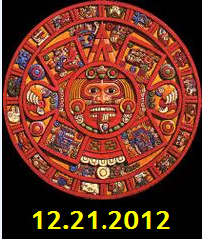 Well, that's what we're told anyway. Tomorrow is the Mayan doomsday prophecy, and/or perhaps a fiscal cliff deal. I believe Obama was slated to leave for a Hawaiian holiday, but that may be postponed.
The Executive branch and the Senate and House of Representatives each has a role to play in the budget process. The Congress is divided. Compromise is the only solution as in, "I'll give you X and you give me Y." This is the way it should go, but the House and WH are wide apart, with only some give around the edges. House Speaker John Boehner, through a bill, is publicly putting his side's agenda to a vote. So that's a marker from which to negotiate theoretically. And, yes, the Senate will not take up the bill if passed so as not to legitimize it.
Perhaps by the time you read this, the world will have ended, making this analysis moot.
Jobless Claims rose (361K vs. 359K expected, and prior revised higher to 344K). The previous lower report may have been an outlier. The average for 2012 is demonstrated below, and this report remains near the average.
(click image to enlarge)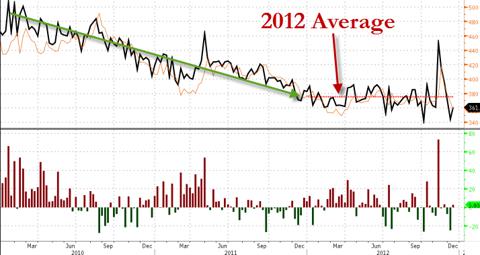 GDP final Q3 data was at 3.1%, which was greater than prior estimate of 2.7%. Under the hood, nearly half the annualized growth was from government (.75%) and inventories (.73%). Personal Consumption rose 1.12%, but below previous estimates of 1.42%. Q4 estimates are averaging only 1%. Below is a graph from the BEA:
(click image to enlarge)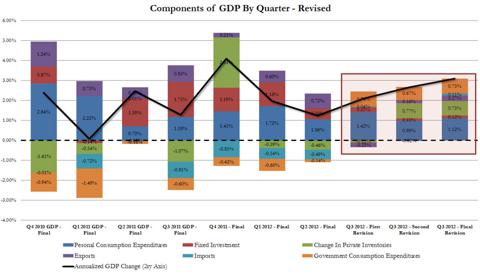 Philly Fed Survey rose (8.1 vs. -2 expected, and prior -10.7), while Existing Home Sales rose 5.9% (5.04M vs. 4.94 expected, and prior 4.76M). Both were excellent reports, with the latter in complete contrast to Monday's Empire State Index (-8.1). So we're left to scratch our heads.
Stocks were flat earlier, and then rose once Speaker Boehner said he'd still be negotiating with the President once his bill has passed. This caused stocks to rally modestly. But then leader Harry Reid adjourned the Senate with the intention of reconvening December 27th for another round of the mini-series. Basically, Reid & Co. are just the closing act anyway, but there won't be a deal before Christmas, it seems.
The bigger news is the ongoing sell-off in precious metals. Some are finding explanations difficult, but it seems it involves two basic issues: hedge fund redemptions and sector rotation. With the former heavy selling, it feeds on itself, triggering stops and more selling. We won't know the seriousness of it until January, frankly. Gold (NYSEARCA:GLD) and silver (NYSEARCA:SLV) are leading metals lower. In sympathy, copper (NYSEARCA:JJC) has also been driven lower. Frankly, with the dollar (NYSEARCA:UUP) falling and central banks in full money printing mode, commodities and precious metals should be soaring.
Financials (NYSEARCA:XLF), (NYSEARCA:KBE) and real estate REITS (NYSEARCA:IYR), (NYSEARCA:RWX) led the way higher. Bonds (NYSEARCA:IEF) were stronger, while commodities (NYSEARCA:DBC) were weaker. Naturally, financials were helped by the ICE takeover of the venerable NYSE. The buyer liked the brand and possibly their HFT center, which accounts for most of the volume these days.
Volume was modest while breadth per the WSJ was positive.
(click image to enlarge)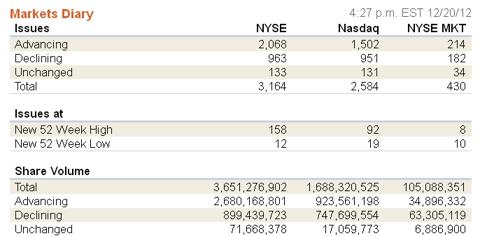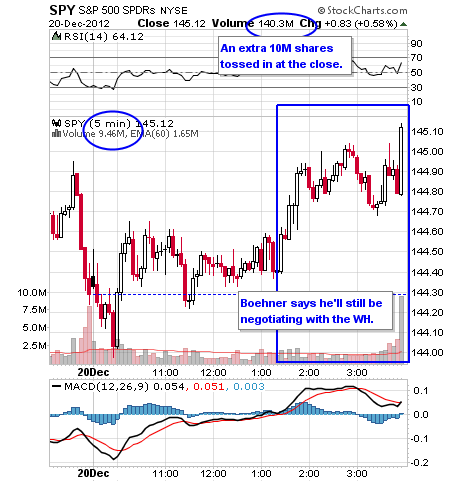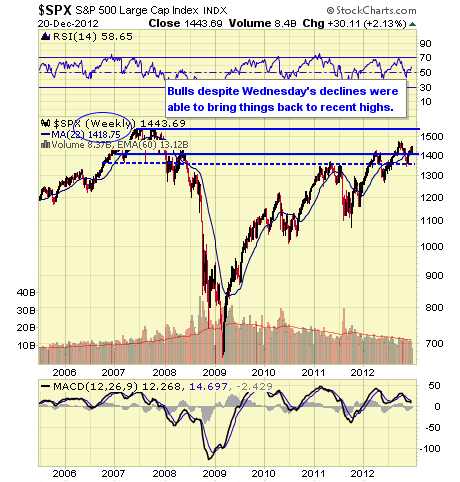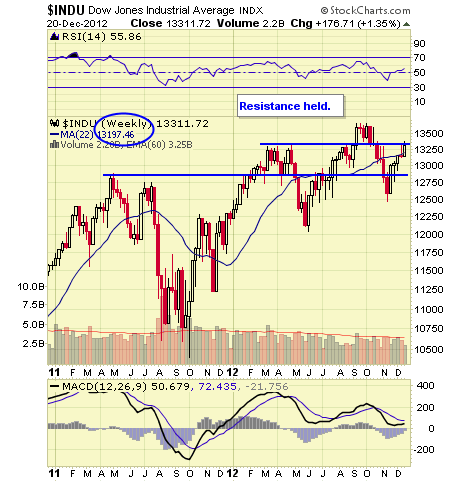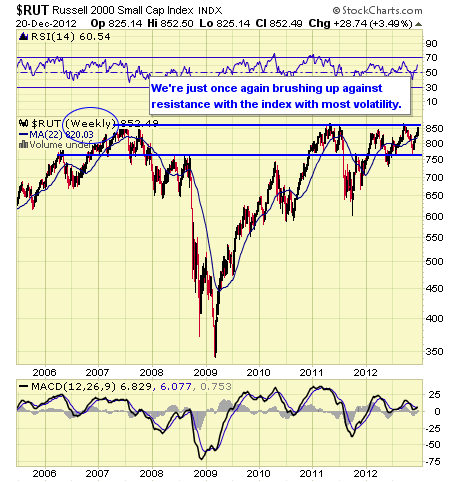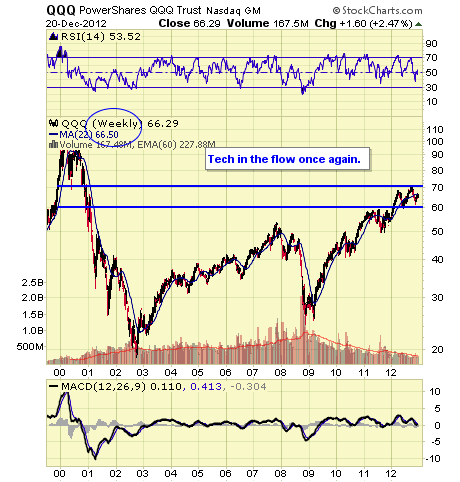 Continue to U.S. Sector, Stocks & Bond ETFs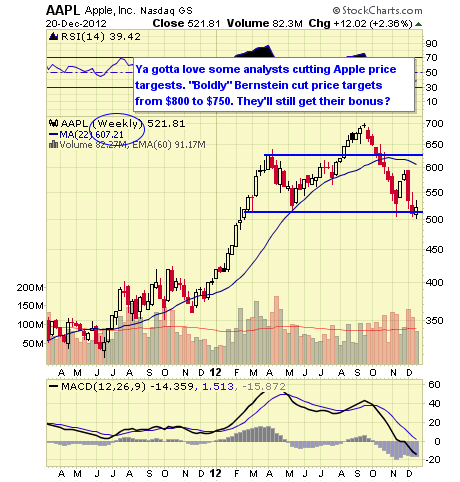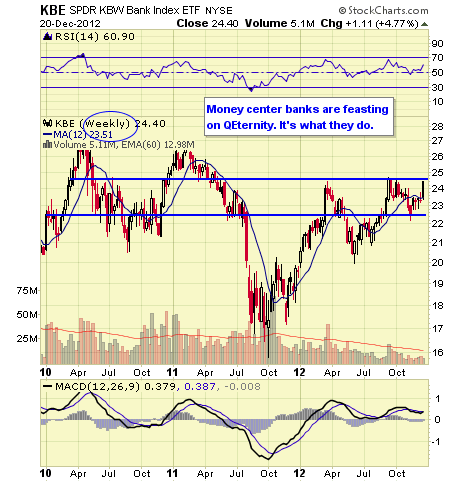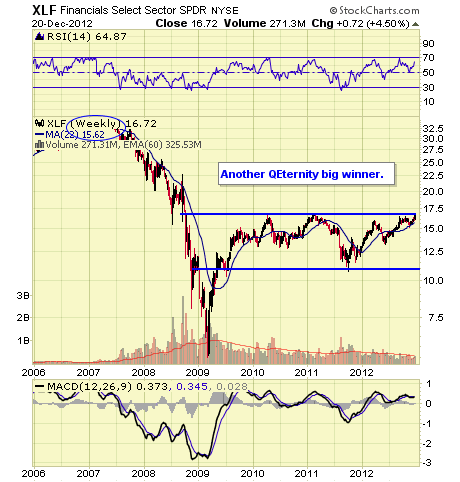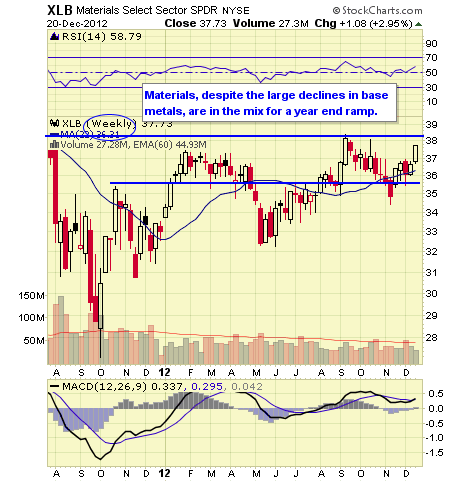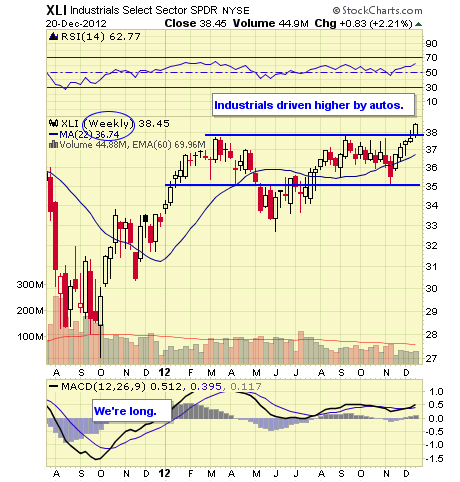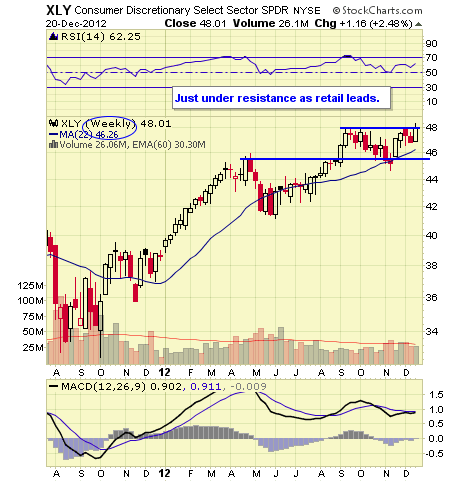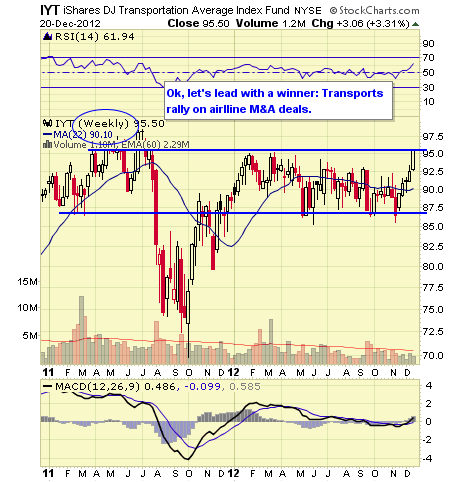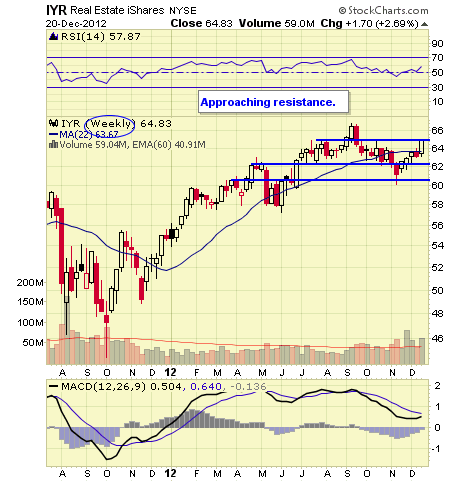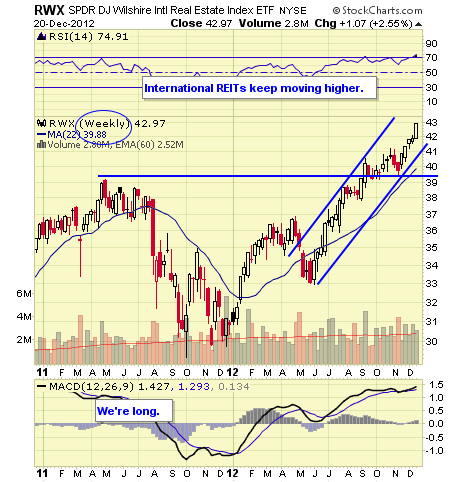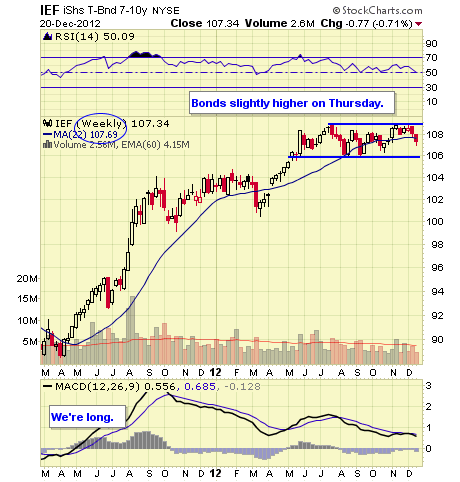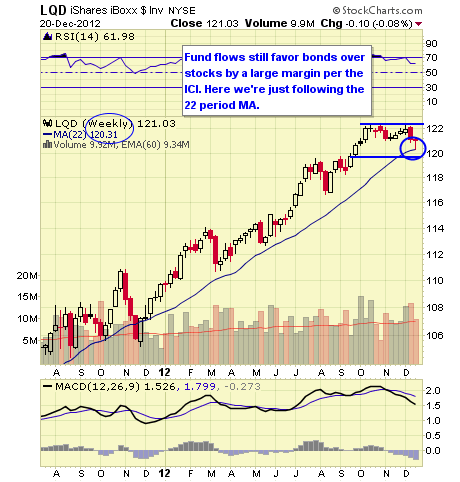 Continue to Currency & Commodity Market ETFs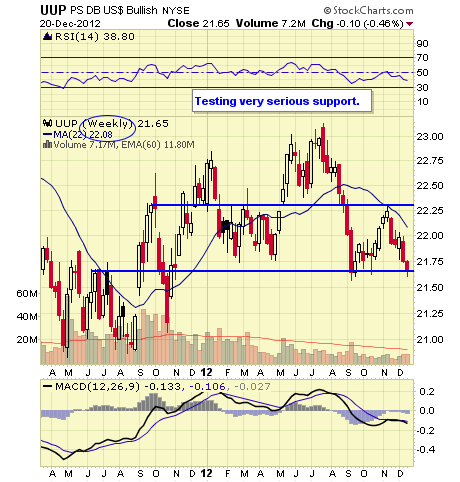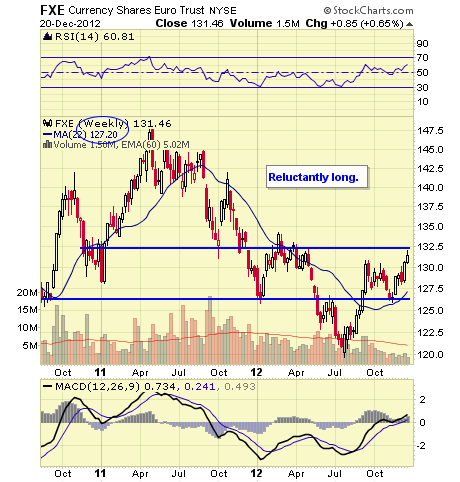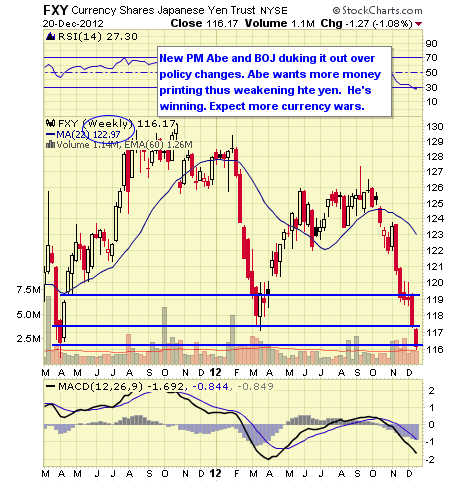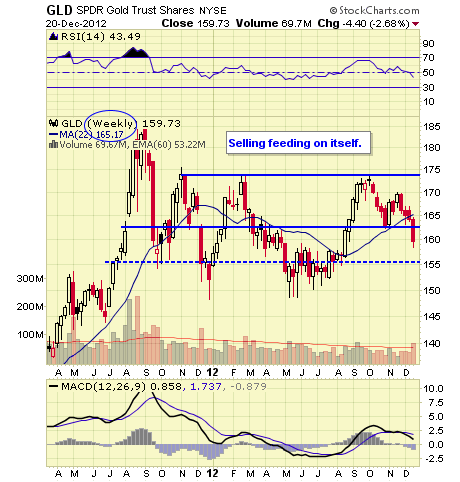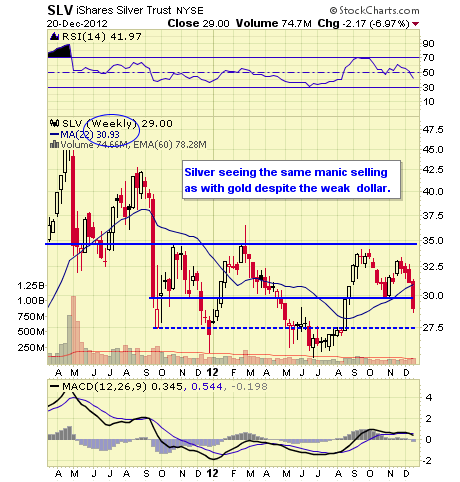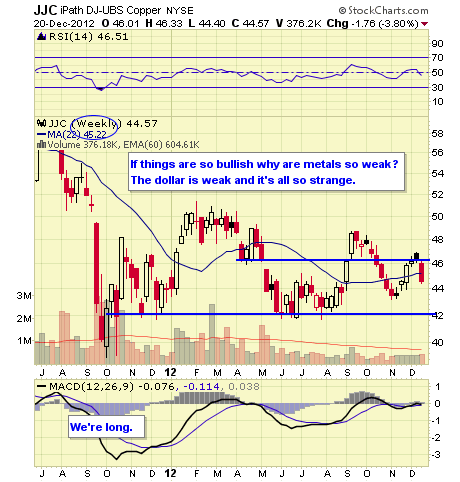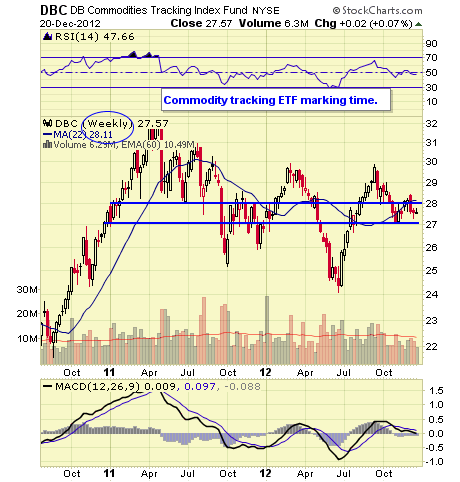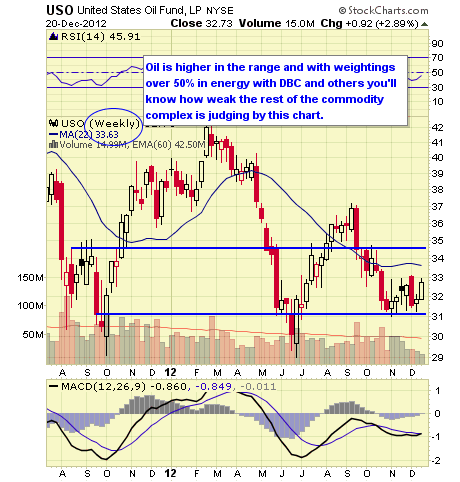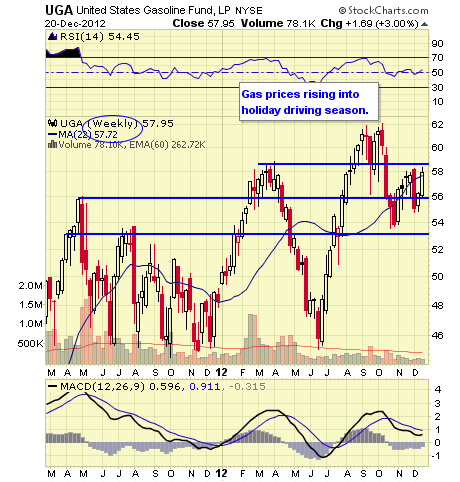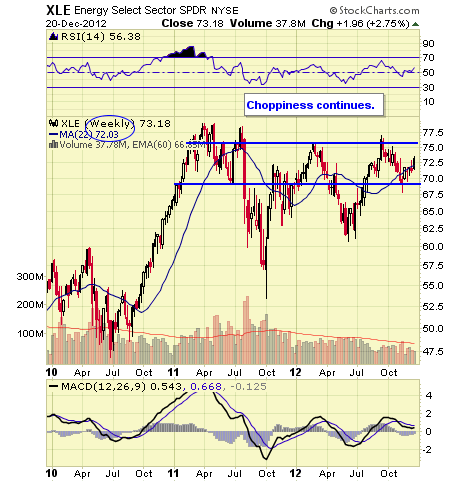 Continue to Overseas Sectors & ETFs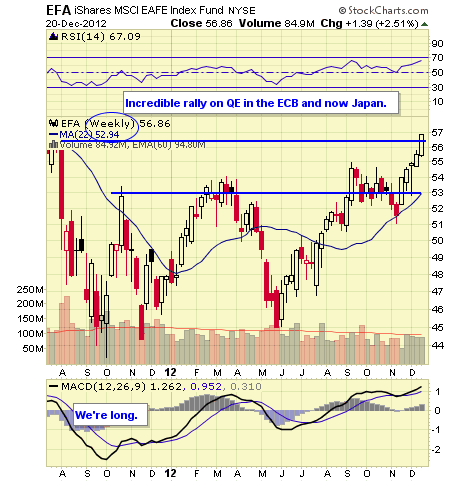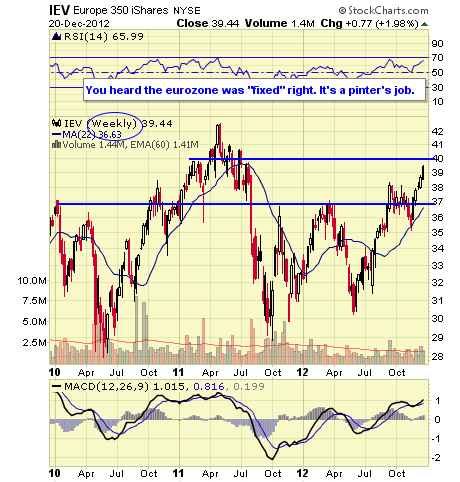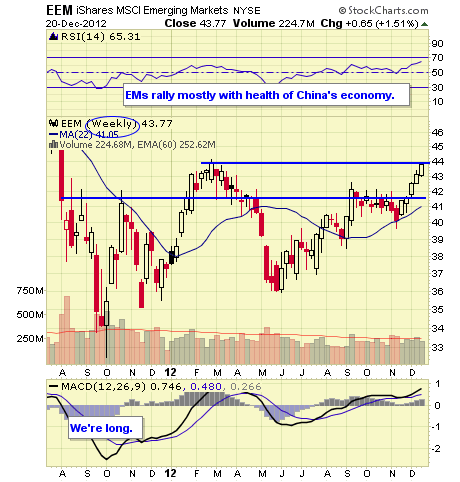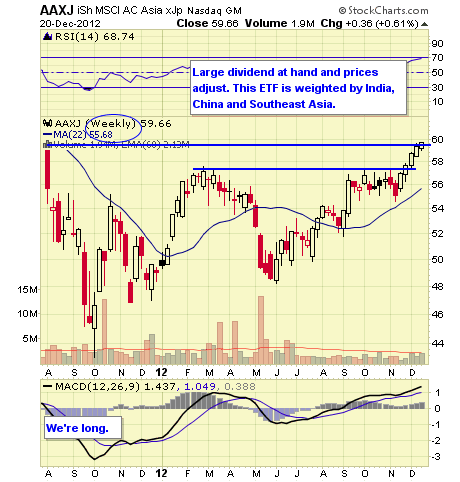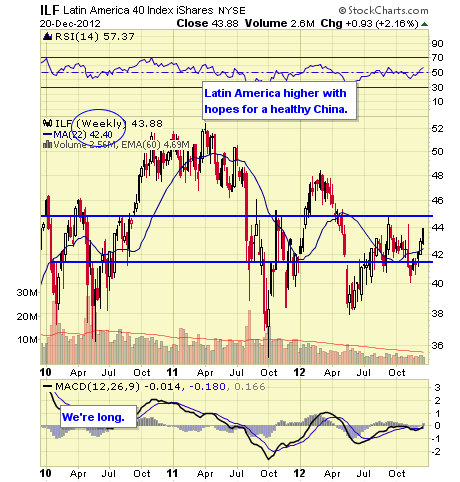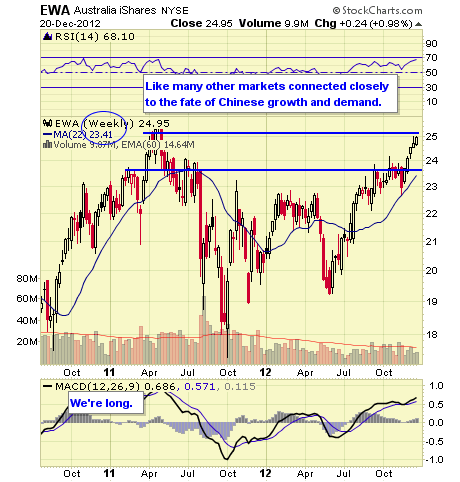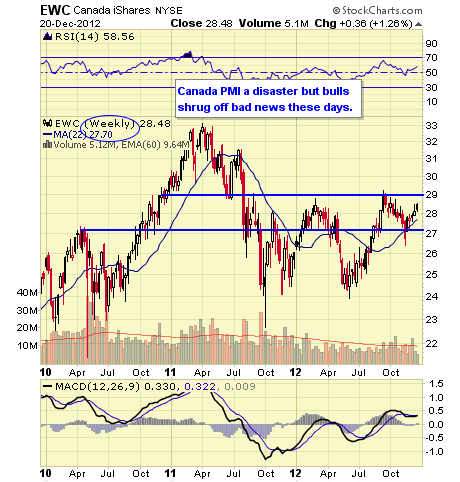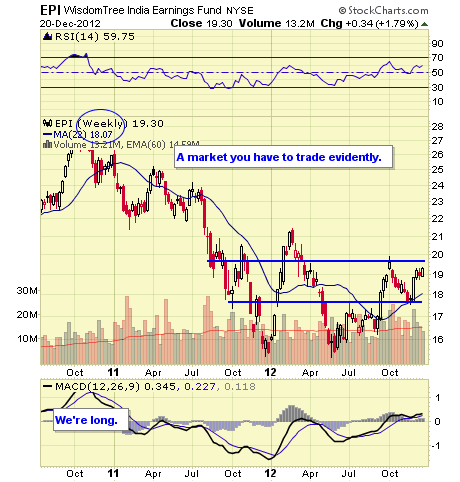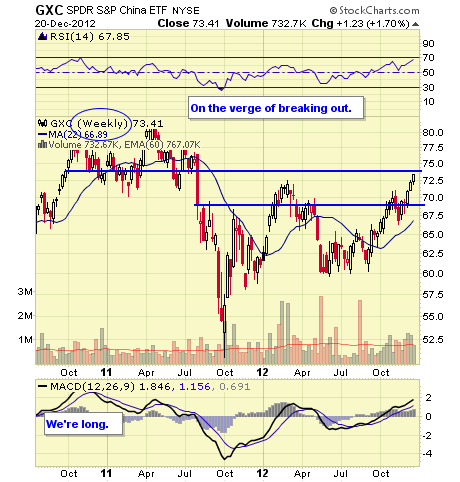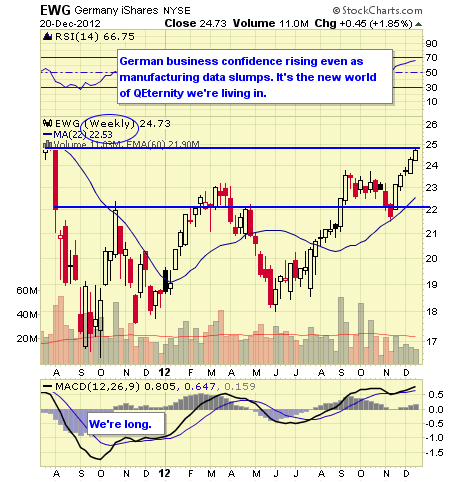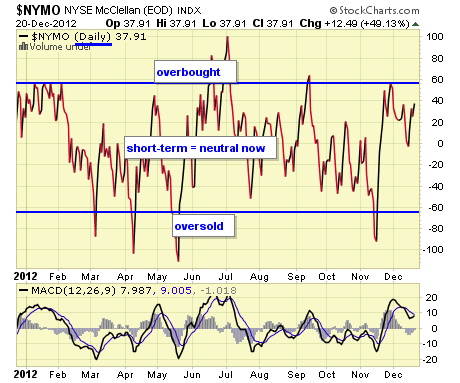 The NYMO is a market breadth indicator that is based on the difference between the number of advancing and declining issues on the NYSE. When readings are +60/-60, markets are extended short term.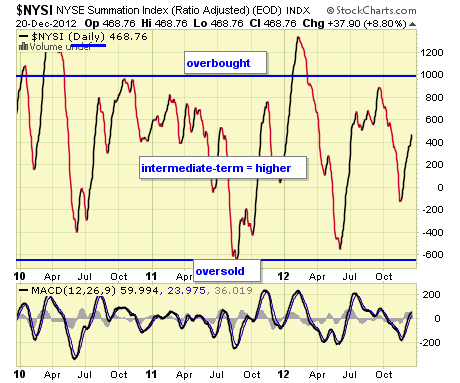 The McClellan Summation Index is a long-term version of the McClellan Oscillator. It is a market breadth indicator, and interpretation is similar to that of the McClellan Oscillator, except that it is more suited to major trends. I believe readings of +1000/-1000 reveal markets as much extended.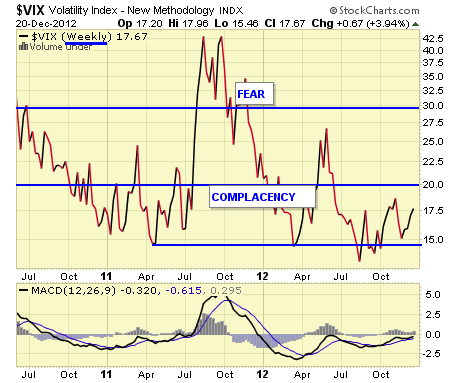 The VIX is a widely used measure of market risk, and is often referred to as the "investor fear gauge." Our own interpretation is highlighted in the chart above. The VIX measures the level of put option activity over a 30-day period. Greater buying of put options (protection) causes the index to rise.
Concluding Remarks
It seems bulls just "believe" a deal will be done, period. If so, there's 2013 to deal with.
Disclaimer: The ETF Digest maintains an active ETF trading portfolio and a wide selection of ETFs away from portfolios in an independent listing. Current "trading" positions in active portfolios, if any, are embedded within charts: Lazy & Hedged Lazy Portfolios maintain the follow positions: VT, MGV, BND, BSV, VGT, VWO, VNO, IAU, DJCI, DJP, VMBS, VIG, ILF, EWA, IEV, EWC, EWJ, EWG, & EWU.
The charts and comments are only the author's view of market activity and aren't recommendations to buy or sell any security. Market sectors and related ETFs are selected based on his opinion as to their importance in providing the viewer a comprehensive summary of market conditions for the featured period. Chart annotations aren't predictive of any future market action rather, they only demonstrate the author's opinion as to a range of possibilities going forward.
Disclosure: I have no positions in any stocks mentioned, and no plans to initiate any positions within the next 72 hours. I wrote this article myself, and it expresses my own opinions. I am not receiving compensation for it. I have no business relationship with any company whose stock is mentioned in this article.