First of all, I must say that I see no short-term fundamental problem for Apple (NASDAQ:AAPL). I expect Apple to be able to meet its near-term estimates since the iPhone launch was on a par or superior to the iPhone 4S and yet the earnings and revenue estimates don't discount that much growth. Revenues are expected to rise 17.7% from the December quarter last year, and earnings are actually expected to fall slightly from a $13.87 EPS to $13.31 this year. Contrary to other instances in the market, Apple's drop was quickly followed by lower estimates, which makes it easier for Apple to meet or beat those.
Worrisome signs
Yet, at the same time, there are worrisome signs. These signs started out on the fringes, in things like internal strife leading to Scott Forstall's departure. They then expanded to include what seemed only minor upgrades to Apple's products instead of the revolutionary changes that one had come to expect from Apple at least every 2 generations.
But what really worries me is something else; something which most market commenters seem to have missed.
The Wal-Mart campaign
A few days ago, Wal-Mart (NYSE:WMT) announced it was going to be selling the iPhone 5, iPhone 4S and iPad at large discounts to Apple's going prices. The iPhone 5 was offered at $127, coming down from the previous price of $189.97 (and Apple's regular $199), the iPhone 4S was offered at $47 from $89.97 (and the regular Apple price of $99), and the iPad was at $399 down from $499.
This is significant (and worrisome) for a number of reasons:
 
According to Wal-Mart, the discounts are offered by "working together" with Apple, meaning some of the discount might be coming from Apple itself. Not only that, but this breaks Apple's tradition of only discounting its products for a very short while in Thanksgiving;
This type of sale will bring demand forward. It might make it easier for Apple to make this quarter, but it will make it harder to make the following ones;
It also opens a breach in Apple's "no discounting" policy which had very few exceptions in the past. Sprint (NYSE:S) had to make a huge commitment to get an Apple discount, now seemingly no such commitment was necessary (since none was announced and if such commitment existed it would be material). Pretty soon every mobile operator will be asking for similar concessions from Apple;
Worse still, by offering such deep discounts through Wal-Mart, Apple compromises its high-end image. Surely, Apple's products were already being offered through Wal-Mart, but this made Wal-Mart a preferred location to get those products. A good deal of Apple's success comes from its products being seen as a status symbol. Having huge sell-outs through Wal-Mart isn't the brightest of ways to keep that status symbol.

Apple already priced as no-growth
What mitigates these worries is the fact that Apple already trades as if its growth is completely tapped out. If we exclude Apple's $121 billion cash hoard from its capitalization, the resulting capitalization implies a 2013 P/E of 8.2, which is astoundingly low for the kind of performance Apple has been putting up. This can only be read as meaning that the market expects no further growth from Apple, and indeed might already be discounting some margin compression.
As such, even if worried there is little reason to sell Apple, and no reason to short it.
A sideshow
At times, research reports seem to be used as weapons. Citigroup gave two such examples in just under one month. Back in November 26 Citigroup started Apple as a Buy when the stock stood at $589.53. That set an intermediate top right there and then.
Not happy with its performance, after Apple lost almost 28% from its top and almost 14% from that "buy" in under a month, Citigroup downgraded Apple to a "neutral" with the stock at $509.79, setting up an intermediate bottom. The following chart illustrates the accuracy.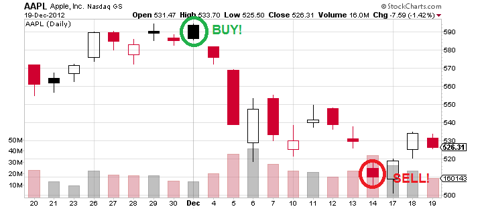 One has to wonder if these things are made on purpose.
Conclusion
Apple is an extraordinary company making extraordinary products and selling them at extraordinary margins. But a few signs have emerged which can be seen as worrisome. First it was mostly about internal strife and product cycles that seemed to bring little new, but now those have expanded to call into question past practices regarding pricing and discounting, and worse still, practices that run the risk of destroying Apple's "status symbol" image.
Selling discounted product in Wal-Mart can make it easier to meet or beat the present quarter, but might both endanger future quarters and deteriorate Apple's long-term market position.
Disclosure: I have no positions in any stocks mentioned, and no plans to initiate any positions within the next 72 hours. I wrote this article myself, and it expresses my own opinions. I am not receiving compensation for it (other than from Seeking Alpha). I have no business relationship with any company whose stock is mentioned in this article.