As many have noticed, Gold (NYSEARCA:GLD), along with Silver (SLV), has been plunging mightily since the start of October. This has gone on even with Bernanke firing up the printers by announcing that come January, once operation Twist is over, he'll step up the buying of MBS by an additional $45 billion per month.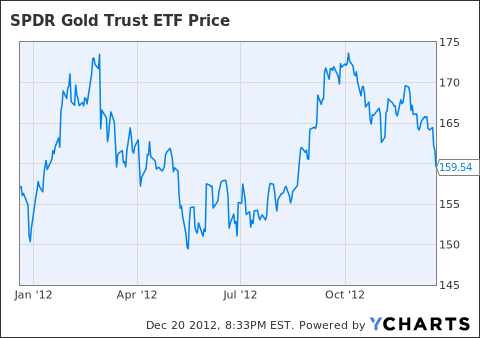 Many have been the motives offered for this movement, from sentiment to a supposed trade against the Euro, etc, etc. But the true reason might be a lot more prosaic. It's old fashioned liquidation.
Who is liquidating?
If I am correct, the market's movement is simply explained by John Paulson's funds being forced to sell due to redemptions. SPDR Gold Shares was John Paulson's largest position by far at the end of September 2012, amounting to 30.6% of his holdings. The GLD ETF is obviously the most important gold ETF in the market, indeed, the single largest factor affecting the market, so heavy selling of this ETF can easily move the entire market.
And we also have public statements - for instance from Morgan Stanley and Citigroup - recommending that investors pull out money from Paulson's funds, after horrible performances both in 2011 and 2012. If we know about these very public instances, we can be sure that there's an entire iceberg below water, also redeeming its investments in Paulson's funds.
Conclusion
This thesis cannot be much simpler. What got the whole giant ball of snow rolling down the hill was Paulson's forced selling. Paulson was GLD's largest holder, GLD was Paulson's largest holding by far, and we have very public proof that Paulson is seeing heavy redemptions after horrid performance. Things can't be much clearer.
As for my own opinion on gold, as I've said a while ago, I believe gold is never an investment and is seeing the kind of events that are consistent with bubble tops. That said, it's true that the monetary orgy is far from over and constitutes a positive factor for gold.
Disclosure: I have no positions in any stocks mentioned, and no plans to initiate any positions within the next 72 hours. I wrote this article myself, and it expresses my own opinions. I am not receiving compensation for it (other than from Seeking Alpha). I have no business relationship with any company whose stock is mentioned in this article.