There is now only a week of trading left in the year, so below we check up on the performance of the Dogs of the Dow strategy in 2012. The Dogs of the Dow strategy says to buy the ten highest yielding Dow Jones Industrial Average at the start of each year. As shown below, the ten Dogs of 2012 are only up an average of 7.14% year to date. The other twenty Dow stocks are up double that at +14.83%. In fact, the lowest yielding stock in the Dow at the start of the year - Bank of America (NYSE:BAC) - is up the most of any Dow stock in 2012 with a gain of 106.21%.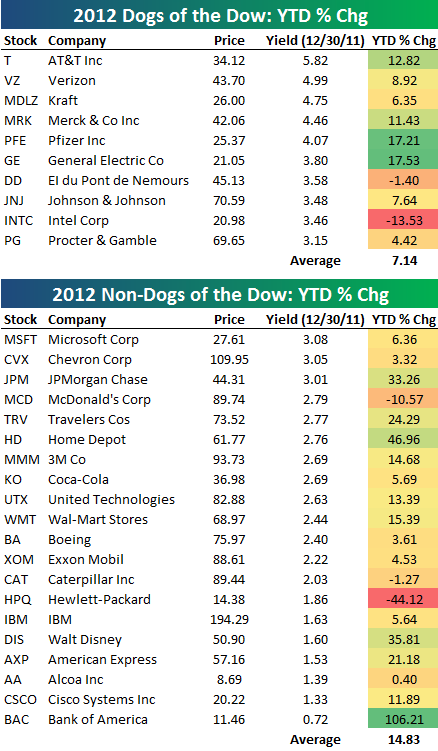 For those interested, below is a list of the ten Dow stocks that are set to be Dogs in 2013. If the list remains the same over the next six trading days, there will be two new additions, replacing Kraft (which came out of the Dow) and Procter & Gamble (NYSE:PG). These two new Dogs will be Hewlett-Packard (NYSE:HPQ) and McDonald's (NYSE:MCD). Both are down quite a bit this year, which has caused their yields to move into the mid-3s.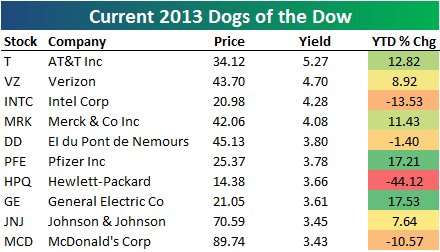 Over at Bespoke Premium, members can find Bespoke's favorite growth stocks in our weekly "Bespoke 50" publication. To make the list of 50, a stock must have strong earnings growth prospects along with an attractive price chart based on Bespoke's proprietary fundamental and technical analysis.
Below is a chart highlighting the performance of the Bespoke 50 versus the S&P 500-tracking SPY ETF since we launched the list back in March. As shown, the Bespoke 50 is currently up 15.68% since inception versus a gain of 6.79% for SPY.
We've just published this week's list of the Bespoke 50 (the report goes out each Thursday).