Introduction
Piper Jaffrey's senior research analyst Gene Munster made waves when he released channel check information from Apple (NASDAQ:AAPL) and Microsoft (NASDAQ:MSFT) stores on Black Friday. Retail channel checks like this one can be highly informative to investors, as it gives first hand information into product sales and consumer interest. Despite the study being done on the busiest shopping day of the year, it only compared the stores for a two hour period at a single location. Small sample sizes like this can result in wide confidence intervals and risk of errors. With this in mind, I thought it would be valuable to perform an additional two hour study at a local retail shopping mall in Denver.
The Study Guidelines
The Denver study took place at Park Meadows Mall in Denver, Colorado from 4:10pm to 6:10pm on Saturday December 16th. I recruited a colleague to assist and we each posted up to our respective positions outside the Apple and Microsoft stores. Given only two of us, we thought it prudent to analyze only traffic entering the store and collective items sold. Traffic entering the store was limited to potential consumers only, so children under the age of 14 were excluded from the analysis. In addition, since we could not always distinguish the number of items in a bag, we counted each store's bag as only one item sold.
The Results
The Black Friday study by Piper Jaffrey found the Microsoft store had only 53% of the traffic of the Apple store and sold 20% of the items. The results of my study were not as dire for Microsoft, but Apple still dominated traffic and sales. The Apple store averaged 447 potential consumers per hour compared to Microsoft's 264 (59% of Apple's total). Items sold came in at 36 an hour for Apple compared to 12.5 for Microsoft (35% of Apple's total).

The difference between the Minneapolis data and the Denver data is interesting. The Mall of America stores had much more foot traffic, but substantially fewer items purchased per hour. The lower foot traffic in Denver was at least partially due to our study not counting some children as potential consumers. The higher number of items sold could be a geographic issue, an indication that consumers are delaying purchases until closer to Christmas, or just an anomaly in an admittedly small time sample. However, it is likely that my numbers actually underestimate items sold. Many shoppers entered Apple and Microsoft's store with other retailer's bags. Buyers may have loaded their technology purchases into these bags before exiting. Such cases would have caused an unrecognized sale and would not have been registered as part of the study.
Musings on the Apple Store
The store was full from the time the study began to the moment it ended. For intervals, the store was so packed that it clearly dissuaded some potential customers from entering. The iPad Mini was by far the most popular item and patrons typically had to wait in line to get their hands on a floor model. Several people also mentioned the Mini aloud as they passed to enter. Observing from outside of the store, exactly tabulating the specific items customers were buying was impossible. However, thanks to Apple's transparent bags, it was generally feasible to recognize what they had purchased. An estimated 40% of the items sold were iPads/Minis, 20% Macs (6 iMac desktops were sold), 20% iPhones, and 20% accessories and other. It should also be noted that the Apple store had only the 64 GB iPad Mini in stock, which likely tempered sales of the tablet.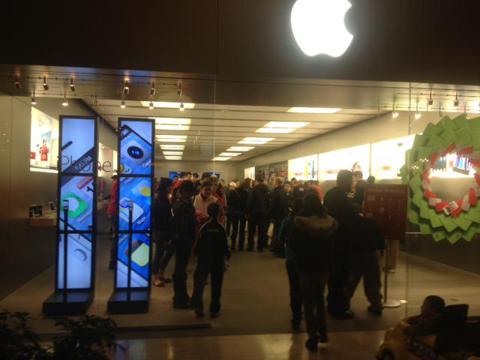 Musings on the Microsoft Store
Although they have clearly copied many parts of the Apple retail model, Microsoft has done a fabulous job making their stores attractive to the consumer. The Microsoft store in the study was two to three times the size of the comparative Apple store and looked much more spacious and inviting. LED displays lined the walls from front to back and big screen displays allowed customers to try out the newest X-box games. Several work stations showcased the new Surface tablet, and there was no wait to try one out. Overall customer interest in the product seemed moderate, but nothing as insatiable as witnessed for the iPad Mini. Unfortunately, for survey purposes, the check-out for the store was in the back, and unlike Apple's bags, Microsoft's are not transparent. As a result estimating the types of products sold was impossible. Interestingly a number of shoppers seemed genuinely confused as to the origins of the Microsoft store upon entry. On more than one occasion, a prospective buyer walked in curiously and within seconds walked back out. One woman even mentioned to her elderly mother, "This is where they sell the iPads and iPhones". In another instance, a customer walked in and asked the first available Microsoft employee, "Can you point me in the direction to the Apple store"? The employee happily pointed downstairs and the customer was on their way.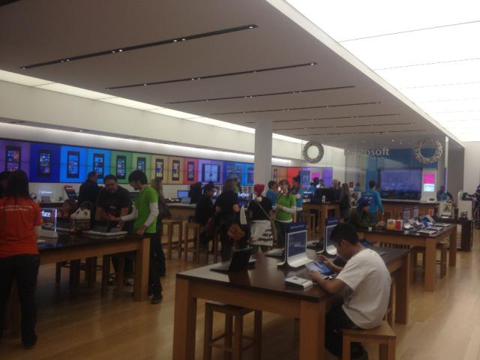 Conclusion
It was hard not to be impressed by the consistent traffic entering the Apple store. For the first few minutes there was a genuine concern in the ability to accurately track customer volume and items purchased due to the high traffic. Although I have no baseline sales or traffic statistics from previous years to compare against, I left Saturday evening's study so confident in the company that I added to my long position on Monday morning.
My view of the Microsoft store was also positive. Although clearly not on the retail sales level of Apple, the store did an effective job of attracting people with its clean look, bright screens, and spacious area. The company needs to improve their products, but they also need to provide a better consumer experience, and these stores are a fantastic first step. Even with only half the foot traffic and a third of the sales, it's hard to spin the new stores as a negative for Microsoft.
Disclosure: I am long AAPL. I wrote this article myself, and it expresses my own opinions. I am not receiving compensation for it (other than from Seeking Alpha). I have no business relationship with any company whose stock is mentioned in this article.