The dramatic fall in Apple (NASDAQ:AAPL) shares over the past three months has rivaled the Fiscal Cliff as one the most talked-about pieces of financial news. After reaching a new all-time high near $700 in mid-September, shares have since relentlessly slid, flirting with $500 on December 17th. Many current or prospective investors are now reassessing their Apple investment thesis. At this inflection point, I would advise a prospective investor to consider Apple's own internal investment policies when making a decision. After all, if Apple isn't investing in Apple, is it really wise for an outside investor to do so?
Chart courtesy StockCharts.com.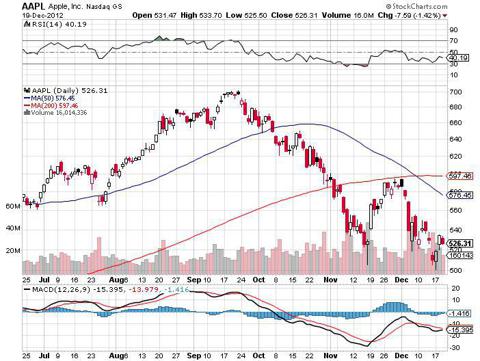 Plenty of hypotheses for the decline have been presented and vetted on Seeking Alpha and elsewhere. Margin compression (due to iPad Mini), increased competition (from Galaxy phones, Kindle Fire tablets, and other devices), slowing growth opportunities and just general investor fatigue are all reasonable explanations for the decline in share price. But more importantly for the long-term investor, I think that Apple itself is indicating that the future of the company may disappoint investors that have big expectations.
Apple's cash hoard is infamous. Seeking Alpha author Bill Maurer recently calculated Apple's cash stash at approximately $121 billion, per the table below (taken from his article, which I would suggest reading).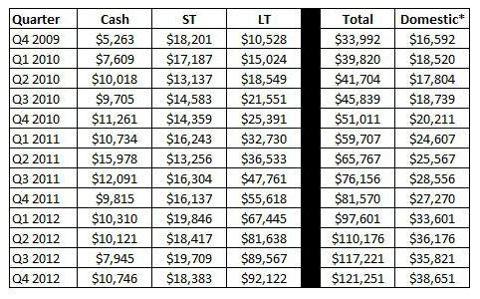 Apple has finally started to distribute cash to shareholders via dividends and share buybacks. However, tellingly, it does not reinvest much of its cash back into its business.
One may ask, "if it ain't broken, why fix it?" in regards to Apple's current business model. Currently, Apple designs products itself, buys components from companies like Samsung (OTC:SSNLF) (while taking an increasing role in component design and manufacturing, as seen with the new A# processors) and outsources manufacturing to companies like Foxconn (OTCPK:FXCNY). This allows Apple to demand flexibility from its supply chain and shift costs and risks onto the balance sheets and P&Ls of other entities.
But why doesn't Apple manufacture its own products? With its $121 billion, Apple could surely design new manufacturing technology, components, and processes that could automate production of its popular iPhone and iPads; production could become cheaper, more flexible, and not require toiling by hundreds of thousands of Chinese laborers (who work so strenuously that it unfortunately drives some of them to suicide). While Foxconn seems to keep new Apple tech under wraps, in-house manufacturing could only be a positive thing for Apple's super-secretive culture. No longer would the entire world know the features of the next iProduct before it is even announced.
Even more importantly, Apple could become the next Samsung. Samsung is arguably the most important non-Apple mobile technology company, and it earned that status not just through its own devices, but because it manufactures components that go into almost all other mobile devices (including Apple's). If Apple utilized its capital to create the world's most advanced manufacturing processes, it could make money building other companies' phones, not just its own. It could even expand the technology into manufacturing more than just electronics.
So why hasn't Apple done this? In my opinion, it's because management is not confident enough in the future of mobile products. The hockey-stick growth phase of the iPhone and iPad are over, and products both known (the Galaxy S3 and Kindle Fires) and unknown (Windows 8 phones, BB10 phones, new Android tablets, Windows 8 tablets) represent serious threats to Apple, both in terms of market share and pricing power. Apple seems unwilling to invest billions into mobile device manufacturing, while being willing to invest into manufacturing (in the United States, nonetheless) for its computers, which it must perceive as a more predictable business line.
If Apple isn't willing to invest in itself, an investor may want to refrain from investing in Apple stock. Shares do look cheap based on forward earnings estimates, but forward earnings estimates are not guaranteed. Market share losses and margin declines seem likely, and while the extent of such developments may not be disastrous, Apple's transition from a growth company to an old-tech company (like Microsoft (NASDAQ:MSFT) or Intel (NASDAQ:INTC)) will prevent Apple from regaining any sort of above-market price-to-earnings premium. There is certainly potential for Apple's profits to keep increasing, and for Apple's share price to recover, but I'm going to defer to management on this investment decision.
Disclosure: I have no positions in any stocks mentioned, and no plans to initiate any positions within the next 72 hours. I wrote this article myself, and it expresses my own opinions. I am not receiving compensation for it (other than from Seeking Alpha). I have no business relationship with any company whose stock is mentioned in this article.