Carnival Corporation & plc (NYSE:CCL) is the largest cruise company in the world and its brands include Carnival Cruise Lines, Holland America Line, Princess Cruises and Seabourn in North America; P&O Cruises (NASDAQ:UK), and Cunard in the United Kingdom; AIDA Cruises in Germany; Costa Cruises in Southern Europe; Iberocruceros in Spain; and P&O Cruises (Australia) in Australia. The company reported earnings Thursday morning of $0.13 per share, excluding items, beating analyst estimates by two cents. Revenue, while sliding 3.1% year-over-year, still topped consensus estimates. The company gave full year 2013 EPS guidance of $2.20 to $2.40 falling short of analyst estimates of about $2.49 per share in 2013. This sent shares of Carnival sliding 5.3% to close at $36.99.
I believe the disconnect between estimates and guidance is based on analysts expecting better pricing than Carnival is forecasting. Analysts expect strong in quarter bookings for the current quarter and that the European segment will be in line with last year's results while management expects a slight decline. I believe the difference between management and analyst forecasts stems from different estimates of the impact of the fiscal cliff and differences in the expected impact of increased Northern European capacity. Management appears to be lowering guidance as they are concerned the fiscal cliff will affect books. While near term this may impact bookings, once the problem is behind us customers will be looking to book cruises.
The biggest opportunity for Carnival is in Asia, Australia and the South Pacific. The company is moving another Costa ship to Southeast Asia and is moving the Princess Sun to the Japanese market in 2013. Furthermore, Carnival has been opening new offices in Asia and is planning more announcements about developing the Asian market next year. The strength Carnival is seeing in the Pacific is in contrast to Europe where the company has very strong brands, but these brands are facing a difficult economic environment. I believe a more stable situation in Europe will help improve performance in this market over the next few years. The company believes the successful resolution of the fiscal cliff in the United States is important to improving North American bookings, which are currently running slightly behind last year.

Carnival appears to be a better value than rival Royal Caribbean Cruises Ltd. (NYSE:RCL). While Carnival has a slightly higher EV/EBITDA ratio and forward P/E, they have a faster growth rate and a higher dividend yield. Royal Caribbean has strongly outperformed Carnival recently and, while both companies are facing similar challenges, I believe Carnival is the better investment today. Carnival has almost 50% market share of global cruise passengers about double the size of Royal Caribbean.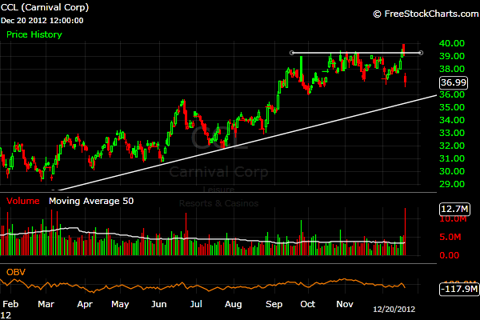 Looking at Carnival's chart, you can see the stock has been a strong performer, rising sharply throughout much of the year. However, you can see the rise in the stock price has stalled over the past two months and volume has been decreasing. This indicates to me investors were hesitant to buy Carnival before the 4th quarter 2012 earnings report. The fall in the stock after the earnings result proved these investors right. I would first look to buy into Carnival at around $35.50 per share. I believe the stock could cross $40 if next year's earnings rise above $2.50 per share.
Data sourced from: Company filings, and Yahoo!Finance. Chart from: Freestockcharts.com
Disclosure: I have no positions in any stocks mentioned, and no plans to initiate any positions within the next 72 hours. I wrote this article myself, and it expresses my own opinions. I am not receiving compensation for it (other than from Seeking Alpha). I have no business relationship with any company whose stock is mentioned in this article.