For consumer goods companies, geographical diversification and access to markets around the world are valuable advantages. These advantages help them to tap growth opportunities, focus on product innovation and diversifies the risk. Most of the big consumer goods companies have significant international and emerging market exposure. Although international exposure helps companies to expand their revenues and operations, a downside is the added exposure to foreign currency risk. Recently, the strengthening of the dollar against most currencies of the world is adversely affecting the top line results for the companies. The chart below shows EUR/USD rate since August this year.
I will highlight and comment on three consumer goods companies which are being adversely affected by recent strengthening of the dollar. These companies are Procter & Gamble (NYSE:PG), Mondelez (NASDAQ:MDLZ) and Colgate (NYSE:CL). International sales exposure for these companies is as follows:
-Procter & Gamble: ~65%
-MDLZ: 81%
-Colgate: more than 80%
The chart below shows the percentage of revenue shaved off due to foreign currency exposure in the most recent quarter.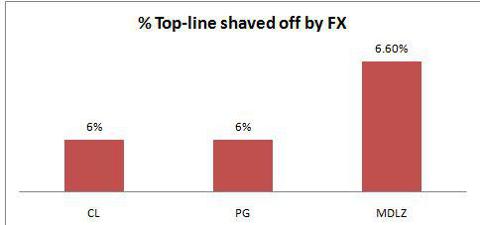 Source: Recent Quarterly Reports.
Procter & Gamble
PG is a leading home and personal care company and it owns a strong brand portfolio. Top 25 brands owned by the company generate over $1 billion in sales each. The company offers various products in a wide price range; however, its focus has remained on premium priced products. This is why I believe it has slightly better margins among its peers. However, due to sluggish consumer spending around the world and especially in developed countries, I think the company will focus more on low and mid price tiers so that it can expand its top line.
I believe PG is a great company with diverse product portfolio and wide market reach but in recent years the company has failed to deliver strong financial results. Top line has somewhat remained flat and EPS for the company fell.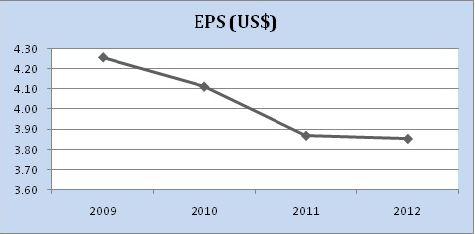 The management of the company has laid out a plan under which the company will focus on its key markets and products and improve its operational efficiency so that it could grow its top and bottom lines. Recently, CEO of the company is facing pressure from Bill Ackman, who acquired almost 1% of the stake in the company. Pressure on the CEO by Ackman is viewed in positive light by the investors as it is believed this will lead to better financial performance in future.
The company offers a healthy dividend yield of 3.2% in the current low-yield environment. I believe dividends offered by the company are sustainable since in the past it has comfortably covered its dividend payments as evident by the graph below.


Source: Annual reports.
Currency headwinds remain a risk for the company's financial performance. Following are the percentage of revenues slashed away due a strengthening dollar.
| | | | |
| --- | --- | --- | --- |
| | 3Q FY2012 | 4Q FY 2012 | 1Q FY 2013 |
| % of revenue affected by FX | 1% | 4% | 6% |
Source: Quarterly reports
Mondelez International Inc
MDLZ is among the largest food companies of the world, with annual revenues of approximately $36 billion. The company owns a strong brand portfolio which holds leading positions in their respective categories. The company has a significant emerging market exposure, with 81% of the total sales generated from Europe and developing markets. This significant international footprint exposes the company's top line to foreign currency risk and is creating a barrier to achieving anticipated growth. In most recent quarter, foreign currency shaved off 6.6% of total company sales.
The company is expected to enjoy above-industry average growth rate in the future. It is expected to grow its top line in the range of 5%-7%, whereas its bottom line is expected to grow in low-double digits. Factors which will improve its financial performance include the company's emerging market exposure and opportunity to expand its margins by overhead costs control. I am bullish on the stock given its strong growth aspects.
You can view my complete company analysis on MDLZ in my previous article by clicking here.
Colgate Palmolive
CL is a company offering oral, personal and pet care products, with markets and operations around the world. The company holds leading global market shares in toothpaste 45% and toothbrush 32%. 80% of the company sales are generated from markets outside the U.S. Its significant emerging exposure will provide for strong financial performance going forward. It has been aggressively tapping market opportunities available to expand its top line. Revenue and earnings for the company are expected to grow in the range of 3%-5% and 8%-10% respectively.
Despite volatile economic conditions, the company has maintained its margins and consolidated its market position over the years.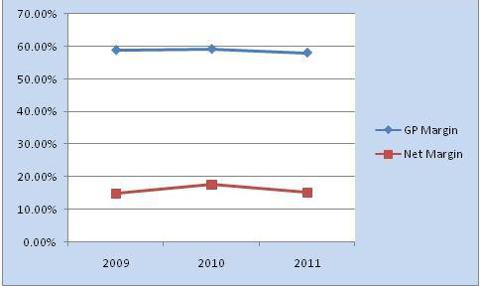 Source: Ycharts.com
Other than attractive growth opportunities, it also offers decent dividend yield of 2.3%. I believe dividends offered by the company are sustainable as it has a healthy dividend coverage ratio. (Dividend coverage = Free Cash flow / Dividends Paid)
As the company is aggressively expanding its operations in international markets, foreign currency risk remains. Following are the percentage of revenues shaved off by dollar's strengthening in the international market.
| | | | |
| --- | --- | --- | --- |
| | 1Q 2012 | 2Q 2012 | 3Q 2012 |
| % of revenue shaved by FX | 2% | 6.5% | 6% |
Source: Quarterly reports
Disclosure: I have no positions in any stocks mentioned, and no plans to initiate any positions within the next 72 hours. I wrote this article myself, and it expresses my own opinions. I am not receiving compensation for it (other than from Seeking Alpha). I have no business relationship with any company whose stock is mentioned in this article.