Apache Corporation (NYSE:APA), based in Houston, Texas, is one of the largest independent energy companies, which explores for, develops, and produces natural gas, crude oil, and natural gas liquids in the world. The recent $18 billion acquisitions in past several quarters provide APA near-term exploitation opportunities and long-term exploration potentials to boost the Company's production and reserves. APA is under-valued and is a solid investment target with its solid cash flow, strong growth, and profitable margins. APA's sounding story is made even better with reduced country risks in Egypt.
Recent Development
On Nov 28, APA had priced $2 billion principal amount of a 2.625% note due in 2023 and $800 million principal amount of 4.25% notes due in 2044. The net proceeds from the offering are intended to repay outstanding commercial paper borrowings and for general corporate purposes.
Analysts' Call and Earnings Estimates
On Dec. 19, Deutsche Bank reiterated their hold rating on APA with a $110 price target, up from their previous target of $90.00.
On Dec. 17, analysts at JP Morgan lowered the price target on APA to $90.50 from $103.00 while maintaining the "Overweight" rating. As stated in the report,
"APA's relatively strong balance sheet, strong cash margins, and diversified asset base mean that the company generally has lower risk relative to the group. The name also has comparatively limited exposure to U.S. natural gas. However, APA faces country risk where it operates internationally, especially Egypt, Argentina, the U.K., and Australia. In fact, we think the stock underperformed last year largely due to the market's concern about turmoil in Egypt."
On Dec. 12, analysts at Barclays Capital reiterated an overweight rating on APA with a $117.00 price target. Lastly, analysts at Robert W. Baird downgraded APA from an outperform rating to a neutral rating with a $102.00 price target, down from $113.00, on Dec. 10, 2012.
APA reported Q3, 2012 earnings on Nov. 1 with an EPS of $2.16, missing the analysts' consensus estimate of $2.25 by $0.09. The revenue of $4.18 billion was higher than the estimate of $4.06 billion; however, it was down 3.4% compared to the same quarter year ago. "We are continuing to add drilling rigs and accelerate activity in the Permian and Anadarko basins. Today, we are running 56 rigs in these regions with plans to expand throughout next year. All are drilling oil and liquids-rich targets and more than half are drilling horizontal wells. Production in these two regions increased 30 percent from a year ago, accounting for nearly a quarter of Apache's overall production compared with less than a fifth in third quarter 2011. We expect this growth trajectory to continue well into the future," said G. Steven Farris, chairman and CEO. The Company is looking forward to concluding 2012 with the strongest quarter of the year.
Analysts are expecting an EPS of $2.29 and revenue of $4.41B for the current quarter. The full-year EPS is expected to be $9.63 with revenue of $16.97B. For the next year, analysts are projecting revenue of $18.31B and an EPS of $9.72, as seen from the table below.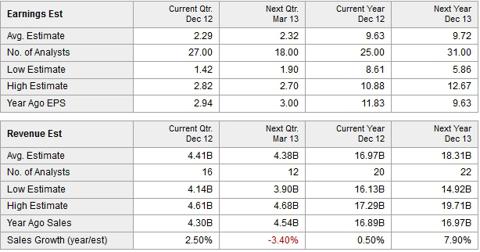 Source: Yahoo! Finance
Improving Business Conditions
On Oct. 4, 2012, as reported by Multilateral Investment Guarantee Agency, MIGA, private investment in Egypt's oil and gas sector will be supported. As quoted,
"The agency is providing reinsurance for the Overseas Private Investment Corporation's (OPIC) political risk insurance policy to Apache Corporation and its subsidiaries for investments in Egypt. MIGA's provision of long-term reinsurance to OPIC will allow Apache, an oil and gas exploration and production company, to maintain its insurance coverage after the private insurance market partially withdrew from Egypt following the recent political unrest. MIGA is providing reinsurance of $150 million to OPIC for its $300 million coverage to Apache, held by the company since 2004. The reinsurance will be provided for an additional 13 years, against the risks of expropriation and breach of contract."
The cooperation between MIGA and OPIC will allow APA to maintain its significant investment program and its operations during a challenging and turbulent time. APA is projected to invest as much as $1 billion per year over the next few years toward further exploration and development of existing and new petroleum prospects. In Egypt, the oil and gas sector represents 25 percent of the government's fiscal revenues and accounts for nearly 70 percent of foreign direct investment. This positive development from MIGA should remove some country risks faced by APA in Egypt and thus lifting APA's valuation in the longer term.
Promoting Natural Gas Aggressively
As reported on Dec 19, 2012, Apache is driving hard to promote natural gas as a transportation fuel. So far, APA has transformed about 400 field vehicles to operate on compressed natural gas (CNG), with the goal of converting 80 percent of its 1,000-plus U.S. fleet by year-end 2015. As a significant producer of natural gas in North America, Egypt, Argentina and Australia, Apache is engaging policymakers and communities to increase their awareness of the benefits of natural gas, a cleaner-burning and more economical alternative to gasoline. Apache also hopes to broaden its CNG fleet program to other operating regions. The company is exploring the feasibility of converting its fleet vehicles in Canada, Egypt and Argentina to natural gas power.
As said by Steven Farris, Apache's Chairman & CEO, "Natural gas is an extremely important source of energy for reducing pollution and maintaining a clean and healthy environment. In addition to being a domestically abundant and secure source of energy, the use of natural gas also offers a number of environmental benefits over other sources of energy in the transportation and electric generation sectors." APA's shifting toward natural gas should be perceived as a positive change by investors in the long term.
Key Stats and Valuation
APA has an enterprise value of $42.67B and a market cap of $31.26B. APA has a total cash of 318.0M, mrq, and an operating cash flow of 9.20B with levered free cash flow of 972.88M. The current book value is $75.36 per share, mrq.
By using the data obtained from Morningstar, APA's key stats will be compared to its peers in the oil & gas E&P industry, including Devon Energy Corp (NYSE:DVN), Encana Corp (NYSE:ECA), EOG Resources (NYSE:EOG), and Anadarko Petroleum Corp. (NYSE:APC). APA has higher revenue growth and EPS growth (3 year average) of 10.9 and 76.4, comparing to the industry averages of -2.9 and 0. APA also stronger operating margin of 30.5%, ttm, and net margin of 14.4%, ttm, as compared to the averages of 20.7% and 9.5%, ttm, respectively. APA is also generating higher ROE of 8.7, comparing to the average of 6.1, with a lower debt-to-equity of 0.4, as compared to the average of 1.2. APA currently has a P/E of 12.9 and a Forward P/E of 8.0, which is lower than the S&P's average of 14.2. The current PEG ratio is 0.6. APA has a lower P/B of 1.1 and P/B of 1.9 as compared to the industry averages of 1.7 and 2.6, as well as APA's 5-year averages of 1.9 and 3.1. APA is under-valued compared to its peers.
Technical Analysis
APA closed at $79.88 with 0.35% loss on Wednesday. The volume of 3.97M was 20.7% higher than the 30-day average of 3.29M. APA had been trading in the range of $74.50-$112.09 in the past 52 weeks. APA has a beta of 1.31. The MACD (12, 26, 9) indicator had been showing a bullish sign since Nov. 27 and the MACD difference continued to diverge. The momentum indicator, RSI (14), is showing a bullish lean at 57.38. APA tested its 50-day MA of $80.16 on Wednesday but failed to close above it, as seen from the chart below. APA's bullish trend will be continued if APA can penetrate and close above its 50-day MA resistance in the near-term.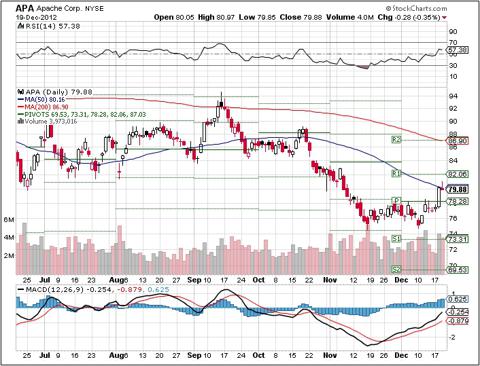 Source: StockCharts.com
Options Play
Solid fundamentals, positive outlook, and bullish technical trend support APA as a strong buy. For bullish investors, a credit put spread options play will be reviewed, allowing investors to gain some upside potential while having the plan to acquire the stock at a lower price as the worst case scenario.
Short 1x April 20, 2013 put at the strike price of $70.00 for the credit of $1.52.
Buy 1x April 20, 2013 put at the strike price of $65.00 for the cost of $0.87.
The maximum profit is $0.65, and the maximum risk/margin requirement is $4.35 ($5 loss - $0.65 credit received). If APA closes above $70 on April 20, 2013, 14.94% return on margin will be gained. If APA falls below $70 upon options expiration, APA stock will be acquired at $69.35, which is 13.18% lower than the current price of $79.88.
Note: All prices are quoted from the closing of December 19, 2012 and all calculations are before fees and expenses. Investors and traders are recommended to do their own due diligence and research before making any trading/investing decisions.
Disclosure: I have no positions in any stocks mentioned, but may initiate a long position in APA over the next 72 hours. I wrote this article myself, and it expresses my own opinions. I am not receiving compensation for it (other than from Seeking Alpha). I have no business relationship with any company whose stock is mentioned in this article.