The next week or two shall be quite bumpy. We have positioned the portfolio to handle this volatility and shall simply wait it out (famous last words, especially considering that the market can remain irrational far longer than our portfolio can remain solvent) as best we can. It would seem that after the failure of the Republicans to be able to agree among themselves on their own plan tailored to their beliefs should pave the way for a deal to get done. They have no bargaining power anymore and that SNL skit where they joked about the House Speaker's party abandoning him and Obama agreeing to his plan because he felt sorry for him appears to have foreshadowed this (although most likely not the part agreeing to Boenher's plan). With that said, we remain cautiously optimistic, even in the face of today's movement.
Oil & Natural Gas
Investors initially cheered the SandRidge Energy (NYSE:SD) asset sale in the Permian, and personally we thought the deal was certainly a positive, however, analysts were less enthused. Shares fell $0.31 (4.77%) to close at $6.19/share yesterday after receiving a downgrade from KeyBanc Capital Markets due to the sale and its impact upon oil production volumes, which will decrease by 31% as a result. In the industry, it is becoming a bit ridiculous with analysts insisting on growth while at the same time not wanting companies to partake in the capital expenditures and debt issuances necessary to create this growth. It seems one is 'darned if you do and darned if you don't' as they like to say down in the South around polite company.
We think that analysts simply do not like having to factor in all of these variables and update their models quarter to quarter. Yes, in a perfect world these companies would be selling and joint venturing their undeveloped acreage but there is usually more than one way to achieve success and long-term what SandRidge is doing will pay off, after all this is what junior resource companies have done over and over and over again (develop an asset and sell it to develop another far larger one that is).
Gulfport Energy (NASDAQ:GPOR) is another name which is developing acreage while using mature acreage to cash flow the new properties. They plan to keep theirs at this time, but to pay for their latest addition to the portfolio, the company is doing a secondary and adding $50 million to their recent note issuance. To that end, the company announced yesterday that they added another 7,000 net acres (for $70 million which like the previously announced transaction comes out to $10,000/acre) to their position by amending the previous agreement. As readers know we are bullish all things Utica and our view is that if you know the area, can pay a decent price for above-average land, then by all means buy as much as you can get your hands on. We saw a research note this week which stated that Utica acreage in the 'core of the core' of the wet gas play could be worth as much as $40,000/acre, and if Gulfport is not in that area, then we do not know who is. If that figure is remotely accurate, then this is a grand slam move right from the start, but either way we are happy to stay long at these prices and buy more on dips.
Cabot Oil & Gas (NYSE:COG) is one of those which we simply missed the train on. It has been a solid performer thanks in part to management and their property portfolio which they continue to upgrade on an ongoing basis. Production continues to grow and the company continues to deliver, both in the field and in the market as shares hit a new 52-week high which was just days after the company announced record nat gas production. This is not the sexiest story out there, but who cares about sexy when you have the boring performance here of a share price which continues higher.
Rare Earths
Molycorp (MCP) has been an interesting story recently, it is like a soap opera loaded with drama - although that seems like an oxymoron, but we hope you get the point. The share price, after the pop and subsequent news regarding management turnover, has managed to hold steady around the $10/share level. Not all is good here, but the fact that shares have held this level for so long has been comforting for shareholders, but we think that today shares will slump below that level as general market sentiment permeates throughout. It just seems that it will be one of those days.
Precious Metals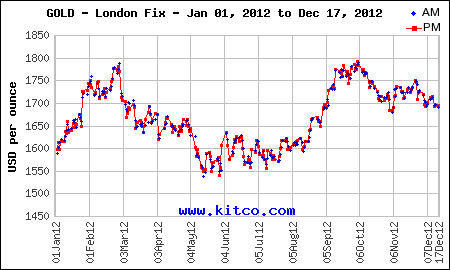 A double top? Only time will tell.
Chart courtesy of Kitco.com.
Gold has come under some pressure as of late and we have seen many gold names fall in sympathy. We think that the whole argument that gold is falling due to capital gains is a little off base simply because of the way it is taxed - not on capital gains at all, but rather as a collectible. We could be off base, maybe people think that it is taxed as a capital gain and fear the rate is going to double, which could be the case as most individuals think they deduct their mortgage interest but in fact a large majority of mortgagees simply take the standard deduction and do not itemize. We do admit the thesis applies to the individual stocks, and we think that is part of the reason why those names which were only recently so strong have now slumped; for instance one of our favorites Yamana Gold (NYSE:AUY). It is interesting where gold is at right now, and we want to see it above $1700/ounce, but right now this is a battleground and it appears that the bears are gaining the upper hand once again on the bulls.
Disclosure: I am long GPOR. I wrote this article myself, and it expresses my own opinions. I am not receiving compensation for it (other than from Seeking Alpha). I have no business relationship with any company whose stock is mentioned in this article.