In today's world of growing demand for healthy, natural, and organic food, the words organic and cheap together have become something of an oxymoron. Although companies like Whole Foods Market (WFM), Hain Celestial Group (NASDAQ:HAIN), and Annie's (NYSE:BNNY) have found a way to make healthy eating more affordable, many of the organic food industry's stocks have become anything but cheap. But rather than proceed as I have in the past and focus on the short opportunities (here, here and here), today I am going to introduce you to a $1.1 billion revenue company who's one of the largest suppliers of internationally sourced organic ingredients in the world, as well as the…
#1 producer of natural and organic fruit snacks in the U.S.
#1 processor of confection sunflower in the world
#1 organic soybean processor in the U.S.
#1 producer of oat fiber in the world (for food industry)
#1 processor and packager of organic aseptic soymilk in the U.S.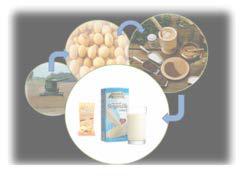 Business Description
SunOpta (NASDAQ:STKL) is a Canadian-based company with a global presence and focus (over 90% of sales) on natural, organic, and healthy foods. The company's "Field to Table" business model means that it specializes in sourcing, processing, and packaging natural and organic foods for thousands of companies around the world. It has a diverse 12,000+ customer base comprised of companies such as:
Costco, Starbucks, Hain Celestial, Whole Foods Market, Wal-Mart, Kellogg's, Kraft, General Mills, Dean Foods, Target, Annie's, United Natural Foods, The Fresh Market, Supervalu, Cargill, Nestle and many others. No single customer accounts for 10% of sales. Basically, if you've shopped for organic food at one of these companies, you've probably tried one of its wonderful products and not even known it.
Founded in 1973 as a technology company named Stake Technologies, the company only began its organic food business in 1999, after buying the organic seeds and soy milk supplier SunRich for $4.25 million. Since then, the company has increased sales from $47 million to the expected $1.1 billion in 2012. Better yet, the company has increased its total assets from $35 million to over $669 million (as of Q3 2012) in that same timeframe, while shareholder equity has increased 1669%, from $18.1 million to $320.2 million. To show that its best money making days are still ahead of it, SunOpta recently reported a 29.9% year over year growth in EBITDA for the first 9 months of this year, with an exceptional 50.5% y/y growth for the 3rd quarter. Although 2012 EBITDA should reach approximately $75 million, we believe the best is yet to come.
Looking at its current market capitalization of $402 million, and $6.10 per share stock price (65,977,814 shares outstanding) versus a book value of $4.85 only tells a small part of the story of why we believe STKL is the cheapest organic anything you can buy.
So in a market that seems to have an organic love bug comprised of the rare 2012 success story of the BNNY IPO and the not-so-exciting WhiteWave Foods (NYSE:WWAV) IPO (at least not a Facebook), along with the everlasting Cramererica love stories with WFM and HAIN we hear daily, why have you not heard much (if anything) about STKL?
To start, SunOpta's main organic food business is masked by the company's partial ownership of two unrelated businesses. Once you learn that these two companies are in the business of Alternative Energy and Industrial Minerals your immediate reaction is likely to be "unrelated was an understatement." Though that is true, we will now give you a breakdown of these two unrelated assets to see if they are truly dead weight, or if they could be hidden gems.
Hidden Ingredients (Opta Minerals & Mascoma)
Opta Minerals Inc. (OPM on Toronto Stock Exchange)
Opta Minerals is a producer, distributor, and recycler of environmentally friendly industrial materials. Its vertically integrated system provides custom process optimization solutions and related materials that are used in the steel, foundry, loose abrasive cleaning, and municipal water filtration industries. Although OPM is a publicly traded company on the Toronto Stock Exchange, over 85% of the company stock is owned by three parties, with more than 66% owned by STKL.

This massive concentration of stock ownership by owners who are disinterested in even considering selling at the current $46 million market capitalization makes the stock rather illiquid. This means that although OPM may have a publicly traded stock, it's more similar to a private company, a fact that should be considered when trying to establish a value for the company.
If you build it, they will come
As part of STKL's effort to become a pure play organic food company, divesting non-core assets has become part of the company's focus over the last two years. After going through the strategic review process, STKL management decided that although OPM is obviously a non-core business, the market opportunities for building the business were just too great to ignore. The fact that OPM has become a self sufficient cash cow made the decision even easier. This is why management decided to suspend the review process of OPM, and rather build the company further by making opportunistic purchases that will benefit patient shareholders much more in the next year or two. This critical, shareholder friendly decision is just one of the examples of why we are so fond of STKL's management. It has showed its focus on longer-term value creation, rather than a shorter-term market pacifying attitude [at the risk of long-term value] many companies have become so driven by.
OPM has executed two very strategic purchases that we believe will be very favorable for current and long-term owners since this review suspension was announced in February 2012. First, OPM's $18 million purchase of Babco Industrial Corp was not as focused on the assets purchased, but rather the lucrative [and profitable] nature of its business. Babco was generating $13.12 million in revenue while netting $1.82 million to shareholders. Though not a game changer, it was a good purchase nonetheless.
The more recent transaction made by OPM in buying publicly traded WGI Heavy Minerals (WGI) was much more favorable in our opinion, and actually has the opportunity to be a game changer for the company. In this transaction, OPM not only bought a business that is generating $32.8 million in revenue, but also $16.8 million in net assets for only $14.96 million. It was also good to know that only 3.8% of those assets ($0.64 million) are goodwill and intangibles, which we believe are usually mostly worthless for most companies, as I will explain further on. As value investors, we believe this is a very favorable purchase that should bear fruit for both current and long-term owners. One of our favorite parts of this transaction is the step by step due diligence process OPM's management conducted on this deal, showing that the excellent management style is spread widely from top to bottom at STKL. For those interested in seeing parts of the background and dialogue from the deal, check out page 6 of this WGI SEDAR filing. Seeing what could happen from not doing proper due diligence on acquisitions such as the HP and Autonomy deal makes us appreciate this type of due diligence even more. It also highlights why tangible assets are a necessary part of true valuation, since earnings power is not something that's always dependable.
An important footnote to acknowledge: the $59 million in debt that OPM currently has (only partly due to these two deals) is consolidated onto STKL's financials, as part of the $165 million in debt on its balance sheet, as a non-recourse debt due to STKL. In the case of a divestment of OPM, we believe this debt will be divested along with the company, further improving STKL's overall financials (e.g. lower debt load = lower expenses) in addition to getting the cash inflow from the sale.
In total, these two transactions cost OPM approximately $33 million, while increasing revenue by $45.6 million to $138.7 million, a 49% increase from $93 million in 2011. These numbers do not factor any growth in the acquired businesses or normal to better-than-normal organic growth at OPM, both of which we believe should be achieved. This puts OPM in a position to have a pro forma EBITDA run rate of over $20 million next year, and a big step closer to the $200-$250 million business we believe STKL is trying to build before divesting out of it. It's no wonder none of the major shareholders are willing to sell this business for $46 million. Would you?
Mascoma (Private)
Founded in 2005, Mascoma Corporation is a privately held renewable fuels and chemicals company that develops a proprietary technology called Consolidated Bioprocessing Platform (CBP) for the conversion of abundant biomass (non-food plants such as wood chips and grass). Rather than argue the point of whether alternative energy does or does not eventually replace part of our demand for oil, we will try to focus on the company's relevance to STKL and how shareholders can benefit from STKL's 18.65% stake in the company, regardless of whether we all live to see the day this alternative has become the new standard.
As mentioned previously, STKL began its long history as a technology company. What we did not mention was that its patented Steam Explosion Technology was used, amongst other things, for a pretreatment process in the production of cellulosic ethanol. After many years of trying to commercialize this technology, STKL management decided that it's better to combine this upstream part of its process with Mascoma's downstream component in order to create the first company of its kind, with a complete biofuels solution. As part of the deal of combining STKL's BioProcess unit with Mascoma, STKL received an 18.65% stake in Mascoma. This made STKL the largest shareholder of the company, and part of an already impressive investors roster.
What's this Biomass Stuff Worth?
They say that the only way to know what something is really worth is by finding what someone is willing to pay for it. Since Mascoma is currently private, developing a definitive value is not possible without having an actual buyer. However, looking at its history and following some of the past transactions, we are able to at least surmise what some of the possibilities are.
Prior to the Mascoma deal, the BioProcess group was a money-losing division of the company that put a drag on earnings, yet still had great potential. This huge potential led BlackRock and a few other investors to strike a deal with STKL, whereby they would directly invest into the BioProcess Group. In June 2007, this consortium of investors ended up investing $30 million for a 13% stake in the BioProcess Group, giving the division a pre-money valuation of $200 million. Considering the times, this was probably around the peak of alternative energy, which could've inflated the deal somewhat in comparison to the years that followed.
If we fast forward to September 2010, the time Mascoma took over the BioProcess Group, the value of the entity dropped precipitously to only $51 million. After extensive negotiations, it was agreed that everyone had to take a down round, with the consortium and STKL getting a 9% and 18.65% stake in Mascoma, respectively. Based on this deal, the entire Mascoma company was being valued at $189 million. Today, the partial stake in Mascoma is "still" sitting on STKL's books as a $33 million investment that has not changed since. As we previously noted, considering the times this deal was done, this was probably the trough of alternative energy as well as many other asset classes.
To complete the puzzle, we noticed that after receiving hundreds of millions from private equity investors and government grants, Mascoma recently filed for a $100 million shelf IPO offering. Although this shelf IPO offering does not tell us much about how much Mascoma is valuing the entire entity, we at least know that it's not worth $189 million as it was in the trough of 2010, and likely not the $1.07 billion (if 18.65% is worth $200 million) it was at the peak of 2007. Then again, the recent SolarCity (SCTY) IPO gave the company a near $900 million market capitalization, so we can never doubt the markets' emotional rollercoaster.
Conclusion of hidden ingredients = are they really worthless or priceless?
As you can probably see by now, we do not believe the market is giving these two unrelated businesses a fair valuation. What metrics are deemed fit to value these two entities is entirely subjective. Do I think that the value of Mascoma's future should be worth more today than OPM's present, as well as near future business success? Quite frankly, No! But that's not how the market works. Mascoma will probably be worth quite a bit more since its potential is much greater than the business OPM can ever generate. Its potential and goal is to change the world, and potential is the fuel that runs a large part of the market.
Now, the good news is that either way STKL shareholders can win, considering the present values held on their books for these assets are negligible. Would a 12 x EBITDA multiple be too expensive? I don't believe so. If that multiple would apply to OPM, its value would rise to $240 million, or $159.4 million for the 66.4% STKL owns. That's about $2.41 per STKL share. When trying to evaluate Mascoma, since most of the valuation is based on the future, one valuation method is just as good as another. If we take the unmethodical approach of selecting the average value between the peak and trough mentioned earlier, we arrive at a total company valuation of $629.5 million, or $117.4 million (1.78 per STKL share) for the 18.65% stake STKL owns. This is nearly 4x the value being carried on STKL's books, or $84.4 million more. The additional caveat with this stake is that depending on how many hundreds of millions Mascoma received from both the government and investors, the valuation can easily challenge the near $1 billion SCTY is currently demanding.
STKL shareholders can still reap further benefits of market euphoria post-IPO, due in large part to the shareholder agreement between the two parties that lock up STKL for the first six months after the IPO. After waiting for nearly 40 years, I doubt STKL management will sell the entire stake as quickly as possible if they don't see it as a benefit to shareholders.
To tally it up, thus far we've come up with about $4.19 per share in value, and we haven't even touched the main business.
Organic Food: SunOpta's Healthiest Ingredient
Intro to organic food industry - market need
To reiterate some of what was mentioned earlier, STKL's main business - whereby it derives over 90% of its sales - is in natural, organic, and healthy foods. The company's "Field to Table" business model means that it specializes in sourcing, processing, and packaging natural and organic foods for over 12,000 companies around the world. SunOpta's unique integrated operating platform has made the company one of the world's largest natural and organic food platforms, and the top player in multiple critical parts of its market. I won't punish you with listing its main customers again, but you should have a second look at that impressive list at the beginning of this thesis.
To avoid repeating what your nutritionist/doctor/spouse and health nut friends have probably told you numerous times, here are some bullets about the state of our current health reality:
*62% of the people in the United States are overweight or obese according to their Body Mass Index (Source: WHO)
* Overweight and obesity worldwide is accelerating. It has doubled from 1980 to 2008, and is expected to double again by 2015, reaching 2.3 Billion overweight people. (Source: WHO)
* Overweight and obesity are the 5th leading risk for global deaths, leading to numerous diseases. (Source: WHO)
* There are over 21 million diabetics in the U.S. (Source: American Diabetes Association)
*Nearly 43 million children under the age of five were overweight in 2010. (Source: WHO)
* Annual US health care costs are expected to double over the next five years to $4 Trillion (Source: US Census Bureau)
* The #1 action global consumers take to lose weight is to change their diets. (Source: Nielsen Global Survey 01/12)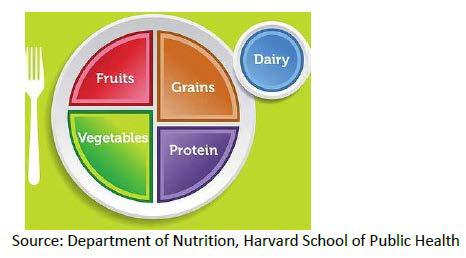 This is not being written to encourage you to change your lifestyle (only you know if you should), but rather to explain the significant opportunity STKL's business has. Organic food has been one of the most successful parts of the food industry over the last decade, even though it was thought to be nothing more than a trend just several years ago. With the U.S. leading the obesity charts, they have also begun addressing the epidemic by becoming the largest consumers of organic and natural food, with over $50 billion in annual sales. This industry, once hailed as trendy, has some of the healthiest margins in the food sector. This explains why you may have noticed your local supermarket placing organic and natural food across all aisles and even next to traditional food, rather than a small section organic food companies fought for in the past. One of the best problems this industry has is that demand is higher than supply.
Now we've covered many facts that you probably knew or heard about, especially if you're a part of Cramerica and have invested in WFM and HAIN. The next catalyst is not as widely known.
The Non GMO opportunity
As some of you surely know, many believe that at least some of the health issues in the U.S., as well as the rest of the world, are due to the modification of our food throughout the last century. This modification is not referring to the fact that a coke from the typical fast food chain is as big as a family bottle, but rather the genetic modification that most of our foods undergo before arriving on our plates (i.e. the genetic modification of the material used to make the gigantic soft drink). Today, it's estimated that up to 80% of package foods in the U.S. are genetically modified, also referred as containing GMO.
We're not saying that all genetically engineered food is bad, but in today's age of transparency, knowing exactly what was genetically engineered in the food you're about to eat is the least we should expect. This allows consumers to make their choice based on actual information rather than the "benefit of the doubt" thought process most of us often use. The worldwide GMO dilemma is already being addressed around the world, with over 50 countries requiring all GMO food to be properly labeled. The list of countries includes China, India, Japan and all of Europe. With nearly half the world's population acknowledging the importance of this matter, you can see this is serious business.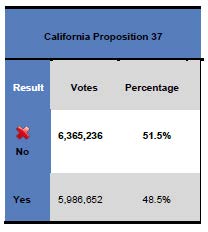 As you'll notice, the United States is still missing from that list. In the recent elections, we got really close to getting Proposition 37 passed, losing by only a few percentage points. When considering that the opposition invested more than five times more money than the support, you realize how close this really was. In short, the law would have required companies to label food sold to consumers made from plants or animals with genetic material changed in specified ways. The good news is that the battle isn't over, as this proposition will be presented again in 2013. A quick look at the donor list for the opposition is quite interesting.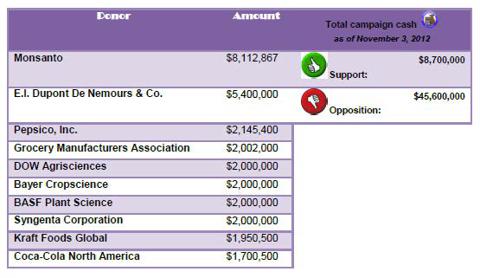 Why such opposition you ask? Because GMO labeling would require companies like Monsanto (NYSE:MON), DuPont (DD), PepsiCo (NYSE:PEP) and others to completely change their business models, especially MON. Are there short opportunities here? We'll leave that for another article.
Here's the GMO Key:
SunOpta's food business is 100% Non-GMO. Non-GMO products are part of the organic food industry's makeup, but not all natural food companies are necessarily 100% Non-GMO. This means that if, or rather when, the GMO proposition becomes law in the U.S., food manufacturers will likely seek Non-GMO food suppliers in order to avoid labeling on much of their products. Amongst other competitive advantages, the existing relationship SunOpta has with many of these companies will likely play in its favor.
The organic and natural food industry is so small in comparison to non-organic that even a small change by these giant companies would have a significant, and likely immediate sales impact on STKL and other Non-GMO suppliers. It has been proposed that any change regarding GMO labeling would require a transition period of as much as 18 months. This would actually work in favor of STKL, whereby the immediate benefits would generate the additional cash flow required to reap the even greater longer-term business.
Where SunOpta is Now, and Where is it Going?
To truly understand STKL, one must not only review its past track record, but also see why the future should be much brighter. Since 1999, STKL has increased sales from $47 million to the expected $1.1 billion in 2012. Better yet, the company has increased its total assets from $35 million to over $669 million (As of Q3 2012) in that same timeframe, while shareholder equity has increased 1669%, from $18.1 million to $320.2 million. Although this is partly due to its OPM division, the vast majority is due to the success of its core food business.
Recent Q3 Financial Highlights
To show that its best money-making days are ahead of, rather than behind the company, SunOpta recently reported a 29.9% year over year growth in EBITDA for the first nine months of this year, with an exceptional 50.5% y/y growth for the 3rd quarter. Here is a consolidated list of some of the financial highlights we found most impressive in the 3rd Quarter.


Although 2012 EBITDA should reach approximately $75 million, we believe the best is yet to come.
The two major contributors to the stellar financial improvement have been lower SG&A costs (despite increased revenue) and increased sales in the higher margin consumer packaged food. These are also the same two keys to STKL's future accelerated growth. Historically, the company has focused on its raw materials business, which is a lower margin business. Over the past year, the company has shifted its focus to its higher margin consumer packaged food business in order to create more shareholder value. As you can see from the excerpt of the company's presentation below, this consumer packaged business is expected to become the majority (60%) of the business, further improving the bottom line.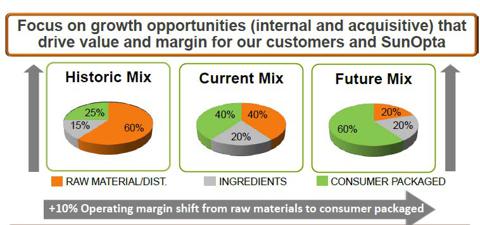 Although the company has not given exact quarter-to-quarter guidance, its presentation once again sheds some insight as to where it's aiming its business. Historically known to be an acquisitive company, it's both interesting and encouraging that the financial targets below do not count acquisitions as part of the overall projections. Based on the company's 3-year internal revenue growth of 10%, accompanied by a 10% EBITDA margin, STKL should be able to reach nearly $1.50 billion in revenue, and $150 million EBITDA - double what it is today. When considering the company's acquisitive history, it is not a stretch to see this company hit the $2+ billion mark within that timeframe.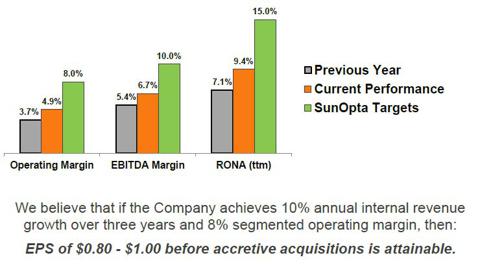 Targeting a 10% organic revenue growth rate is in line with the 5%-10% targets being projected by HAIN and United Natural Foods (NASDAQ:UNFI), which leads me to my next point: How does STKL's valuation compare to its peers?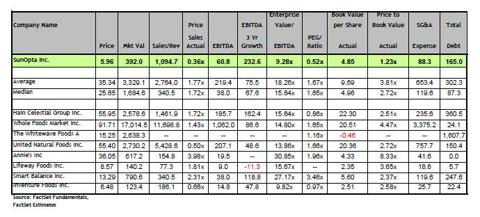 A quick look at the consolidated organic food companies table above (more detailed report shown if you press "peers" link) should show you that relative to its peers, STKL is undervalued on many metrics. This makes the task of evaluating the company [vs. its peers] pretty simple regardless of whether you use a PEG, P/S or P/B ratio methodology. But to get a more defined valuation comparison, we decided to pick a company we felt STKL is most similar to. Many that are familiar with the industry may believe that STKL is most similar to UNFI, but we decided to go with HAIN instead. Although SunOpta does not have the same type of consumer brand business HAIN does, after its recent divestments and change of business focus mentioned above, we believe UNFI is where STKL was, whereas HAIN is closer to where the company is going. To confirm that there's no valuation bias, STKL is cheaper than both. So, let's begin.
STKL vs. HAIN:
Earnings
Numbers for both companies have been generated from the most recent quarter, while the changes noted are year over year.

There is no doubt that HAIN's aggressive acquisition strategy is outgrowing STKL in revenue, but a closer look at its rapid spending increase shows that the company is hurting its own bottom line growth. SunOpta's more conservative spending cuts has not only lowered its SG&A by 5.8% (vs. an increase of 17.3% at HAIN), but it also allowed the company to grow its EBIDTA by nearly double the rate of HAIN (50.5% vs. 26%).
Asset Comparison
With both companies being the acquisitive type, let's see what kind of assets the two have accumulated over the years:

On the surface it looks like HAIN easily wins the total asset battle since they have accumulated $1,699.4 million with a relatively low debt to equity ratio. But with 60% of their assets ($1,020.6 million) being something that is not tangible, a true comparison can only be fair if we investigate what is really owned here.
This Is Why We Believe Most Goodwill Is Worthless
By definition, Goodwill is an intangible asset that is typically created as a result of an acquiring company (e.g. HAIN) paying the acquired company (see pg 63) more than its net tangible assets. This is acceptable behavior in many investors' minds, so long as the company spends its money wisely, and impairs any goodwill for acquisitions that do not turn out as anticipated. According to the HAIN 2012 Annual Report, the following is a list of its transactions since 2010:

Surely there must be a mistake here. Why would any company pay $464.9 million of its shareholders' money for $48.11 million in assets without having an identifiable way of how to make the money back? So let's dig deeper into the HAIN annual report to see what management's expectations were. The section named "Unaudited Pro forma Results of Continuing Operations" on Page 63 (67 of the pdf) sheds some light by stating the following:
The following table provides unaudited pro forma results of continuing operations for the fiscal years ended June 30, 2012, 2011 and 2010, as if all of the above acquisitions had been completed at the beginning of fiscal year 2010. The following pro forma combined results of continuing operations have been provided for illustrative purposes only, and do not purport to be indicative of the actual results that would have been achieved by the Company for the periods presented or that will be achieved by the combined company in the future.

Now that we know what they were expecting, let's see what they actually got. The Segments section on page 3 (page 7 on pdf) gives us the details.

After reviewing the two excerpts, it's apparent that there's quite a difference between what was really generated versus what was supposed to happen according to the Pro forma. Real cumulative revenue for the three years were $3.38 billion, while the Pro forma showed an expectation of $4.02 billion - a $640 million difference. Quite frankly, we're unsure as to which hat it picked these Pro forma numbers from because they don't add up to realistic possibilities, especially after we reviewed the transaction track record earlier. The Pro forma disclosure on page 63 mentioned that the model was assuming that all of the $464.9 million in acquisitions were executed at the beginning of 2010, which would have led to sales of $1.21 billion that year. One of the problems with this analysis is that this would have meant that these acquired companies would have generated $315 million in sales during their first year-over 100% higher than the identified revenue. This is because real revenue in 2009 (not shown in 2012 annual report) were $1,135 million vs. real revenue of $890 million in 2010. This means that HAIN lost $232 million in sales during that time, which these acquired companies would not have stopped. So to reach the 2010 $1,211 million Pro forma illusion shown, these asset-light companies would have had to make up for the $232 million in lost business as well as the $83 million difference between 2009 actual and 2010 Pro forma - totaling $315 million. Neither the track record shown above nor the other checks we did support that it was possible.
This brings us back to the question of why would HAIN have wasted so much money? At this point, the only idea I have come up with is that it spent the money on overvalued companies, paying 10X assets and at least 3x revenue to justify its own valuation. HAIN is not the first or the last company to overpay for an acquisition, but unfortunately this wasted capital has ruined its balance sheet, and should lead to a large write-down. The effect of these bad acquisitions doesn't just end at the goodwill ($708.8 million), but also at intangible assets ($311.8 million), as well as the $154.11 million in Property, Plant, and Equipment (PP&E) it has on its books. Since much of HAIN's PP&E has already been amortized in past years, 38.9% ($57.7mm) of the outstanding balance has been the result of acquisitions. We're not saying the property is worthless, but it just adds even more clarity about the quality of assets on the books. The goodwill on the other hand, is more like good luck to shareholders in making that money back.
New examples of Asset Comp
So if we revisit the balance sheet comparison between STKL and HAIN, and take what we believe is a more appropriate view, by eliminating the goodwill, as well as 50% of the intangible (just to give the brands some respect), we arrive at a different set of numbers:

This is not to say that HAIN has no value, as its impressive earnings power would clearly dispute that. The point here is that when fairly comparing the companies, we believe that one should assess the valuation and risk of each. While earnings power should theoretically tell investors how long it would take them to get their principal investment back had they bought the entire company, the assets would give them a theoretical safety-net in case the earnings power did not materialize. This is why earnings power and assets are very crucial in determining a fair value comparison. Currently HAIN has a market capitalization of $2.6 billion versus STKL's $400 million - a 550% premium. This is clearly wrong, but in what way?
Now that we have re-evaluated the assets for both companies, it's fairly obvious that STKL has drastically less risk than HAIN when considering the current market capitalizations/total adjusted assets ratio of both (STKL = $400 million/$585 million and HAIN = $2,578 million/$835 million). We prefer this method instead of the more traditional Price/Tangible Book, since the latter method would include debt, which we do not believe is as material in this case as it would be in other traditional businesses. Both companies use a small amount of debt as a traditional part of their businesses, and neither is at risk of defaulting or needing to meet major maturity in the next few years, so to assume that an acquiring company would pay off the debt in full upfront is unlikely. I understand that this methodology may not agree with everyone, but please feel free to reassess in your own way; you will find that the overall numbers do not change very much.
The second way we like to view this sector is based on a Price/Sales multiple. The rationale behind this methodology is that most in the industry begin to truly benefit from the organic food margins once they reach scale. But since there are a limited number of players in the industry, especially large ones, achieving scale is quite a difficult and lengthy task. Historically, the sector has been valued at 1.6x sales, which is below the current average of 1.77x sales.
If we evaluate the two companies at 1.6x 2013 projected sales, since market is an anticipatory vehicle, STKL would be at a valuation of $1.93 billion (29.33/share), while HAIN would be $2.85 billion (61.24/share).
Lastly, if we consider the earnings power of each company as the top value creator, while the assets are its protector, we then use a 2013 EBITDA X multiple + Total Assets valuation for each. With our projection of a 2013 EBITDA of $97.5 million, a 15x multiple (historical average for industry), and total adjusted assets of $585, we arrive at a value of $2.05 billion (31.02/share). Again, our untraditional approach may not suit you, so feel free to evaluate according to the system you agree with.
After reviewing the financials of both of these companies and realizing that they are quite competitive, do you still think that HAIN deserves a valuation of $2.6 Billion vs. STKL's $400 million - a 550% premium? We clearly don't.
To Sum It Up
Today we introduced you to multiple ideas you can take away from this thesis. We believe that STKL is the most lucrative of them. The two secret ingredients (OPM and Mascoma) ended up being pretty tasty, earning an estimated valuation of $4.19, which is nearly 70% of the stock price without considering the main business or maximum potential. Further, we have a core organic food business that is growing rapidly under the new business structure, with EBITDA potential of as much as $200 million in the next couple of years. This is all while the overall company is currently being valued at $400 million, 5x times current EBITDA, a PEG ratio of 0.52, Price/Sales multiple of 0.36, and most importantly a 1.2x Book Value. These are all considerably cheaper than the industry. The best part of it all is that SunOpta's stellar management is finding a way for the company to grow the bottom line much faster than its peers, which generally earns a premium valuation in the market. The risk/high reward type of valuation STKL presently has, make it a very unique opportunity.
While we believe the organic business is currently worth between $29 and $31, we believe the longer-term investors would benefit even more. This is not only because of the increased earnings from the food business, but also the additional $4 to $6 that would be realized through the divestment of its two secret ingredients. SunOpta may not need to become the most expensive in the industry, but it surely should not trade at a discount to any of its peers. Maybe the Activist (West Face Capital) that joined STKL's board recently can call the Activist on HAIN's board (Carl Icahn) and make a deal? At least HAIN would finally get some assets.
Disclosure: I am long STKL. I wrote this article myself, and it expresses my own opinions. I am not receiving compensation for it (other than from Seeking Alpha). I have no business relationship with any company whose stock is mentioned in this article.
Additional disclosure: Reuven Capital Investments is long STKL equity and HAIN put options