The very nature of development phase pharmaceuticals necessitates external financing in one form or the other. This financing can come in the form of loans, partnership support or stock offerings. Until these companies graduate from their development phase statuses to marketing phase entities, this financing continues and is considered to be a "necessary evil" in the small pharmaceutical company sector. While stock offerings dilute existing shareholders' interests, they often provide for good entries for new shareholders due to the sell-off often occurring once the stock offerings are announced. These sell-offs are typically overdone, and shares may recover to higher levels as the market absorbs the extra shares or shareholders more fully investigate and understand the financial impact on the companies' futures.
Following are some development phase small pharma that are now trading at oversold levels due to recent stock offerings. I believe they may present solid upside in the coming days and weeks and are worth additional research before investors open positions in these companies. Copies of the companies' pipelines, as available on their respective websites, are included to help give an indication as to current and upcoming clinical catalysts. As you research each possibility presented, please take into consideration the development phase status of each. While each of the companies presented has a varied pipeline, failure in clinical trials of a lead product candidate would have an extremely negative impact on the company's share price. Interested investors are advised to have entry and exit plans in place to guard against excess losses. Additionally, while recent financing has shored up the cash position of each of these companies, this does not necessarily guard against additional dilutive financing in the near future, particularly if cash burn rates are high for the investments in consideration.
Lpath, Inc (LPTN) is a development phase pharmaceutical focused on targeting bioactive signaling lipids in order to treat diseases such as Wet AMD, cancer, inflammation, fibrosis and a host of other indications. The company's two lead product candidates are iSONEP™ and ASONEP™, both of which target Sphingosine 1 Phosphate (S1P), a bioactive lipid thought to play a role in cancer development and Wet AMD. Both of these promising therapies were developed using the company's ImmuneY2™ platform, used to develop monoclonal antibodies to target and neutralize (or bind) bioactive lips involved in signaling mechanisms. The disruption or elimination of this signaling path is being evaluated in Phase II clinicals. iSONEP™ is being developed as a treatment for Wet AMD (a near 2 million patient indication in the U.S.) via a partnership with Pfizer (NYSE:PFE) that was announced in December of 2010. According to terms of the deal, Lpath could receive development, regulatory and commercial milestone payments that could total up to $497.5 million depending on iSONEP™'s progression. Lpath would also receive double-digit royalties based on sales of iSONEP™ if approved. As part of the agreement with the $189 billion pharmaceutical, Lpath has granted to Pfizer a right of first refusal for ASONEP™, being evaluated for the treatment of cancer.
On December 13th Lpath announced a 2.4 million share offering to provide money for its business activities going forward. The following day the pricing was announced at $5.00 per share for a total of just under $12 million to be used at the company's discretion. The company's need for additional financing wasn't surprising; the share price of the offering was devastating, however. At the close of the day on December 13th, the company's common shares were trading at $6.00. They would open the day on the 14th at $5.26 and then trend down to where they currently trade, just under $5.00 for a greater than 15% loss from the previous day's close. In early October, the company instituted a 1:7 reverse split of its common shares in order to make it eligible to uplist to the NASDAQ exchange, effective on October 22nd.
The company's share price appears to have stabilized at the $5.00 level. Interested investors are advised to perform additional research on the company and its pipeline before opening a position in its common shares. The company's recent press releases and Q3 financials and company update should be construed as good starting points for your investment research. As a development phase company, the current cash position for Lpath has improved since its financing. With a market capitalization of about $52 million, the company should have just under $28 million in cash and equivalents with $16 million on September 30th and the additional $12 million from its recent offering.
Biodel, Inc (BIOD) initiated a Phase II trial for BIOD-123, a rapid-release insulin for diabetic patients, on September 13th of this year. The therapy is a primary focus for the company, with topline data expected at the end of 2013 on the trial. The company is also expected to submit a new drug application (NDA) during Q1, 2014 for BIOD-Stable Glucagon, a sublingual synthetic hormone therapy that is intended to prevent hypoglycemia (low blood sugar) in congenital hyperinsulinism (CHI) patients. The therapy recently received the FDA's Orphan Drug designation on December 6th, providing a boost for the company's common shares. The Orphan Drug designation, as determined by the FDA in the U.S., is intended to provide incentives including, but not limited to, a 7-year period of marketing exclusivity after regulatory approval for a therapy addressing a rare disease indication. During this Orphan market exclusivity period, the FDA will not approve an NDA or a generic drug application for the same product and for the same rare disease indication. Biodel had already received Orphan Drug status for BIOD-Stable Glucagon from the European Medicines Agency's (EMA's) on January 17, 2012, and orphan designation by the European Commission (EC) on March 5, 2012. The marketing exclusivity is substantial in Europe as the designation there provides a 10-year period with no competition in the indication.
A recent stock offering of $18.5 million provides enough money to develop the company's pipeline through Q1, 2014, according to the company's Q4 2012 filing. Biodel's common shares are trading at $2.45, just at the $2.50 and then $2.25 support levels. With the offering behind them and finances expected to last through 2013, entry at current levels could be profitable with little risk of additional financing. The chart's current technical support is at risk. However, the interim Phase II data likely throughout next year should keep investor interest and may prevent share price drop below the next support levels. With a current market capitalization of about $36 million, Biodel is trading under at its cash value with cash and equivalents of $39.1 as of September 30th.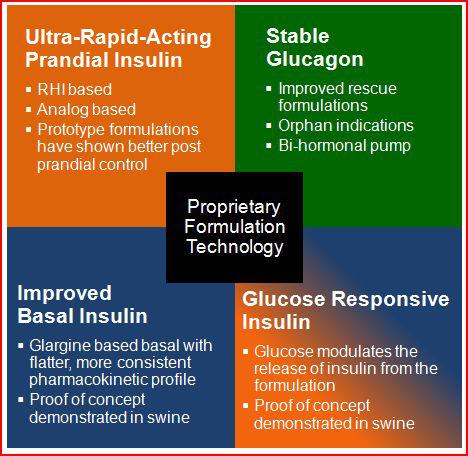 Supernus Pharmaceuticals (NASDAQ:SUPN) long-term shareholders have had the fortune of seeing their development-phase investment mature and receive FDA approval for its epilepsy drug, Oxtellar XR™ on October 19th. Although the share prices did not really spike on news of the already-anticipated approval, the approval was not a "sell on the news" type of event, and the share price remained strong, still trading at $11.00 on November 28th. However, November 29th's additional drop with a close at $9.81 was an indication that bad news for investors was possibly on the way. Fears were confirmed via an afterhours announcement by the company of dilutive financing of 6 million shares to be priced at $8.0 per share, an 18.5% discount on the day's close and down 33% from the $12 share price just two days earlier. The news shocked investors and sparked an exodus, driving share price down to the $8.00 range.
Oxtellar XR™ is the company's high-profile product since the drug was approved in October. However, the company does have "news in wait" as it has another tentatively approved product for epilepsy, Trokendi XR™ (extended release topiramate). On June 26th, the company announced that the FDA tentatively approved Trokendi XR™, a once-daily extended release formulation of commonly-prescribed topiramate. The announcement stated that "the FDA completed its review of the Trokendi XR NDA and that no additional clinical trials are required. Our initial understanding is that final approval is conditioned on resolving a marketing exclusivity issue raised by the FDA regarding a specific pediatric population." The issues are still being resolved as indicated in the company's Q3 filing "The Company has one approved product for epilepsy, Oxtellar XR™ (extended release oxcarbazepine), and one tentatively approved product for epilepsy, Trokendi XR™ (extended release topiramate)."
Entry in the company's common shares now trading in the low $7.2 range could be profitable from these depressed levels if the $6.70 support from recent trading and from early March of this year hold. The news about the Trokendi XR™ is likely imminent, and I expect no negative comments pertaining to its marketing. News here could surprise shareholders and provide a catalyst to start an uptrend back toward recent highs. Marketing updates, including possible partnerships, for Oxtellar XR™ could also provide a positive catalyst for share price movement. Interested investors should review the company's Q3 filing and its press releases from the last couple of years as the beginning of their research into the company's potential. Trading at $7.26 at market close on December 20th, Supernus' market capitalization is about $178 million with a cash position of $62.5 million on September 30th and the $48 million offering giving them about $110 million in current cash. With one approved drug, another tentatively approved, a partnership announcement or other marketing news could be a solid share price driver in the coming weeks.
Disclosure: I am long SUPN. I wrote this article myself, and it expresses my own opinions. I am not receiving compensation for it. I have no business relationship with any company whose stock is mentioned in this article. I may initiate a long position in LPTN and/or BIOD over the next 72 hours.