"Seize the day, and put the least possible trust in tomorrow." - Horace
Well, we finally get a nice sell-off in December because of a bump in the road on the way to the resolution to the fiscal cliff. This was very predictable and I hope everyone has their shopping lists at the ready to pick up some cheaper shares. I am going to look on the brighter side today and take my profits in my short Research in Motion (RIMM) position that is tanking as expected after earnings. One option play I put some of those RIMM's profits into today as we have a substantial pullback is a new play on Microsoft (NASDAQ:MSFT) for two key reasons:
Valuation: The stock is dirt cheap at under 9x forward earnings. It also has over $50B in net cash on the books, so its forward P/E taking that into consideration is around 7. The stock pays a 3.4% yield and this will help put a floor under the stock. I recently covered the bull case for Microsoft, so I will not elaborate on its long term value again.
Technicals: The stock has a year old technical support range of approximately $26 to $27 a share (see chart). MSFT has also stayed above $30 a share for a good portion of the year.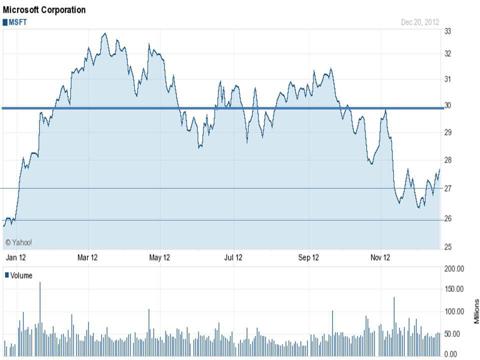 So here is an option strategy I crafted to make a 200% return if Microsoft gets back up to its $30 level by late in the first quarter. I bought a bull call spread with the March 27/30 call pair. I just filled an order to pick this up at a $1 net premium. If Microsoft rises to $30 or better a share by March 16th, I make my 200% return. If it finishes under $27 a share by that time, I lose my $1 investment. If the stock finishes between $27 to $30 a share, I get something in between nothing and $3. To me this is a prudent and potentially lucrative bet.
Happy Hunting.
Disclosure: I am long MSFT. I wrote this article myself, and it expresses my own opinions. I am not receiving compensation for it (other than from Seeking Alpha). I have no business relationship with any company whose stock is mentioned in this article.
Additional disclosure: Closed my December RIMM bear call spread position. Still have January bear call spread position open.