As I read this article from the Washington Post about Exxon's (NYSE:XOM) involvement in the Kurdistan region of Iraq I couldn't help but wonder why? As in why bother? Why get involved in an area where conducting business can result in an employee getting shot or have your right to operate revoked at a moment's notice by the government.
The business environment in Northern Iraq is so absurd that Exxon merely starting to drill wells could start a civil war.
It doesn't have to be this hard anymore. A company like Exxon doesn't have to go to the most dangerous parts of the world to grow its reserves to create shareholder value. These days Exxon can stay close to home and add billions of barrels of oil that is based in North America. And the best place to find that oil is not by drilling wells into the ground, it is by signing checks in the boardroom.
The unconventional resource revolution that is taking place in North America was driven by small independent companies run by entrepreneurs. It was not driven by the fat cats at the big oil companies. But the big oil companies have something crucial to developing these unconventional oil and gas resource play that the independents do not have.
That crucial item is a big fat wallet.
Exxon's Financial Might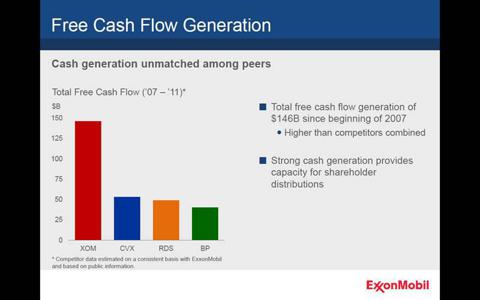 The slide above is from a presentation that Exxon Mobil gave this year. The company has generated an incredible $146 billion of cash flow since 2007. Even more incredible is the fact that Exxon's cash flow generation total is more than Chevron (NYSE:CVX), Shell (NYSE:RDS.A) and BP (NYSE:BP) combined.
The American energy industry is going through a massive re-birth thanks to the production of oil and natural gas from unconventional resource plays. That is fantastic, and I'm a big believer in those unconventional resources. The fact is, however, that development of those unconventional plays requires an incredible amount of capital.
The dynamics of an unconventional resource play are such that every year the industry is going to have drill a huge number of wells to maintain production and grow it. The reason is the production profile of these unconventional wells.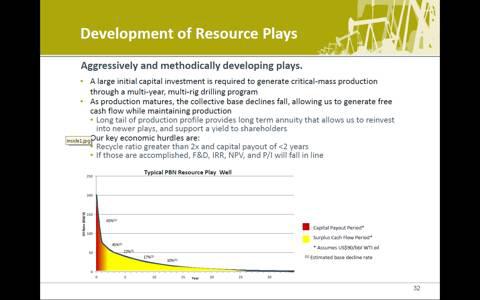 The wells come on strong at the start and then decline very rapidly. We can't just drill a well and then sit back and enjoy the production from it for the next ten years. We need to drill a well and then quickly drill another one to offset the declines of the first one and grow total production a little bit.
These uncoventional resource plays are like widget factories. They don't have the exploration risk, but they require constant drilling to hold and grow production. And all of that drilling requires a huge amount of capital, which the independents don't have.
But Exxon does.
For Exxon with its massive cash flow engine (and balance sheet) these unconventional plays are perfect. The resource play offers a steady stream of low risk drilling opportunities that offer an easy to determine payout. I think Exxon should be locking up as much acreage in these plays as possible rather than spending time hunting for elephants in Iraq or offshore Africa.
Chesapeake - One Big Bite, Years of Reward
Chesapeake Energy (NYSE:CHK) has done a masterful job of identifying new unconventional resource plays and an even better job of ramping up a land machine to secure acreage in those plays.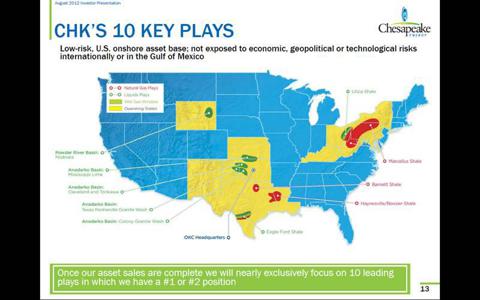 Chesapeake has an either number 1 or number 2 position in 10 of America's largest resource plays:
- Marcellus
- Utica
- Barnett
- Haynesville
- Eagle Ford
- Cleveland and Tonkawa
- Mississippi Lime
- Niobrara
- Granite Wash
- Colony Granite Wash
Chesapeake also has an extremely leveraged balance sheet which results in a stock market valuation that greatly undervalues the unmatched collection of acreage that Chesapeake has.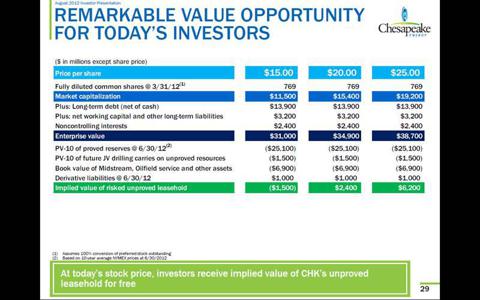 As Chesapeake demonstrates in the slide above, at current stock prices an investor pays for the value of currently booked reserves and receives all of the enormous upside that exists in Chesapeake's undeveloped acreage. Over time, the reserves booked from that undeveloped acreage will be multiples of current reserves.
Exxon could put forward a hostile offer for Chesapeake tomorrow at a 50% premium to the current stock price and have this company and these reserves. That would set Exxon up with a place to invest its cash flow for decades to come and avoid the risk involved in doing business in the most dangerous corners of the world.
It is a perfect match. The best balance sheet and cash flow stream in the business with the best collection of unconventional assets.
Disclosure: I have no positions in any stocks mentioned, and no plans to initiate any positions within the next 72 hours. I wrote this article myself, and it expresses my own opinions. I am not receiving compensation for it (other than from Seeking Alpha). I have no business relationship with any company whose stock is mentioned in this article.