As we have written recently, we believe Research In Motion (RIMM) represents a compelling acquisition target for a strategic buyer. RIMM's poker game of sale or launch now has a life of 41 days and ends when the launch commences. Of course, any acquisition or strategic deal in the meantime would give a worthy delay rationale to the launch. RIMM's earnings release last night showed increased cash, the key component for its success. We believe the time for sale of RIMM to a strategic buyer is upon RIMM.
RIMM stock was halted just after the close of the market in anticipation of its earnings release for the quarter ended December 1, 2012. The headline results were better than anticipated. Most importantly, there was an increase in cash of $600 million on the balance sheet. When the trading resumed, the stock shot up above $15 share. Trading was heavy with 11.9 million shares changing hands in total after hours. Here is a NASDAQ chart of the trading in after hours: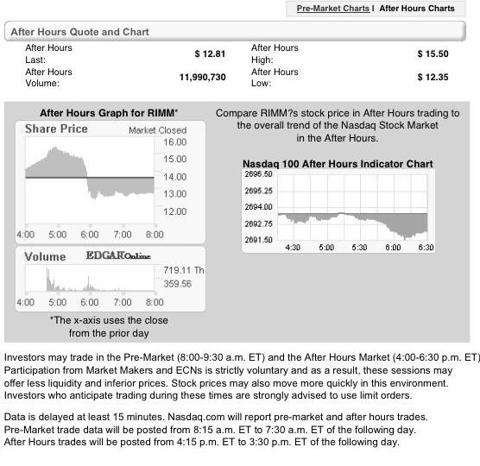 Just before 6 o'clock on the above chart, you can see a 2nd spike in volume resulting in a price drop below $14. Tracing that back to the transcript of the earnings conference call, we can see this drop coincides with a point in the call where Heins described a new strategy in reducing or even eliminating enterprise subscriber revenue for certain levels of service. An excerpt from a Bloomberg article this morning says RIMM will "generate less or no service revenue," Chief Executive Officer Thorsten Heins said yesterday on a conference call. Service fees accounted for about $982 million in sales last quarter, out of a total of $2.73 billion."
They would not provide any more detail about this change in strategy. While it's apparent that investors did not like this change, we think this is a positive in terms of changing the way it does business in the more open and competitive environment for the enterprise customer. Moreover, we think that this also makes it easier for an acquirer of the company to integrate a BlackBerry enterprise customer with a more straight forward and traditional pricing plan.
With the price coming down approximately $2.35 per share this morning and the cash balance going up by $600 million or approximately a $1.20 a share, a potential acquirer just saved $3.55 per-share.
In an interview on CNBC yesterday morning titled: "Samsung and Microsoft would be the two most likely acquirers of Research in Motion," said Peter Misek, Jefferies & Company, providing a preview of the tech company's earnings, and weighing in on the launch of BlackBerry 10." Misek had some interesting points on the strengths and weaknesses RIMM is facing. His reasoning, moreover, on an acquisition happening after the launch shows the risk RIMM faces if it waits too long in pursuing a deal for the company. He highlighted the odds being against RIMM saving the company with the BB10 launch. If successful, the company could bring a much higher sale price in the $20-$30 price range while a flop would result in a "take-under" at below $10.
Our theory is that RIMM is being savvy in its strategy and plowing forward with its launch of BB10 with many excited about its prospects. In the meantime, a sale may be in the works. This would take advantage of the recent surge in share price from its lows in the single digits. RIMM may be in the biggest poker game of its existence. Our advice to the large holders and insiders directing the company's strategy: take advantage of the price drop and "Let's make a deal".
Disclosure: I am long RIMM. I wrote this article myself, and it expresses my own opinions. I am not receiving compensation for it. I have no business relationship with any company whose stock is mentioned in this article.
Additional disclosure: The volatility in this name makes it a great trading stock. We actively trade it to keep risk lower. Therefore our position can differ from the disclosure at the time of submitting this article.