On October 26, 2012, Columbia Laboratories Inc. (CBRX) confirmed that the U.S. Food and Drug Administration (FDA) had denied Watson Pharmaceuticals, Inc.'s (WPI) Formal Dispute Resolution Request (NYSEARCA:FDRR) related to its New Drug Application (NDA 22-139) for Prochieve, Columbia Laboratories Inc.'s lead candidate, for the prevention of preterm birth in women with a short cervical length. Watson said it intends to review possible options related to the continued pursuit of the NDA. Watson filed its FDRR in August of 2012.
As is shown by the following chart, Columbia Laboratories Inc.'s stock declined more than 40% on the date of the announcement and has slowly drifted lower to trade in a range of $.56-$.60. The Company's stock has traded as high as $2.96 and as low as $.55 during the past year.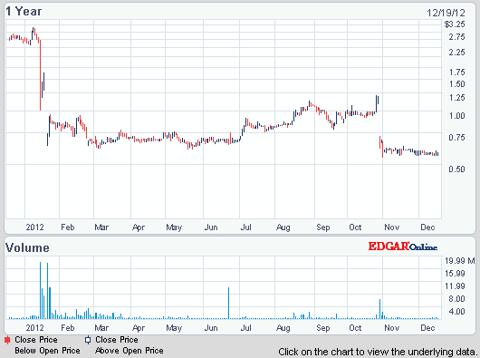 Columbia Laboratories Inc. is a specialty pharmaceutical company with a successful history of developing proprietary, vaginally administered products for women's health indications. The Company receives sales and royalty revenues from CRINONE® 8% (progesterone gel), which is marketed by Watson Pharmaceuticals, Inc. in the United States and by Merck Serono in over 60 foreign countries.
So why Columbia Laboratories Inc. now and at these prices? Two Reasons:
First, on November 8, 2012, Columbia Laboratories Inc. released its financials for the 3rd quarter of 2012. Highlights from this release and the Company's Quarterly Report (10Q) submitted to the SEC show the following:
* Total net revenues increased 35% to $6.7 million in the third quarter of 2012, compared to $4.9 million in the third quarter of 2011.
* Net product revenues were $5.6 million, compared to $4.1 million in the third quarter of 2011, due to higher sales of CRINONE® (progesterone gel) to Merck Serono S.A. ("Merck Serono") and Watson Pharmaceuticals, Inc.
* Gross profit on net product revenues was 43%, compared to 24% in the third quarter of 2011, due primarily to greater sales in higher-margin country markets.
* Operating income was $1.4 million, versus an operating loss of $0.6 million in the third quarter of 2011, reflecting the higher revenues and a $0.4 million decrease in operating expenses from prior year levels. Net income was $400,000 for the quarter.
* Cash, cash equivalents and short-term investments increased by $2.6 million in the quarter to $25.6 million at September 30, 2012. Cash per share equates to $.29.
* Columbia has streamlined the organization to operate as cash flow neutral-to-positive. The Company is currently evaluating potential strategic transactions to add value for its stockholders.
* No long term debt
* The Company currently has 88,451,364 shares outstanding with 75,400,000 shares in the public float of which 2,130,000 are sold short
The Company's metrics show a micro-cap company executing on growth evidenced by the 35% year over year quarterly growth. More importantly, the Company was able to turn a profit for the most recently announced quarter and for the first nine months of 2012, as well as increasing its cash on hand by $2.6 million over the June 2012 quarter.
Second, from mid-November through the end of December the stock market encountered an annual selling spree due to "tax loss selling." Tax Loss Selling by definition is the sale of securities that have declined in value in order to realize losses that may be used to reduce taxable income. Tax-loss selling occurs near the end of a calendar year so that the loss can be used in that tax year to offset ordinary income or gains on other security transactions. Thus, tax-loss selling occurs mainly among stocks that have declined in price.
As is clearly shown in the above chart, the stock of Columbia Laboratories Inc. has declined more than 80% from its 52 week high and currently trades near its 52 week low.
Now that the news of the FDA's decision has been digested by the street and as we near the end of December (tax loss selling), we expect the Ccompany's stock to find a higher trading range. Prior to the announcement on October 26, 2012, the Company's stock traded in a range between $.80-$1.20. We anticipate the stock will head back to this range during the end of December and into January 2013 and then trade on the Company's fundamentals.
Conclusion:
We anticipate CBRX to trade in a range between $.80-$1.20 with a short term price target of $.85. We expect this move higher to begin towards the end of December and into January 2013 as the pressure from tax loss selling subsidies. Our long term price target is from $1.20 to $1.50 and is highly dependent on Watson's appeal to the FDA for a new trial for Prochieve.
Risks:
The Company received a letter on October 24, 2012, from the Nasdaq Stock Market indicating that the Company no longer meets the minimum bid price requirement for continued listing on the Nasdaq Global Market as set forth in Nasdaq Listing Rule 5450(a)(1) (the "Rule"). In accordance with Nasdaq rules, the Company has 180 calendar days to regain compliance with the Rule. If at any time before April 23, 2013, the bid price of Columbia's common stock closes at $1.00 per share or higher for a minimum of 10 consecutive business days, Nasdaq will notify the Company that it has regained compliance with the Rule.
As with any micro-cap company whose revenue is dependent on one or a few products, caution needs to be exercised. We never designate more than 10% of our fund's capital to micro-cap companies.
If Watson Pharmaceuticals, Inc. elects not to pursue further development of Prochieve, this could have a negative outlook on future growth prospects for Columbia Laboratories Inc.
Disclaimer: We currently hold 7,000 shares of CBRX in our long account at a cost of $.58 and will add a predetermined number of shares on each $.10 incremental increase in price up to our short term target. All additional positions will have trailing stops in effect.
Disclosure: I am long CBRX. I wrote this article myself, and it expresses my own opinions. I am not receiving compensation for it (other than from Seeking Alpha). I have no business relationship with any company whose stock is mentioned in this article.