Sandstorm Gold (NYSEMKT:SAND) has had a banner year, growing to a $1 billion market cap and up 90% year to date. Having covered the stock since June of 2011, it has been amazing to watch them go from a speculative company on the Canadian Venture Exchange to listing on the NYSE and being featured on the Jim Cramer show over the short span of 18 months. Life is a wild ride.
Being located in the same city as SAND's head office, I reached out to SAND's CEO Nolan Watson to request an interview. He was gracious enough to grant me his time on behalf of the readers of Seeking Alpha, during which we discussed a wide variety of topics including his charity Nations Cry, recent national events in Canada, the outlook for the mining industry and, of course, Sandstorm Gold and Sandstorm Metals and Energy.
What Seeking Alpha readers will find of particular interest is Nolan's take on the dynamics of the industry and the future for Sandstorm Metals and Energy (OTCPK:STTYF), the lesser known of Nolan's two companies that has exciting growth potential (article to come once stock is over the $1 per share price as per Seeking Alpha rules).
The audio of the interview is available for download on my website, below is the written version of our discussion. The transcript of the interview has been edited for grammar, clarity, readability and syntax.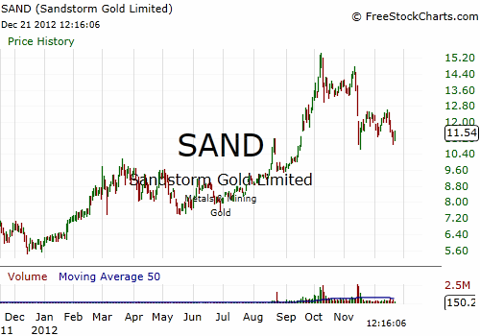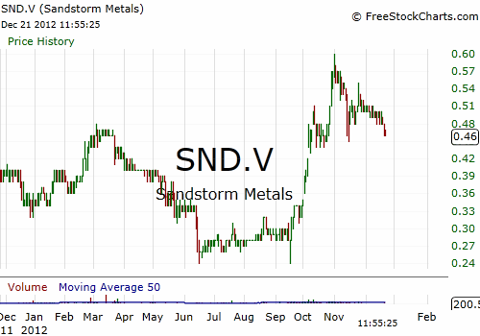 Sean Bellamy McNulty
2012 was a huge year for you Nolan. Sandstorm was listed on the NYSE, TSX and hit a $1 billion market cap, Nations Cry is close to $1 million in assets, you presented at a TEDxVancouver event. Best year of your life?
Nolan Watson
It's tough to define best. I think each year for the past 10 years of my career has been an incremental progression over the previous year, and so every year I've had good things happen. I haven't had a major negative year yet and hopefully will keep on truckin.
Sean Bellamy McNulty
I'm intrigued by Nation's Cry, which you launched in 2006 with only $50,000 in capital and now it has grown close to $1 million in assets. What led you to your conclusions about certain forms of charity creating dependence? Was it a book or experience?
Nolan Watson
I don't think it was books and I don't think I ever had an epiphany moment. It was born out of the types of life lessons that I've learned and who I am and how I run my business, which is different from how a lot of other people run businesses.
It comes from a place of making the right long term decisions as opposed to the right short term decisions, which often turn out to be the wrong long term decisions. There is lots of people, whether it is trading in the stock market or other endeavors, who are focused on the now instead of the obvious long term things that you don't know the exact timing of but you know are going to happen. The long term things are a lot easier to predict. That's how I invest in my personal equity portfolio which has worked out very well for me, and that is how I run Sandstorm. I don't make a decision unless I think it is the best thing in the long run.
I think that charities should think that way but they don't. They should be figuring out how do I solve these problems long term, but often what they end up doing is how do they minimize temporary pain in the short term. Those are two totally different approaches. If your sole focus is minimizing pain and suffering of people in the short term, you will never accomplish any meaningful long term objectives and there might be more suffering in the long term because of it, because you are just perpetuating this atmosphere of people relying on charities and never becoming independent of these charities.
This is something I'm super passionate about; I wish people would make decisions with their personal lives, businesses and charities on a long term basis.
Sean Bellamy McNulty
Moving onto business, Mutiny Gold is your first venture into the Australian market, do you see a lot of deals happening there given the size of the gold market and the fact that streaming deals aren't as common there?
Nolan Watson
I see the potential for some growth there, for sure. That was our first streaming deal in Australia, I don't think it will be our last. I don't describe it candidly though as a market where there is tons of growth potential, with the reason being that because of some of the larger iron ore and other bulk commodity projects that are in operation it is very expensive to operate there. You have to pay a guy $150,000 per year to drive a truck, making it really tough to make money in mining in Australia now as an actual operator.
One of our key focuses at Sandstorm is doing deals with mining companies that have a good gross margin, which means that if your costs are high on average in a country, your gross margin is lower, making it tougher to make a decision to do a deal there.
Sean Bellamy McNulty
That is a great point, as even with your cost locked in at around $400 per ounce, if a mine were to get to a point where their cost of production and spot price of gold were out of whack, even with that low per ounce price the mine could just shut down.
Nolan Watson
Yes, if a mine shuts down, we're in trouble.
Sean Bellamy McNulty
Do you hedge your currency exposure? I know your policies between Canada and the USA, but with a streaming deal in Australia, how does the currency risk affect your operations?
Nolan Watson
In all of our contracts, regardless of which country they are in, our upfront payment is in US dollars, are ongoing payment is fixed in US dollars, for accounting purposes we're a US dollar functional currency reporter and for tax purposes in Canada we file under the functional currency US dollar selection, so we're in US dollars for everything.
Sean Bellamy McNulty
I found your Jim Cramer interview interesting, speaking of, how was Jim Cramer in person? Crazy?
Nolan Watson
No, he is not as crazy as he seems on TV. He is much more muted normal person than other people might anticipate, a nice guy.
Sean Bellamy McNulty
Commodities tend to have long term cycles, but there is one variable that is different today than in years past, and that is the regulatory hurdles to getting a mine online. In the past, if you had this surge in commodity prices, it'd be much easier to start mining everywhere and meet that demand. But now, with the regulatory and environmental focus, the supply side of the equation is much more constrained. You mentioned in the Jim Cramer interview that it takes 10 years for a mine in Nevada to be licensed. Is that standard across the developed world?
Nolan Watson
It depends on which jurisdiction you are dealing with and what metallurgical process you are using as some have more risks to the environment than others. Virtually all those risks can be overcome if you spend enough money putting mitigating risk factors in place, but there is a lot more attention paid and time taken to determine whether or not you're going to get your permits, which is the way it should be.
Unfortunately, the way that many developed countries now handle their permitting process is that there is so much public consultation involved, it has become a political process rather than a process to come to the right decision on whether or not the mine should or should not be built. It has become a place where anyone who is frustrated with the government at all for any reason whatsoever can put a protest and say "I'm not going to let this happen and I'm going to drag this out to the detriment to the entire community, company and government and everyone else until I get what I want, whatever that may be". That is happening around the world, and because that is how it works and there are so many opportunities within the permitting process where individuals can interject and file lawsuits, the process takes years and years, and in some cases, decades.
More often than not, the answer to whether or a not a mine gets its permit has nothing to do with whether or not the mine should actually get its permit.
Sean Bellamy McNulty
That is unfortunate, do you see regulation as being a constraint on the supply side that is significant?
Nolan Watson
We're 10 years into a bull run in the mining sector, and I think that factor (permitting difficulties) was why there was such high price spikes in many of the base metals, because supply wasn't able to keep up. Supply is now slowly starting to catch up to that demand, but it has been a much slower supply response than it was in past years.
The issue in mining is that often it will take years to get permits to start up a mine, but once you shut a mine down, you lose your permits. If we ever see a correction in the cycle, where demand for commodities pull back, what you'll see is commodity prices get crushed and a bunch of mines go out of business. But when demand normalizes again, supply will not come back on. Once you make a decision to shut a mine down, it is shut down for years.
Sean Bellamy McNulty
I see, so you'll have the quick market response on the downside, but on the upside, you're back into the political process?
Nolan Watson
Yes, and actually that is one of the reasons I love the commodity industry. Because of that factor, because supply is so slow to respond, what you have is a situation where if demand does pull off, everyone knows that if I shut my mine down, it is not coming back for years.
It is tough to go find 2000 skilled workers in every single specialty job in a mine, line that up right with your permits, time it with your capital, including capital to refurbish your mill. Most people don't realize this, but mills, they rust, they're made out of steel. If they are shut down for 2 years, unless it is on full care maintenance which is way too expensive for companies to pay for, it rusts and you have to replace most things in your mill.
It is huge amount of capital to get started back up, huge permitting time lines, huge complexities, and so that they know that if they decide to shut that mine down, they are not starting that mine back up for a very long time.
So what happens is people will operate their mines at losses for as long as they can. If they have any cash, they'll operate at a loss. Prices just get obliterated on the downside, because prices have to get so low that it bankrupts entire sections of the industry. But then supply doesn't respond to the upside. So the price, when demand pulls back, goes way lower than you would intuitively think, and then on the upside, the prices spike way higher than they should, because supply doesn't react quickly to demand.
Sean Bellamy McNulty
That works well for a streaming business, because as long as the company is operating, even at a loss, it isn't your problem.
Nolan Watson
Yes, as long as their producing, we're good. The other benefit is that we don't have to carry the costs of carrying a project if it does temporarily shut down. During periods where mines are shut down, our cashflow will be a lot lower than we would like, but we can use that cashflow to buy things super cheap and make a ton of money on the upside.
We're able to play off of those wild fluctuations in the market as we're able to time our spots for different commodities.
Sean Bellamy McNulty
One more question on Mutiny Gold, the deal locked in a cost per ounce to date of $500, which is at the higher range of your streaming deals and a makes for a 350% markup on each ounce of gold at $1700. Is there a specific mark up you target when it comes to the purchase price. Lets say prices double to $3400, do you expect fixed payments to double as well on new streams? Is it a 1 to 1 trade off?
Nolan Watson
There might be a informal subconscious relationship, but there certainly nothing formal. We're fairly agnostic as to what the price is. We will actually go to a mining company and say "do you want it to be $300, $400, $500, $600? You tell us, but whatever number you pick, know that it is going to change what we pay you upfront". That is the mechanics of that.
Sean Bellamy McNulty
I see, that is one aspect I find interesting of you guys. You're very creative in the deals you make with regards to terms, with a wide variety of terms with each streamer including share issuance, percentage of production, guarantees of production and buyback terms. There is obviously a niche you're filling by providing financing specific to a company's wants. This is in contrast to a bank doing a debt issuance, which all they care about is the assets to secure the debt, a cookie cutter approach.
So Franco-Nevada's range seems to be from $300 million to $1 billion, does that represent the top end range of deals SAND is looking at? Or do you want to take them head on and run them out of business? You could be king of the streaming world.
Nolan Watson
Haha, they have a great assets base and a great CEO, and we would never have illusions of grandeur such that we would be able to put them out of business. It would be crazy to think that.
We do want to grow our business accretively. We want to keep buying gold streams, and every time we do, we'll get a little bit larger and diversify our asset base. We'll keep doing what we're doing, adding value for shareholders, and one day we'll wake up and realize that hey, we're really big as well.
Who knows what the industry will look like at that phase and where Franco is. There is also Royal Gold and Silver Wheaton, and some of them may merge, may not, it is tough to tell, but the one thing I want to do is continue to grow and add value for shareholders.
Sean Bellamy McNulty
Cool, so moving onto Sandstorm Metals and Energy, which I find to be a very interesting company. I was surprised that the price didn't surge more when Sandstorm Gold hit the big time, as it is still priced at a great value for investors in my view.
My question I have is that with Silver Wheaton, you were dealing with just silver, with Sandstorm Gold, you're dealing with just gold. Does the fact that you're dealing with a number of different commodity streams make it much more complicated for you?
Nolan Watson
Yes, I would put all of hard rock mining into one classification. Even gold mines, though you may think they're all just gold mines, have different metallurgical structures that change the way you extract them and different ore body creation processes so you might have green stone hosted gold belts, you might have polymetallic VMS deposits. These are all completely different types of mining methods, different exploration methods, different processing, regardless of the fact that they all gold mines. And so, whether it's nickel, zinc, lead, silver or gold in the mines, they are all very similar skill sets that you have to use to identify them.
Where it starts to become different is where it is not hard rock mining, when you're mining things like potash, coal or natural gas and those types of things. That is where it starts to step out from my personal expertise and we have to rely more on external experts, or in the case of oil and gas, we have an oil and gas guy in Calgary who is a reservoir engineer and also has his CFA and he helps make those types of decisions.
Sean Bellamy McNulty
I remember you mentioning in the Jim Cramer interview that the average age of your consultants is around 70, which seems about right to me as it seems to me that in the mining industry, you really need to have that personal experience of guys who've been around and know what a good deal is when they see one.
And plus, retirement is a terrible idea anyway, so it keeps the older people busy, a great win win for everyone.
Nolan Watson
For sure.
Sean Bellamy McNulty
You completed the listing of SAND when aftertax cashflows were approximately $12 million. Sandstorm Metals & Energy is forecasted to reach that level of cashflows around the beginning of 2014. Do you plan on accessing NYSE capital markets with Sandstorm Metals and Energy as well, following a similar development process as Sandstorm Gold? And if so, is it a cashflow number you're waiting for, or is it just a matter of when other things come together?
Nolan Watson
There are a lot of companies that think that the NYSE is going to help them get exposure, even if they're a small company. What they don't realize is that on average the larger institutional investors are larger funds and they need to buy larger companies. So if you're a smaller company that can convince the NYSE to let you list, it is not really going to help you because you're too small for people to buy.
The point is wait until you're large enough so that when you do list it will actually make a difference because US institutional investors are going to want to buy you.
So yes, we do want to get there eventually.
Sean Bellamy McNulty
I see, interesting, I suppose you get these huge investment funds who have no interest in investing in a $150 million market cap company because it doesn't move the needle for them.
With regards to the Metals & Energy business model, is there a certain diversification you target? Or are you building the business in whatever direction market conditions present?
Nolan Watson
Yes, we just want to do good deals. If we did 10 copper deals in a row I'd be ok with that as long as each individual copper deal was a really good deal. I think naturally, the best deal sitting on your plate is not always going to be the same metal over and over again so there is always going to be diversification.
For example, our 3 main deals right now, one is copper, one is palladium, one is natural gas, and the next one we're looking at is a different base metal other than copper. So naturally we will become diversified.
Sean Bellamy McNulty
That works out well in regards to as different commodities boom, different opportunities will present themselves, so Sandstorm Metals and Energy will constantly have deals available.
There has been a bump in the road, namely Terrex, which didn't meet its production schedule and was subsequently served notice by Sandstorm. These situations are bound to happen, it is an uncertain world. In Terrex's press release, it stated that if they didn't pay a penalty, Sandstorm could "realize on its security interest in all of Terrex' assets".
In this sort of situation, are there secure assets that protect your $15 million investment, essentially making your worst case scenario seizing assets, liquidating them, and you're back to par?
Nolan Watson
The worst case scenario is that the assets deteriorate so much that even if you seize them you can't get all of your capital back. We have made that mistake once in the past and so we're hyper focused on it in the future, in fact we've made that mistake a couple times in the past.
We have now made the decision, over the last 18 months, that we are going to focus on larger transactions even if the rate of return is a little bit lower just so that we eliminate that risk of no one wanting to buy the asset we seize. We're targeting more higher quality world class assets.
Sean Bellamy McNulty
I see, that makes sense, the larger the company, the larger the assets...
Nolan Watson
The larger the audience that will consider buying it.
Sean Bellamy McNulty
Moving on, with NYE right around the corner, lets talk big picture going forward. You meet with CEOs of mining companies all day every day. What is the general feeling you get out there, are they optimistic or pessimistic?
Nolan Watson
They're nervous, they're very nervous. Mining company share prices have been completely obliterated over the past couple months, and they started dropping dramatically even before the gold price started dropping. The gold price has dropped another $100 in the past few weeks, and today is another big red day.
It's interesting, I was at a mining conference in London two weeks ago as a key note speaker and the conference was called mines and money. The big joke of the conference was that they should have just called it the mines conference, because there is no money.
Sean Bellamy McNulty
Haha, wow.
Nolan Watson
And one of the panel speakers at the conference was a hedge fund manager, who actually is on this floor as Sandstorm rents him space here, and they asked him when are the junior mining companies going to finally get regraded to their true value is so that their share prices will go back up. He said that "unfortunately, and I'm sure that most of you at this conference don't want to hear this, I think what is most likely going to happen is that most of the companies here are going to go to their intrinsic value, which is zero".
Sean Bellamy McNulty
He said that at the conference? That is hilarious.
Nolan Watson
He said if you can't get the money to build your mine, you can't make money, and if you can't make money, you're not worth anything. And if no one wants to buy your mine or give you money to build it, it also is not worth anything.
Right now, here in Vancouver, depending on who you believe, we have somewhere between 900 to 1000 publicly traded mining companies. I wouldn't be surprised that, over the next 2 or 3 years, 200 or 300 of those go out of business.
Sean Bellamy McNulty
That is interesting, as the commodity prices are still high but the capital isn't there to fund these guys.
Nolan Watson
The capital is not there.
Sean Bellamy McNulty
I suppose, in the medium term, that is good for commodity prices.
Specific to British Columbia, there has been a fierce debate on the proposed Northern Gateway Pipeline by Enbridge. This affects you directly as you have an oil stream in Alberta (Two Creak and Strathmore properties with Sandstorm Metals and Energy), and if you look at Sandstorm Metal and Energy's price realized per barrel, it is lower than the spot price due to the lack of infrastructure in Canada. I don't want to get you into any sort of political hot water, but I'm curious, do you think the Enbridge pipeline should go through or is it a project you have reservations about as well?
Nolan Watson
I think if you look at Canada as a whole, and you didn't have provincial dividing lines, it would be a no brainer to build and it would get built. The problem is you have different groups with different incentives and everyone has to be happy with their position in it all the way along. From the Alberta Government feeling like they're getting the revenue and royalties that they should get, to the BC Government feeling that they're getting the payments they deserve for the risks they're taking, to all of the First Nations groups along the pipeline who feel like their land might be at some risk.
If you take benefits versus the costs to Canada as a whole, it makes sense and should go ahead. The problem is it is just too complex of a scenario to make everyone happy to go along with it and divide the profits with the risks. I'm not optimistic that we're going to overcome those.
Sean Bellamy McNulty
It is amazing, as the sentiment is very negative here in British Columbia, and I think Enbridge (NYSE:ENB) doesn't realize exactly how negative it is as their head office is in Calgary.
I'm curious to how their stock price will react to the decision either way, as any informed investor would have to figure that it is not going to go through and so that would be the bias I'd expect in the stock price.
So it seems it'd be very unlikely for any pipelines in the future. If they can't do this, forget pipelines through BC right? Perhaps you could go up through the Northwest Territories?
Nolan Watson
It won't be any easier through the Northwest Territories, as they've got water boards. One of the permitting issues you have in the territories is that they have very rigorous water board standards that are super tough to permit and anytime anything might ever affect any water quality anywhere, the water boards get involved. They are slow and bureaucratic and they have their own political processes that they run with their people who might have their water affected maybe. So you'd be into just as many problems.
Sean Bellamy McNulty
It is insane. I get into this debate a lot, and I take the position that oil is going to come out of the ground no matter what, whether a pipeline is going to get built or not. If you want to stop oil, protest the tar sands. If you're going to move oil, pipelines are more efficient and environmentally friendly than rail or truck. As long as oil is coming out of the ground, pipes are the way to go.
Nolan Watson
Absolutely, there is no question.
Sean Bellamy McNulty
I'd be all for solar panels everywhere, but that is not a technological reality at this point.
Nexen (NXY) takeover, right move by the Feds?
Nolan Watson
It was a bit of a political landmine that the conservatives were heading into as they were going to have half the country pissed off at them if they let the Chinese come in, and the other half of the country pissed at them if they don't because we wouldn't have free and open market economics.
So they somehow found a half solution, which was "ok, but just this once", and although some people complained on the margins, on average the Canadian people seem to have welcomed this decision probably more so than they would have welcomed any other decision.
Is it the right thing for Canada, I don't know, but certainly it was the least politically risky decision.
Sean Bellamy McNulty
I agree, I was surprised by the muted response. It seemed to make both sides happy.
Last question, as you mentioned in a previous interview, 70% of Sandstorm's employees are graduates from the Sauder School of Business at the University of British Columbia. As both of us are Sauder products, why is the Sauder School of Business at UBC the best university in Canada, and arguably one of the best universities in the world in your view?
Nolan Watson
I'll be candid. My experience is limited to understanding Canadian universities more so than other universities around the world. I didn't appreciate this when I went to UBC, I just thought of UBC as another university. I figured I could have gone to any university and got a fine education, and I just happened to live close to UBC so that is why I went there, and that is why I went there.
Sean Bellamy McNulty
Haha, yes, I have the same story.
Nolan Watson
You see your peer going to school and you think "yeah, they're ok, they're smart people but they're not that smart", and you see your teachers and you think "yeah, they're smart people", but you've never been exposed to anything outside of UBC so you don't have that sense as to how good the quality of education is compared to anything else.
It is not until I actually got into business and started trying to hire people from all of the other institutions around the world, everything from the east coast to the other institutions around BC, to foreign students, to whatever it was, or people who were mature in their careers but educated at foreign universities, and time and time again the best candidate was a UBC person. You see it over and over, and eventually you start to realize that UBC is putting out the best people.
I mean, they just are, and if you look at the most successful people in this city (Vancouver), a disproportionate number of them are from UBC, and I don't think that is by mistake.
Sean Bellamy McNulty
I agree, after attending universities around the world, I've been even more impressed with the talent coming out of UBC.
And that concludes the interview. Thanks for taking the time to meet.
Disclosure: I am long SAND, OTCPK:STTYF. I wrote this article myself, and it expresses my own opinions. I am not receiving compensation for it (other than from Seeking Alpha). I have no business relationship with any company whose stock is mentioned in this article.