Applied Materials (NASDAQ:AMAT) is the world's largest manufacturer of wafer fabrication equipment for the semiconductor industry with a market cap of $13.7 billion. Currently trading at $11.38, the stock is a long way off from the $37 level it was trading at in 2008. However, cost-cutting initiatives have led to drastically improved fundamentals, and this company may be worth a look once again.
Company Description
Applied Materials is divided into four segments. The Silicon Systems Group (63% of FY 2012 sales) develops and sells equipment to use in the semiconductor fabrication process. The Applied Global Services segment (26%) helps optimize semiconductor fabrication facilities for customers. The Display segment (5%) develops equipment used to manufacture LCD's (liquid crystal displays) for TVs, PCs and other devices. The Energy and Environmental Solutions segment (5%) aims to increase the efficiency of solar PV devices, thereby reducing the per-watt cost of solar electricity.
Thesis And Catalyst For Applied Materials, Inc.
I believe this company has serious growth potential for several reasons. First, AMAT has an outstanding reputation for producing quality products, which makes it very difficult for any competitors to take market share.
Second, AMAT has been, and intends to continue to be, very active in acquiring companies to gain market share and/or enter new markets. In fact, the company's involvement in the solar equipment industry is a direct result of four separate acquisitions; Applied Films in 2006, HCT in 2007, Baccini in 2008, and Advent Solar in 2009. Other notable acquisitions include Semitool in December 2009 and Varian Semiconductor Equipment Associates in 2011.
Finally, the flat-panel (LCD) and solar segments are operating well below peak levels. I think the solar segment in particular has a great deal of upside potential. Prices of solar modules are currently very low, which should boost sales and eventually improve the excess supply situation that is affecting the entire solar industry.
Valuation
AMAT trades at a very attractive valuation based on consensus estimates for 2013 ($0.66 per share) and 2014 ($1.02). Although the company posted earnings of just 9 cents per share for FY 2012, this was mostly due to restructuring and cost-cutting expenses. If these estimates are accurate, AMAT trades at only 11.2 times forward earnings (the company is currently in FY 2013). This is a steep discount to the historical multiples which generally range between 15 and 21 times earnings. Based on the low end of this range, I arrive at a 1-year target price of $15.30, which is a potential 34% upside over current price levels.
Also adding value to AMAT is the company's generous dividend, a rarity in the sector. AMAT currently yields $0.36 per share annually, a 3.17% yield. In full disclosure, this was cut slightly from last year's payout as a result of restructuring and lower sales, especially in the second half of FY '12, however analysts' estimates give no reason to foresee further cuts in the future. AMAT actually has an excellent history of raising dividends. Looking at the chart below, since the company began paying dividends in 2005, they have raised the dividend almost every year, with the only cut coming this past year, as mentioned previously.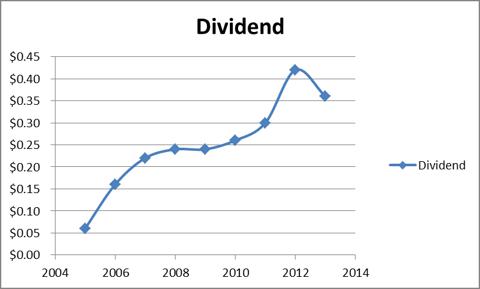 As I said, I see significant growth potential here as well as very attractive valuation. Also, the dividend should resume rising once the company's earnings begin to grow again. A final note is the company's goal of lowering the amount of outstanding shares. Over the past 2 years, the number of shares has dropped from 1.33 billion to 1.24 billion, a 6.8% reduction. These factors, and the cost-cutting efforts coming into fruition, make Applied Materials worth a look once again.
Disclosure: I have no positions in any stocks mentioned, but may initiate a long position in AMAT over the next 72 hours. I wrote this article myself, and it expresses my own opinions. I am not receiving compensation for it (other than from Seeking Alpha). I have no business relationship with any company whose stock is mentioned in this article.