It seems practically every day the past week another analyst is changing their estimates on Apple (NASDAQ:AAPL). For the most part, the sentiment has gotten more bearish as Wall Street and the media fret about potential supply chain issues, lower margins, increased competition, etc.
Indeed, the stock has dropped from a high just over $700 in late September down to $521 in mid December. This is now a drop of 25% in value from the peak.
Here are some of the recent headlines from Analysts this past week:
Bernstein cuts target to $750 from $800 on 2015 slowdown, stating that the "5 year model" shows growth is slowing.
Citi cuts to hold, target to $575 on rising iPhone and tablet competition
Pacific Crest's Andy Hargreaves reiterates an Outperform rating, but cuts his price target to $565 from $645, writing that "We believe weak global economic conditions and saturation at the high end of the smartphone market are reducing Apple's ability to add new iPhone users."
Mizuho Securities's Abhey Lamba, who reiterates a Buy rating, but cuts his price target to $600 from $750, "we believe near-term headwinds from potential F2Q13 estimate cuts combined with lack of material upside to FY13 estimates will make it harder for the stock to revisit it's all-time high of $700,"
The Bearish Argument - Risks are Overblown
So in summary, Wall Street sees several risks with the company that are slowing growth rates and potentially hurting margins. The primary ones being:
Rising iPhone and tablet competition
Saturating at the high end of the smartphone market
Weak global economic conditions
Lack of material upside or catalysts for FY13
Lets first take a look at each one of these for a moment, and I'll explain why I believe these risks have been blown out of proportion.
Rising Competition - Is it really so?
In general, I think competitor products of Apple have gotten better overtime. This is a natural lifecycle progression with any technology. Looking at smartphones, there are no doubt some fantastic products on the market from Samsung (OTC:SSNLF), Nokia (NYSE:NOK), HTC (OTC:HTCCY), and others. However to say competition is rising, I don't think is really true when you just look at the market share numbers. The chart below released in November 2012 by research firm Canalys shows how in the past year Samsung and Apple both gained market share while the other top 3 vendors all lost share. HTC and Research in Motion (RIMM) lost significantly. So yes, clearly you can say that Samsung has become more dominant, but I don't see evidence that Apple is losing out. Don't forget that the ecosystem around Apple's products garner a specific segment of the market that seems to be holding very strongly and even gaining slightly. So while it is true that Samsung is doing well, and Android has a 75% market share as I stated in my article on Google (NASDAQ:GOOG), Apple is holding firm to its share of the market. Of course it's also no contest between Samsung and Apple on profits, as Apple garnered as much as 71% of operating profits in the industry in mid 2012.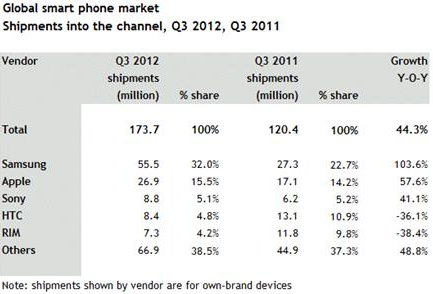 Looking to the tablet market, Apple still maintains a dominant position. In this case there would see to be some validity to the argument that there is rising competition. IDC recently released a report stating that Apple is expected to lose market share to Android in 2012, from 56% down to 53%. Android is increasing from 39 to 42%. Also IDC predicts that within 4 years Microsoft tablets will increase market share from the current 3% to 10%. This is all well and good, however one factor I think that needs to be considered closely here is the development of the iPad Mini. With a low price of $329 in the US market, many analysts thought the price was still too expensive to compete with the lower end tablet market. However I expect that sometime in mid 2013 the company will release the 2nd generation iPad Mini, and at that point the first generation will be available for a much cheaper price where it will then compete head to head with low cost alternatives such as the Amazon (NASDAQ:AMZN) Kindle Fire. That is when this market will really get interesting, as we'll see whether the cult like following of Apple products extends to the lower end of the market. I would not bet against this happening, and I wouldn't be surprised to see Apple regain share in 2013 because of it.
Smartphone Growth Remains Strong
One of the arguments that analysts have given for cutting targets was that the high end smart phone market is seeing saturation. First to look at the overall smartphone market, this is still growing quite quickly. In the above chart we can see year over year growth from Q3 2011 to Q3 2012 of 44%. 120 million to 173 million units shipped.
As for the high end market, sure it is true that different consumers can afford phones at various pricing points. However it is also true, that in some of the fastest growing markets, such as China, every year consumers are becoming richer. More and more young Chinese are joining the middle and upper-middle classes. So the pool of potential buyers for high end smartphone is steadily increasing. With the iPhone 5 launch in China, 2 million phones were sold in the first weekend. This hardly seems like a saturated market. According to the China Observer, the global middle class is set to grow from 1.8 billion people in 2012 to 3.2 billion in 2020. This is a 7.5% CAGR. Apple has forecasted to sell 194m iPhone in 2013, and this could mean 14m additional iPhones are sold because new emerging market consumers are now able to afford them. In conclusion I do not see any major saturation risks in the short term, and this a fear that I don't think investors should be overly concerned about.
Global Economic Conditions
As a personal philosophy I never invest in individual stocks worrying about macroeconomic conditions. There are just too many uncertainties and factors impacting the economy to make it worth my time to try and make these predictions. So I wont spend time writing about this. The only point I'll make is that macroeconomic issues tend to impact the stock market broadly, so this kind of risk is not really a reason to not invest in Apple specifically over any other consumer technology company. So in short I wouldn't lose any sleep over this risk.
Lack of material upside or catalysts for FY13
This argument really is a head scratcher for me, as I believe the company has several obvious potential catalysts, that if any one of them comes true it will be a big positive for the stock price. Here is a short list:
Increasing Dividends, Share Buybacks
Getting a piece of China Mobile's (NYSE:CHL) 500 million subscribers
Apple iTV
With still well over $100 billion in cash and operating free cash flow of $31B, the company is likely to raise the dividend next year. The yield is currently 2%, and the payout ratio is only 6%! I think it is increasingly likely that substantial dividend increases or further share buybacks are likely early in 2013. Either one would be a boon for the stock. The company currently has a 3 year plan to purchase $10B in stock but could surely afford more.
China Mobile is another catalyst that has been discussed in the rumorville significantly the past year. Nobody knows when it will come, but surely someday it is going to happen. Even if a small percentage of those subscribers could get an iPhone as part of their new phone plans, say for example 10% of users it is already 50m more phones sold. With current forecasts by the company to sell 194m phones in 2013, this would be a big deal.
Apple iTV has been rumored for quite some time now. Reports this month have again pointed to evidence in the supply chain that designs are being tested for a TV. A study conducted in October amongst US consumers who currently own Apple products or flatscreen TVs showed that a whopping 88 and 80 percent respectively would be interested to buy an iTV product. Some analysts predict a TV would only add about $60 billion or 10% to Apple's market cap. Although this may not seem impressive, clearly such a product would be a disruptive technology that would generate a lot of positive buzz. This factor alone would be a positive for the stock price.
What other Reasons for the Sell-Off?
One obvious reason that I have seen for the recent sell-off especially in December is the combination of the fiscal cliff and year end profit taking.
People tend to forget that just 1 year ago Apple stock was below $400/share. Myself I bought in November 2011, and even with the recent 25% drop I am still +31% on my investment. This is a great 1 year return by anyone's reasoning, and for a lot of investors they will use the end of the year to re-adjust their portfolios. This year there is also the whole media hoopla around the Fiscal Cliff, where the U.S. Congress could potentially decide to let capital gains taxes increase significantly, thereby making it more advantage to take profits in 2012 and ensure only a 15% long term tax rate.
Also of course most investors get fearful when analysts cut targets and the general media starts to become more bearish or unsure about growth companies. Many people will make the mistake to "Sell low" in the case of Apple and they are dumping shares as we speak, afraid the stock keeps falling. Classic psychology playing with the nerves of investors.
My Advice - Ignore the Hype and Stick With It
As I mentioned in a previous article on Apple - now is the time to be greedy when others are fearful, and buy why Mr. Market is offering you a bargain. It is not the time to Sell. For sure, the current price really is too cheap to ignore. There are overblown risks as I've shown above, positive catalysts for 2013, and the valuation is borderline ridiculous. The company has a forward P/E of 9, an EV/EBITDA of 7.96, for a cash on cash yield of 12.5%. This for a company that has 5 year growth estimates of 20% per annum, even including the recent cuts. The company also has a pre-tax return on tangible capital of nearly 49%. So to summarize:
You have a great business generating high returns on capital
Price is cheap, with an earnings yield of 12%
Continued High Growth estimates including several potential catalysts for 2013
Shareholder friendly actions including a healthy dividend
Best Balance Sheet in the world with zero debt and more than $120B in cash.
Let me know what I'm missing, but this is definitely a business that I want to continue owning. My advice is to stick to the facts and ignore the speculation and rumors surrounding the company. In my view Apple investors should take a deep breath and have a little patience - you will be rewarded in 2013.
Disclosure: I am long AAPL. I wrote this article myself, and it expresses my own opinions. I am not receiving compensation for it (other than from Seeking Alpha). I have no business relationship with any company whose stock is mentioned in this article.