By Steven Orlowski
In July we reviewed the Market Vectors Brazil Small Cap ETF (NYSEARCA:BRF). We suggested the time might be right to revisit the fund and dip a toe back in.
The time was right, and if you jumped in with both feet you've profited handsomely.
Interestingly the outlook for the Brazilian economy from its own central bank has worsened over the same period. In September the bank revised its GDP forecast downward from 2.5% to 1.6%. Yesterday it once again revised its outlook downward from 1.6% to 1.0%.
It also changed its inflation outlook from 5.2% to 5.7% percent which is much higher than the target inflation rate of 4.5%.
Consensus outlook for GDP growth in Brazil has been at 1.5% which is in line with the projection issued by the IMF in October. The IMF also called for 7.8% growth for China, 4.9% for India and 3.7% for Russia.
Brazil's economy grew 0.6% in the third quarter of 2012. GDP growth last year was 2.7% down, from 7.5% in 2010.
The Brazilian central bank's pessimism apparently has not influenced the ETF. BRF has gained 20% since the article was published in July, moving up from $35.00 per share to $42.00 per share.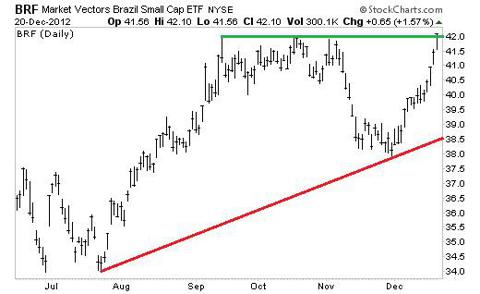 And it looks ready to move higher. If it trades through resistance at $42.00, and stays above for more than a moment, it could establish a new floor and set the stage for even greater gains.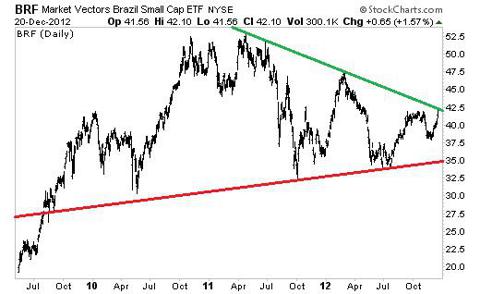 The longer term, three year chart supports that thesis. The ETF is trading at the top of a longer consolidation period. Typically one of two things will occur: the ETF will fail to break through resistance then retreat, here potentially dropping back as low as $35.00 per share; or the ETF breaks through and establishes a new floor and a higher range.
The most popularly traded Brazil ETF, the iShares MSCI Brazil Index ETF (NYSEARCA:EWZ) has been doing well also, up nearly 6% over the same period. I've been covered it and three other BRIC ETFs in my Technical Thursday columns.
For investors whoinvested in BRF back in July I suspect the downside is limited to your approximate cost. Therefore I would hold my position but set limits to protect yourself from potential downward retracement.
For investors looking to get in now I would wait for the breakout above $42.00 to occur. Considering the Brazilian central bank's pessimism for its own economy the ETF could fall if the predictions are realized.