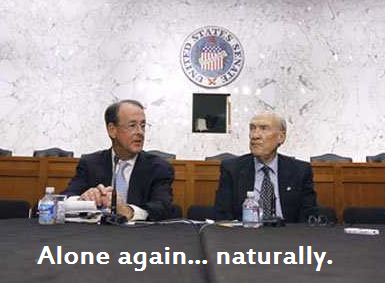 The day is not done in this area of the world but from what I can tell, the planet survived the Mayan apocalypse. The same can't be said for fiscal cliff negotiations. Boehner's "plan B" never got to a vote since it didn't have the votes. Republicans just don't want to be accused of raising taxes, especially when there aren't any serious spending cuts in the mix. It's just that simple, really. The baton was passed to Harry Reid, who just couldn't grasp it, knowing they were ill-prepared for any plan to vote for or against.
On the one hand, it's good there are disagreements, since you wouldn't want anything rammed down the people's throat without discussion. At the same time, the WH and Congress have had plenty of time to discuss things since Simpson-Bowles. That report was promptly put in the dumpster. It should have gotten a vote, but none of the parties wanted to touch it. Therein is the shame of it all. So a pox on their houses!
Now the parties will leave on holiday, which shouldn't be permitted given their failures. But who's to stop AF One and others from hightailing it? Not a soul. Meanwhile, Bernanke & Co. will keep the money printing presses running should the cliff result in a disruption. The only problem there is running out of ink.
Stock markets sold-off hard (futures limit down overnight) on the news, but for the most part, are still clinging to gains on the week. Leading stock sectors lower came from across a wide spectrum. Bonds (NYSEARCA:TLT) were higher. The dollar (NYSEARCA:UUP) was stronger on a (cough) flight to quality, while gold (NYSEARCA:GLD) oddly rallied modestly. Commodities (NYSEARCA:DBC) were flat overall, while basic metals (NYSEARCA:DBB) rallied slightly.
To complicate matters, Friday was quad-witching, meaning spooky things can occur with prices manipulated by odd mechanical objectives (option strike prices, expirations and so forth) having nothing to do with basic investment practices.
Obscured by the theatrics were some mixed economic data. Durable Goods Orders rose (.7% vs. .5% expected and prior revised higher to 1.1%) while ex-Transportation (1.6% vs. .2% expected and prior 1.9%). Personal Income rose (.6% vs. .3% expected and prior .1%) while Spending rose (.4% vs. .4% expected and prior 1.2%). Both these data points were heavily influenced by Hurricane Sandy, it's said. University of Michigan Consumer Sentiment weakened (72.9 vs. 75 expected and prior 74.5).
Overseas news featured an expected resignation from Italy's Monti. In the UK, GDP worsened (.9% vs. 1% expected), while the BOE wants banks to raise their reserve requirements, which logically would reduce lending.
Volume on this pre-holiday week of trading (along with quad-witching) was heavy. Breadth per the WSJ was quite negative.
(click image to enlarge)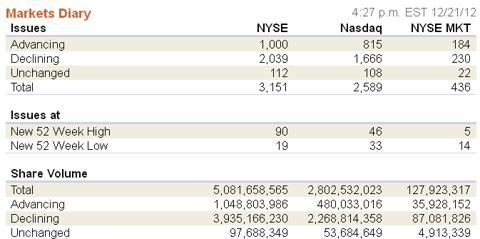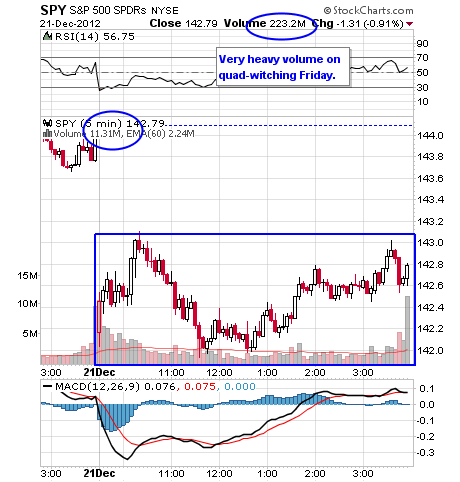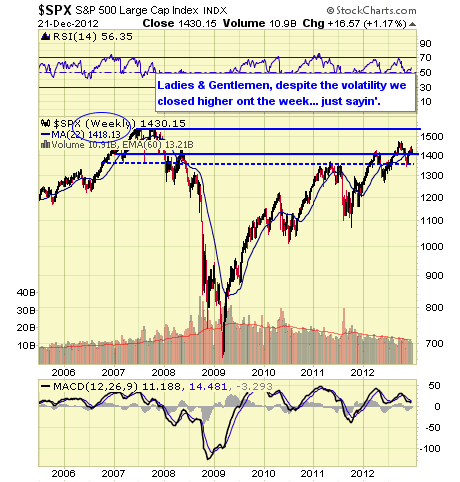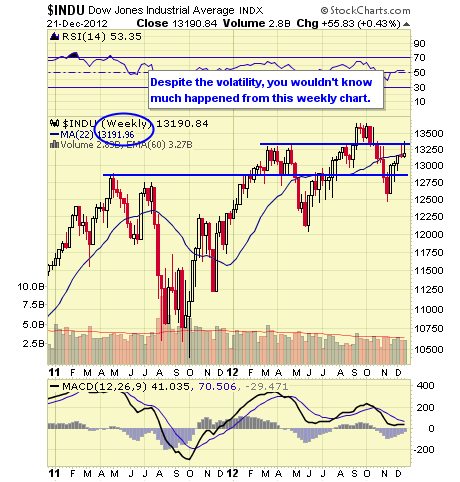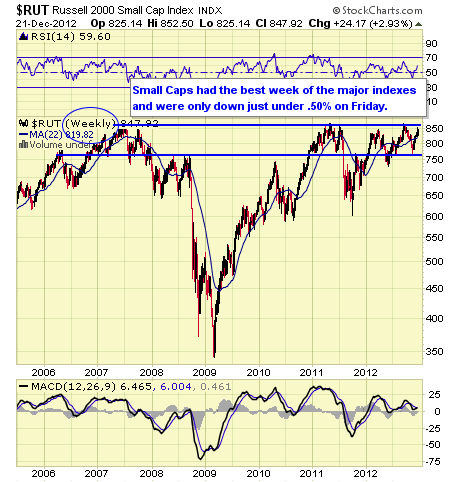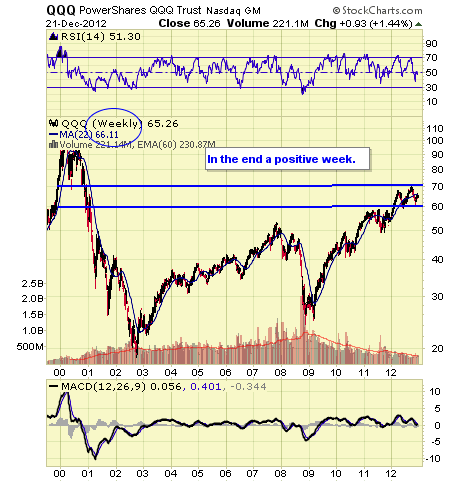 Continue to U.S. Sector, Stocks & Bond ETFs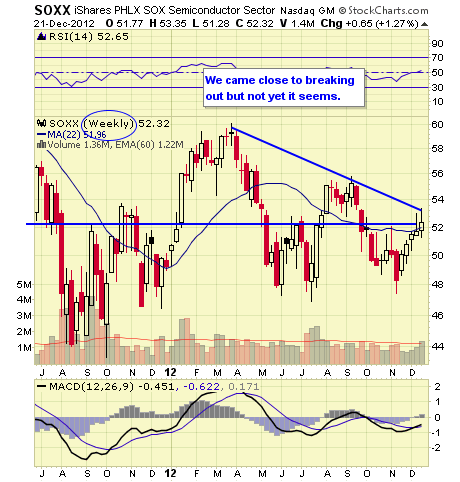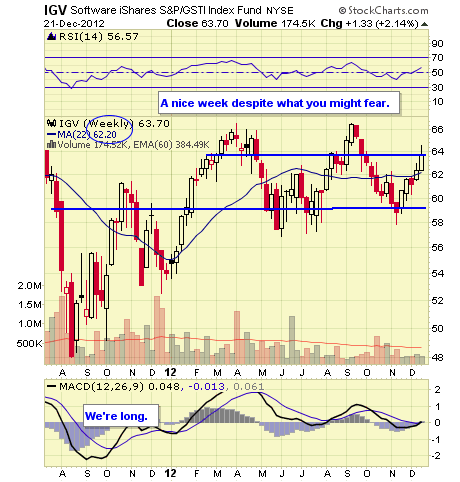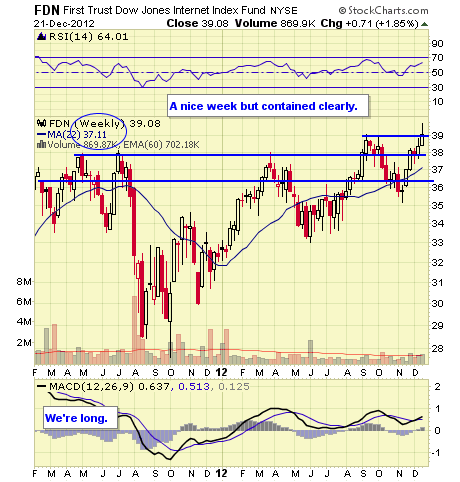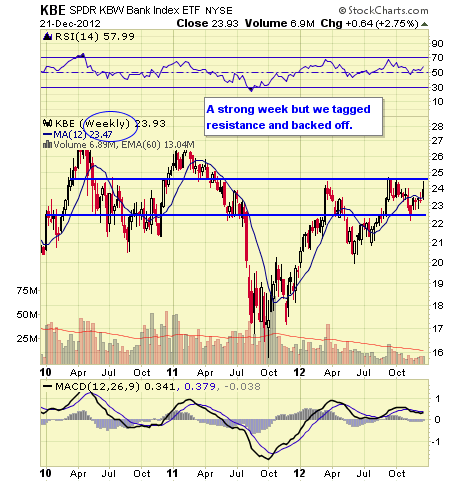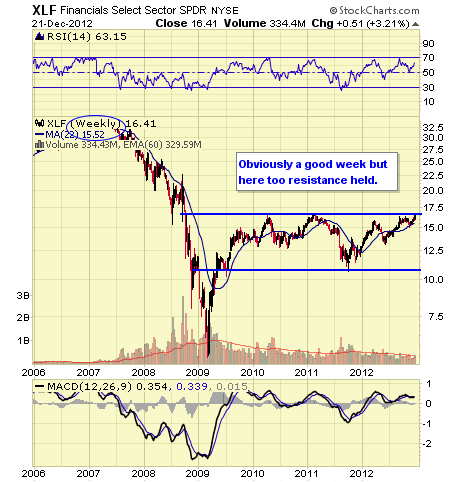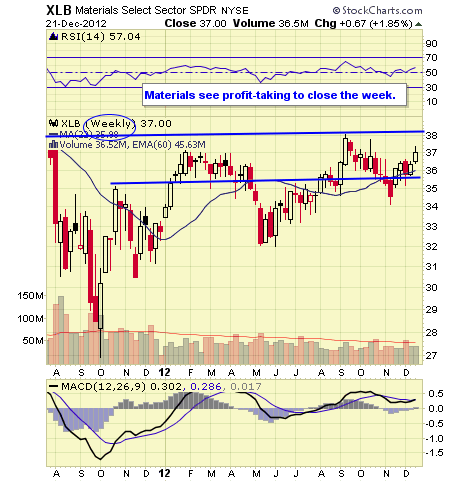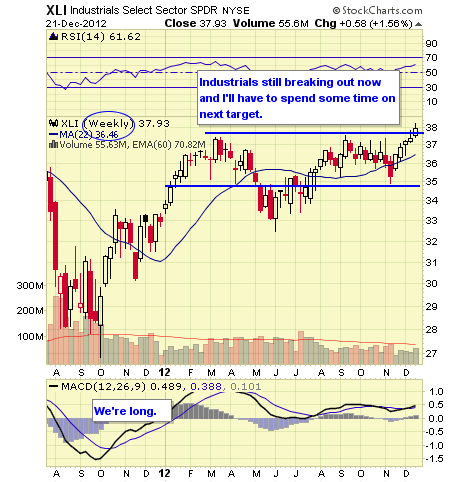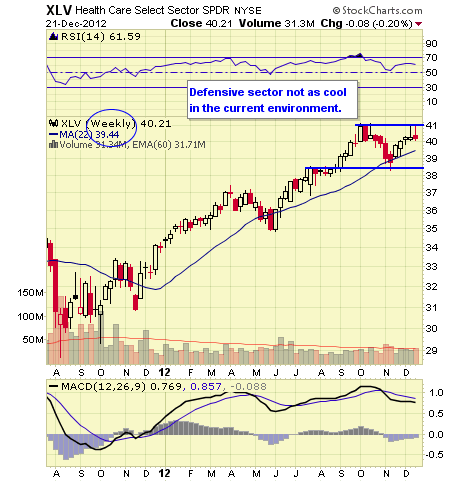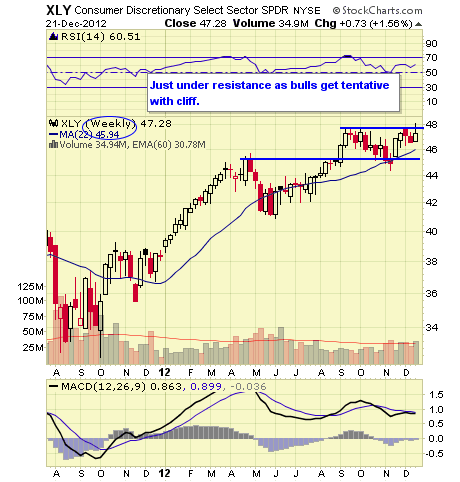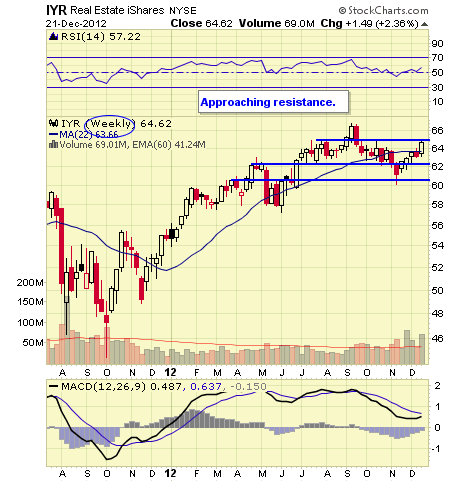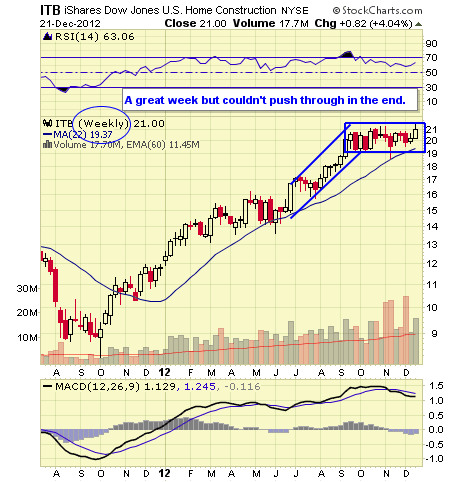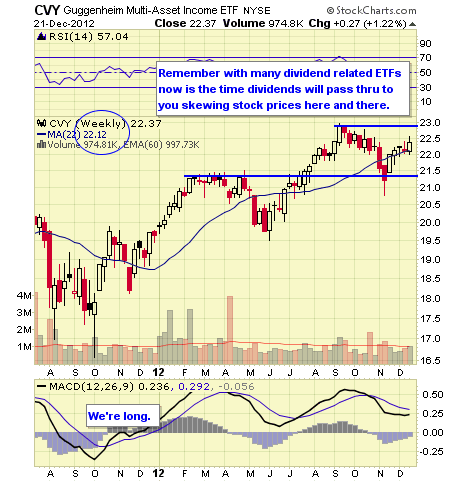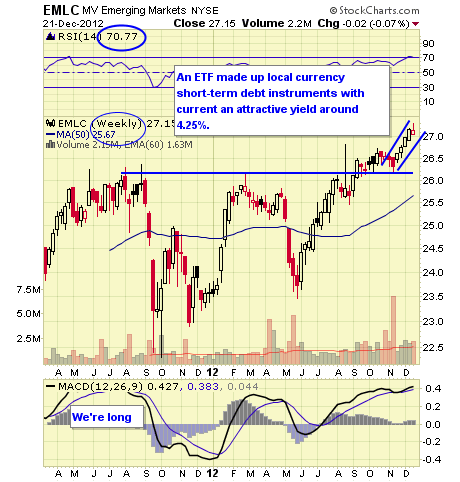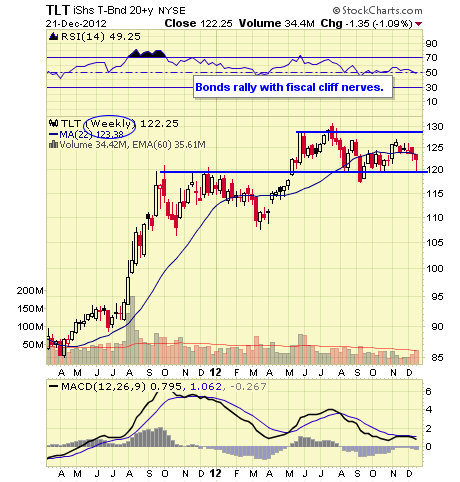 Continue to Currency & Commodity Market ETFs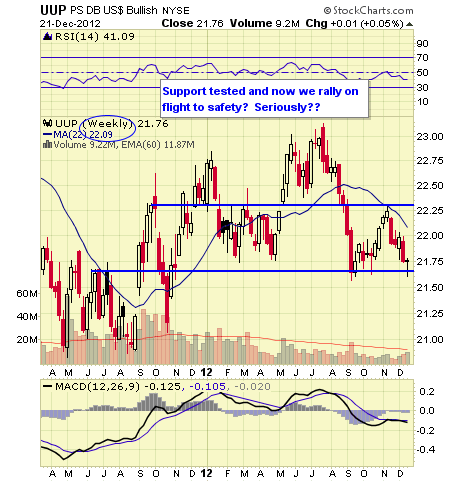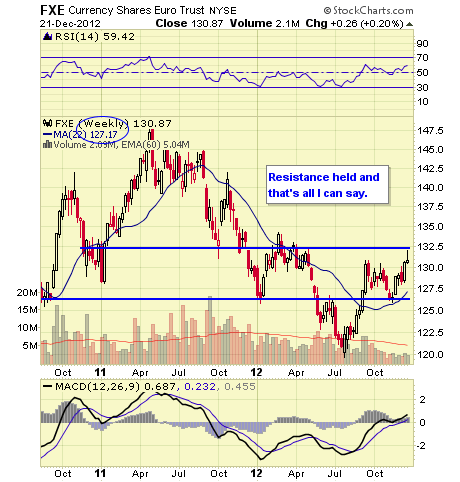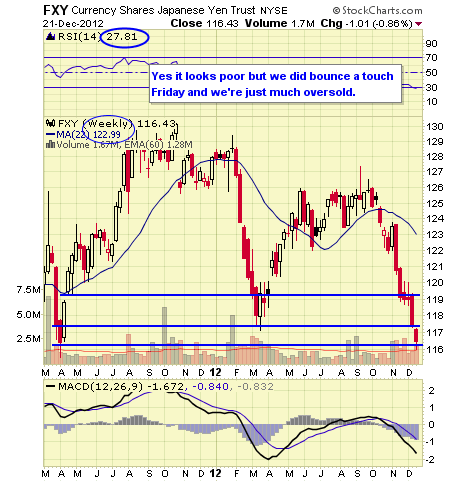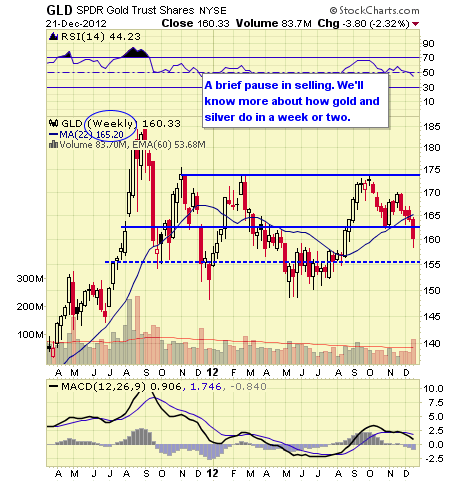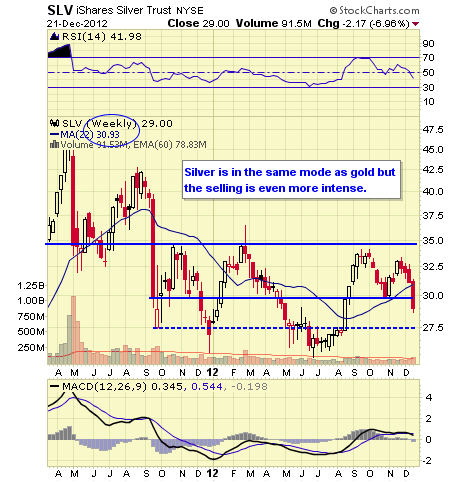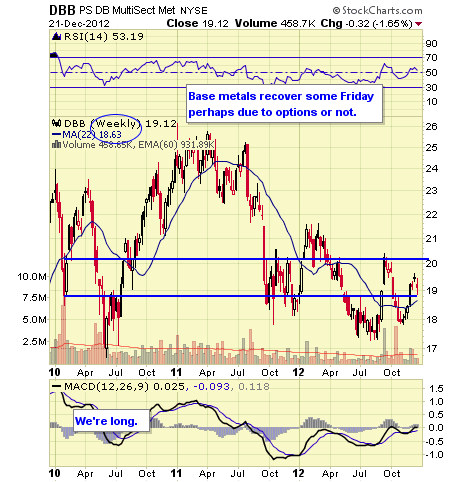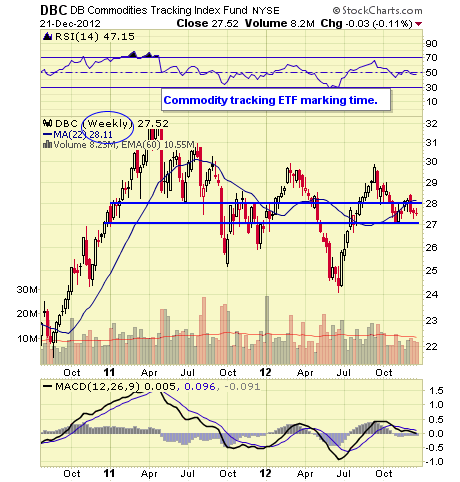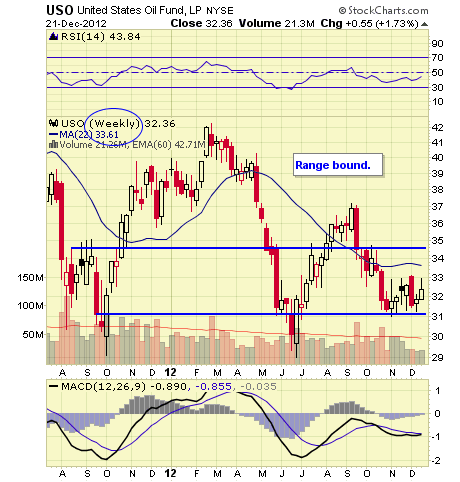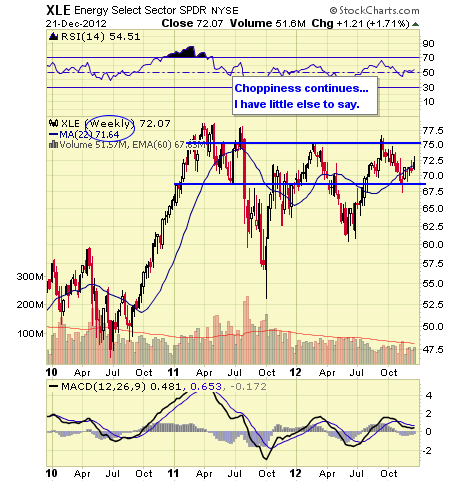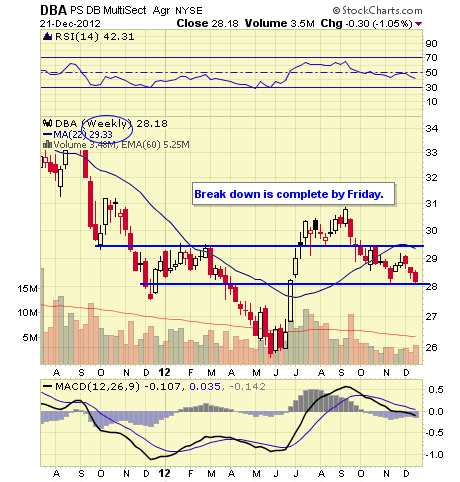 Continue to Overseas Sectors & ETFs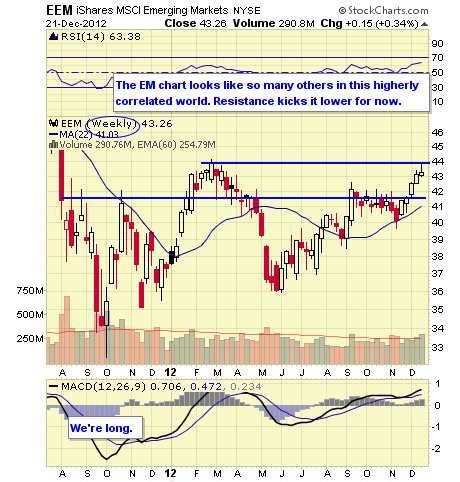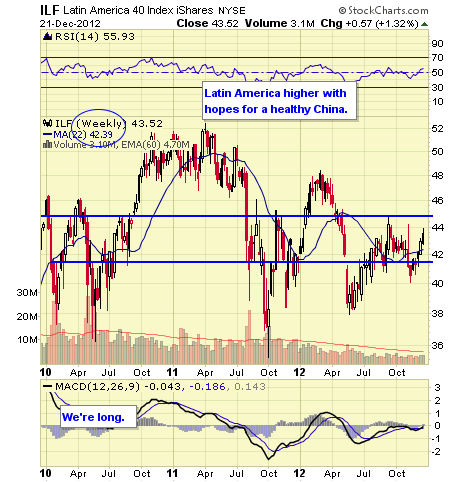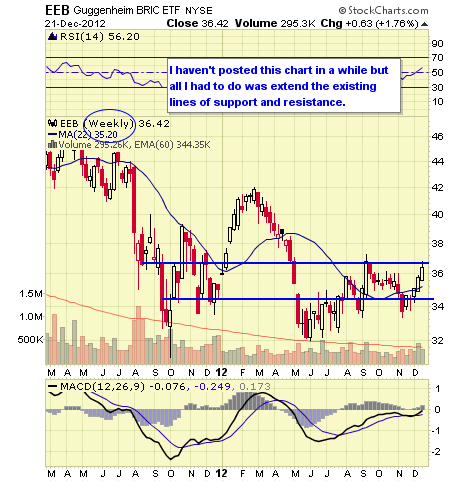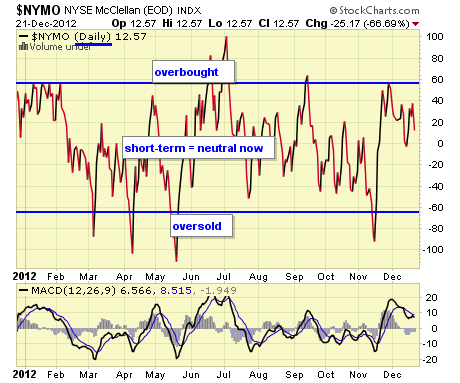 The NYMO is a market breadth indicator that is based on the difference between the number of advancing and declining issues on the NYSE. When readings are +60/-60, markets are extended short term.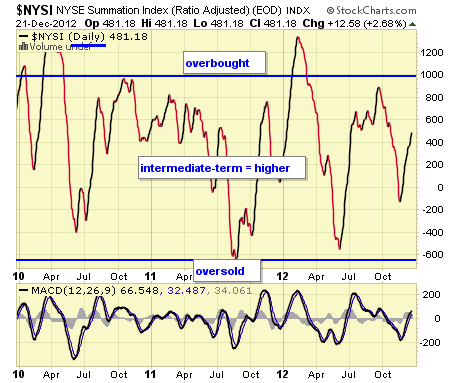 The McClellan Summation Index is a long-term version of the McClellan Oscillator. It is a market breadth indicator, and interpretation is similar to that of the McClellan Oscillator, except that it is more suited to major trends. I believe readings of +1000/-1000 reveal markets as much extended.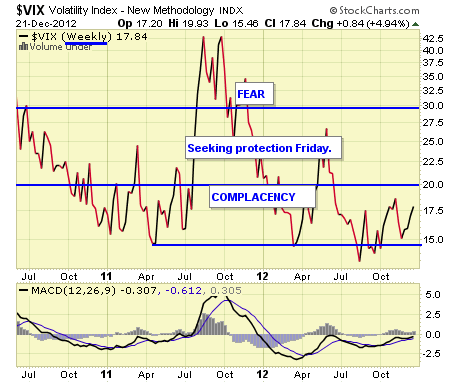 The VIX is a widely used measure of market risk, and is often referred to as the "investor fear gauge." Our own interpretation is highlighted in the chart above. The VIX measures the level of put option activity over a 30-day period. Greater buying of put options (protection) causes the index to rise.
Concluding Remarks
So as this is being written, Obama is saying he's made many compromises in reducing spending. "Let's agree on what we can all agree on," which is similar to what an arbitrator would assert.
I'd like to wish you all Happy Holidays and a Merry Christmas.
Disclaimer: The ETF Digest maintains an active ETF trading portfolio and a wide selection of ETFs away from portfolios in an independent listing. Current "trading" positions in active portfolios, if any, are embedded within charts: Lazy & Hedged Lazy Portfolios maintain the follow positions: VT, MGV, BND, BSV, VGT, VWO, VNO, IAU, DJCI, DJP, VMBS, VIG, ILF, EWA, IEV, EWC, EWJ, EWG, & EWU.
The charts and comments are only the author's view of market activity and aren't recommendations to buy or sell any security. Market sectors and related ETFs are selected based on his opinion as to their importance in providing the viewer a comprehensive summary of market conditions for the featured period. Chart annotations aren't predictive of any future market action rather, they only demonstrate the author's opinion as to a range of possibilities going forward.
Disclosure: I have no positions in any stocks mentioned, and no plans to initiate any positions within the next 72 hours. I wrote this article myself, and it expresses my own opinions. I am not receiving compensation for it. I have no business relationship with any company whose stock is mentioned in this article.