Stryker (NYSE:SYK) has historically been off my radar based on valuation. As a self-respecting value investor, it has been difficult to see the opportunity based on the premium the market has awarded Stryker over the years. The historical revenue and earnings performance have been impressive but the risk seemed high for the potential reward.
Case in point, the outlook for Stryker has diminished over the past 3 years as revenue growth has declined, management has seen turn over, regulatory and safety concerns have grown over certain of the company's products, and increased taxes are feared to further slow revenue and earnings growth. The result is a lower long-term earnings growth expectation and a lower market premium, reflecting a less optimistic future.
Figure 1 shows the Enterprise Value (EV) of Stryker over the past 5 years. The top layer is the premium or the "Market Value Added" (MVA) and the bottom layer is the Invested Capital. The MVA reflects the market's appraisal of the value of the underlying Invested Capital (IC). As you can see, prior to the Great Recession, there was a $21.2 billion premium to the $6.0 billion in invested capital. (Invested capital is defined as Total Assets minus Non-Interest Bearing Current Liabilities.) As of the third quarter of 2012, the premium has shrunk to $7.1 billion and the invested capital expanded to $11.2 billion. From a multiple perspective, over the past 5 years the Enterprise Value-to-Invested Capital multiple has compressed from 4.5X to 1.6X.
Figure 1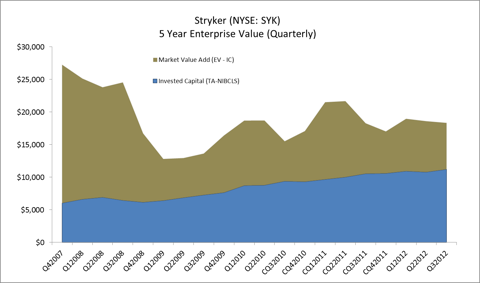 In my opinion, Stryker has now become an interesting company for value-oriented investors. Here is why. Stryker in my opinion is an attractively valued Y+ (Y plus) company. The Y+ idea comes from Stern and Stewart and their development of the concept of Economic Value Added (NYSE:EVA). Essentially a Y company is a company that earns at least 2.5% above its cost of capital but is growing its Invested Capital at less than 25%. (Over the past 5 years, I estimate an approximate 10% spread has been maintained.)
Stryker gets a plus sign because the company's free cash flow is material in relationship to its invested capital. Stryker for instance generated $1.4 billion in free cash flow over the past twelve months, which is 12.5% of its invested capital. The implication is that the EV-to-IC multiple could expand over time if management does a reasonable job allocating capital back to shareholders via share repurchases and dividends. (An extreme example of a Y+ company is AutoZone, Inc.(NYSE:AZO))
Consider that if all the free cash flow was paid via dividend to its shareholders on 383 million shares outstanding, a shareholder would receive $3.66 per diluted share or the equivalent of a 6.5% yield. The downside or risk is that management continues to pursue an aggressive M&A program (like in 2011) which would likely distribute value to the target companies instead of accruing to shareholders. Offsetting that risk is the competitive advantage profile of Stryker, which has a durable franchise that has shown consistent growth in its underlying free cash flow. Stryker has been free cash flow positive every year for the past decade.
Based on the underlying statistics, I would think that there is upside in Stryker's current valuation. Stryker currently trades at approximately 1.6X its Invested Capital. Based on a normalized 5 year valuation profile of 2.3X Invested Capital, a valuation closer to $72 would seem appropriate. This higher multiple reflects higher expectations in previous years based on a more optimistic earnings growth profile. At this point, I would argue that a higher multiple is warranted based on the company's free cash flow profile and Y+ status. While I think 2.3X is not unreasonable, a 2.0X multiple should still reflect a fair value around $62, which is 10% or more above today's value.
To reiterate why a higher multiple above 1.6X Invested Capital is reasonable:
· Free cash flow is above 10% of its invested capital, which allows a high percentage of cash to be returned to shareholders
· Slowing but growing and consistent free cash flow profile provides a solid valuation base
· Healthy 10% spread between its return and cost of capital (ROIC-WACC) reflects a solidly profitable company
· Invested capital growth over past 5 years has been over 13%; organic growth was likely less but still positive
Over the past several years, the premium valuation for Stryker has eroded and the risk-to-reward profile has improved dramatically. While there are clouds of uncertainty with future expectations, Stryker's current valuation seems to be reflective of these uncertainties. If management can navigate the near-term uncertainty and prove to be prudent capital allocators in the future, shareholders stand a chance to be rewarded.
Disclosure: I have no positions in any stocks mentioned, and no plans to initiate any positions within the next 72 hours. I wrote this article myself, and it expresses my own opinions. I am not receiving compensation for it (other than from Seeking Alpha). I have no business relationship with any company whose stock is mentioned in this article.