The nation's largest drug store, Walgreen Co. (WAG) reported earnings before the market opened on Friday, December 21st of $0.58 per share compared with $0.71 per share a year earlier. The impact from the loss of Express Scripts Inc. (NASDAQ:ESRX) customers was substantial, comparable store prescription sales were down 11.3% year-over-year and prescriptions filled at comparable stores were down 4.8%. Walgreen however sights improvement with the return of the Express Scripts network in September as comp store prescriptions filled had been down 8% in the prior quarter. Revenue in the quarter fell $841 million year-over-year or 4.6% and was negatively impacted $883 million as a result of brand-to-generic prescription drug conversion. This conversion does however boost margins and is part of a longer term trend. The company also opened its 8,000th nationwide store in the quarter.
Walgreen continues to execute a strategy based on size, and their goal is to create a global footprint that is unmatched. In the quarter they completed the acquisition of USA Drug, a Mid-South drug store chain with over 140 locations. The company also believes they are on track with the acquisition of Alliance Boots, they believe together the companies are better positioned for growth. Management will go into more details on the Alliance Boots business at the analyst meeting in February.
Gaining back Express Scripts customers is important to Walgreen but it comes at an express and the longer a customer is away the harder it will be for Walgreen to win them back. I believe some percentage of those customers will be lost forever. The next quarter will be very important for Walgreen as its the anniversary of when they lose of Express Scripts. I believe the Express Scripts issue is still being underestimated and analysts are underestimating the rate at which Express Scripts customers will return along with the impact it has on front-end sales. The company is also excited about the early success of the Balance Rewards loyalty program which now has signed up over 45 million customers. However I would question how much loyalty these programs create at this point and it will be a long process to see the benefits from the program.

Walgreen appears fairly valued when compared with peers CVS Caremark (NYSE:CVS) and Rite Aid (NYSE:RAD). I think CVS's richer valuation when looking at PEG and P/E numbers is based on their gains as a result of the Express Scripts issue versus Walgreen loses. Rite Aid is a different situation as the company is largely financed with debt, and as they have about one third the sales of Walgreen and about 114% the debt of Walgreen. If anything, Rite Aid's higher EV/EBITDA ratio indicates it is overvalued given its risks when compared to Walgreen and CVS as that ratio is capital structure neutral.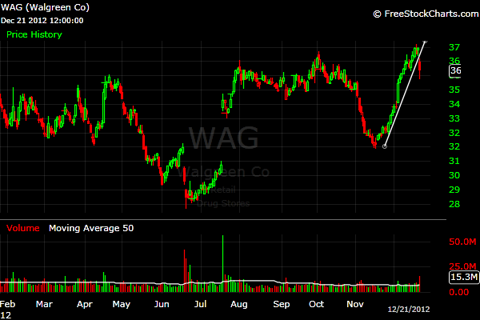 The move down after earnings put Walgreen's below an aggressive uptrend that the stock has been in for about a month now and has taken the stock from about $32 per share to over $37.50. I believe this could be signaling a move lower in the stock as it was not able to hold above resistance around $37 per share. The stock did however show some strength in trading on Friday, coming off the lows of the session at $35.77 to close at $36.31. I would not short Walgreen here as this could be a brief downtrend in a longer-term uptrend pattern. Still one should avoid an investment in the company until more details are learned about winning back lost Express Scripts customers and the prospects for the Alliance Boots acquisition.
Data sourced from: Company filings, and Yahoo!Finance. Chart from: Freestockcharts.com
Disclosure: I have no positions in any stocks mentioned, and no plans to initiate any positions within the next 72 hours. I wrote this article myself, and it expresses my own opinions. I am not receiving compensation for it (other than from Seeking Alpha). I have no business relationship with any company whose stock is mentioned in this article.