Duke Energy Corp. (NYSE:DUK)
DUK is one of the largest regulated electric utility companies in the U.S. with annual revenues of almost $20 billion. In 2013, the company might experience flat earnings growth but, I believe, in 2014 and onwards the company will deliver healthy financial results. Currently investors await two things: the company's ruling on whether to retire or repair the Crystal River nuclear plant and the outcome of the rate case filed in North Carolina and Ohio. Once these aforementioned issues are resolved, I see a restoration of investor confidence.
Also, the company is expected to enjoy synergies from its recent merger with Progress Energy. Fuel savinsg are expected to be $650 million and non fuel O&M synergies are expected to be 5%-7% of total non fuel O&M costs over the next 5 years. Once the company starts realizing these synergies it will lead to a positive impact on the earnings.
DUK currently offers a healthy dividend yield of 4.7%. The company has been increasing its quarterly dividend over the years and the trend is expected to continue. In the last four years dividends have increased by 4% on average. DUK has annualized EPS growth rate of 7% for the last five years.
Using its industry average P/E of 15.6x and 2014 EPS estimates of $4.63 (analysts estimate), a price target of $72 is calculated. It gives investors upside price potential of 11%.
Average P/E * EPS estimate = Price Target
15.6x * $4.63 = $72
Earlier last week Deutsche Bank (NYSE:DB) upgraded DUK to Buy from Hold.
Pinnacle West Capital (NYSE:PNW)
PNW is a regulated utility headquartered in Phoenix, Arizona. The company serves more than one million customers in Arizona through its principal subsidiary, Arizona Service Company. I believe the company will underperform its peers in the future since expected earnings and dividend growth rate are on the lower side as compared to its peers. Also, there are no significant rate cases pending that could drive up the earnings growth and if the company decides to issue equity to meet its financing needs I see earnings dilution and further slowdown in EPS growth. Analysts are expecting EPS growth of 3.5%-4% against the industry average of 6% per annum for coming years. It is expected to maintain its current payout ratio of 63%, resulting in dividend growth of ~4% which is also below its industry average.
PNW reported its Q3'12 financial results and missed revenues and earnings estimates. Reported total revenues for the quarter were $1.11 billion, down ~1% YOY. Earnings per share were $2.21, 5% lower than the previous year third quarter. Net margin was 22.1% down by 60 basis points.
Using the industry average P/E of 15.5x and PNW EPS estimate of $3.4 for 2013, a price target of $52.5 is calculated. I believe PNW would underperform and I therefore recommend investors to sell the stock and invest in better opportunities available like DUK.
Exelon Corp (NYSE:EXC)
EXC owns the largest unregulated nuclear fleet in the U.S. Due to a dividend cut possibility, I believe EXC is an unattractive investment and investors should sell the stock. A dividend cut is highly likely because management wants to strengthen the balance sheet and retain investment grade rating. Before initiating a buy position on the stock, investors should wait until management gives some clarity over the future dividend. By the end of 1Q 2013, management is likely to announce whether current quarterly dividends are sustainable or not.
The chart below displays stock price performance for EXC, in the last one year the stock is down more than 25%.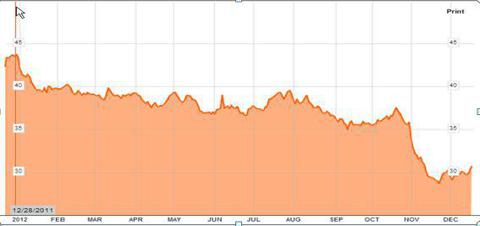 www.bloomberg.com
Management of the company has linked future dividend with power prices, and if power prices do not improve, a dividend cut is a likely possibility. Also, EXC is committed to strengthening its balance sheet which has led to the lowering of capital spending by almost $2 billion. The market is anticipating a dividend cut in the range of 25% - 50%. EXC currently has a high dividend payout ratio which is unsustainable, and its payout ratio will revert back to a more sustainable range of 55% - 60%.
In addition to the recent dividend concerns, EXC's financial performance has not been satisfactory in the past years. The graph below displays falling margins for EXC.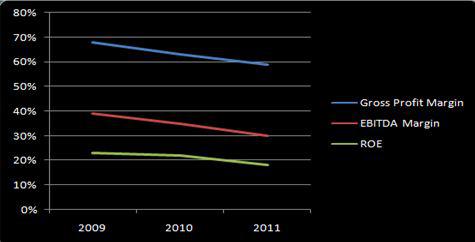 Disclosure: I have no positions in any stocks mentioned, and no plans to initiate any positions within the next 72 hours. I wrote this article myself, and it expresses my own opinions. I am not receiving compensation for it (other than from Seeking Alpha). I have no business relationship with any company whose stock is mentioned in this article.