Chieftain Metals (OTC:CFTMF), which mines zinc, copper, lead, gold and silver, recently completed a feasibility study for its Tulesquah mine that showed encouraging results.
The Market Outlook For Zinc
The results of Chieftain Metals' feasibility study are encouraging to the company and investors due to the expected demand and lagging supply of zinc through 2015. Zinc is the fourth most common metal used today (after iron, aluminum, and copper). Zinc is used in many different alloys, including brass, bronze and nickel silver. It is also used to make die castings for the electrical, automotive, and hardware industries, which have seen robust demand from Pacific Rim countries. Zinc is used to galvanize other metals to prevent corrosion. Zinc oxide is used in paints, rubbers, cosmetics, plastics, inks, soap, batteries, and pharmaceuticals. A combination of increasing international demand for zinc along with lagging supply due to closures of several major zinc operations in 2013 and 2014 will create an imbalance, thus creating an opportunity for Chieftain Metals and other zinc miners.
Increased Demand
In calendar year 2012, zinc supplies are expected to exceed demand. However, demand is expected to exceed supply beginning in 2013, as seen in the chart below. The imbalance will be particularly acute in 2015 and 2016.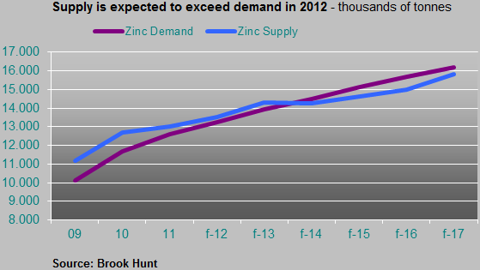 International demand for zinc is increasing. According to the International Lead and Zinc Study Group, a study group formed by the United Nations in 1959, Zinc surpluses will continue to grow in 2012, but are expected to reverse to deficits in 2013. The group also said that world demand for refined zinc metal will see a robust 3.8 percent increase to 13.19 MT in 2013. Both Europe and China are expected to see demand growth for zinc in 2013, with increases of 2.5 and 5.6 percent, respectively. And those metrics factor in a very weak European economy.
Lagging Supply
There are very few large producers of zinc. Lagging supply will negatively impact demand as several large zinc mines will close in 2013:
-the Brunswick No. 12 mine owned by Xstrata (OTC:XSRAF) with production of about 275,000 tons per year
-the Perseverance mine, also owned by Xstrata, will close later in 2013
-the zinc market will lose more than 0.5 MT in 2013, which will begin to deplete zinc inventories
In 2014, more large mines are scheduled to close: Lisheen in Ireland, and Iscaycruz in Peru. These are structural changes in the industry because there are no large operations to replace them. The global decline in fresh, replenishing inventory will likely boost the price of zinc.
Positive Feasibility Study Results
Tulsequah Chief is a poly-metallic project that has immense poly-metal potential. The mining field can produce 54 million pounds of zinc, 14 million pounds of copper, 8 million pounds of lead, 38,000 ounces of gold and 1.3 million ounces of silver. Production will begin in 2016. The Tulsequah Chief project will require upfront capital expenditure of $440 million and has a revised capital expenditure estimate of $518 million, which includes $64 million in sustaining capital. Operating costs are estimated to be $125 per ton, which is much better than previous estimates closer to $140 per ton. The project will be financed with the help of CAMCE, which has used its Chinese state financial connections to fund 70% of the project. $50 million has been pledged by the Royal Gold streaming agreement.
According to the feasibility study, the net asset value of the project is $192 million, and there is currently enough funding for Chieftain to begin construction as early as 2013. Chieftain will be able to complete construction in time so that production can begin in 2016. The positive impacts of this are wide ranging. As the project has already been assured of funds from Chinese financial institutions thanks to CAMCE, there will be few hurdles to overcome. The poly-metallic fields at Tulsequah Chief hold vast amounts of copper, gold, and silver. Mineral resources were estimated using industry-accepted methods. Zinc was capped at 30%, lead and copper were capped at 10%, gold was capped at 25 g/t and silver was capped at 600 g/t. These are robust estimates.
What The Analysts Think
National Bank has ingeminated its "outperform" rating, while Mackie Research has continued to rate Chieftain Metals as a "buy". The feasibility study shows that Chieftain Metals has the potential to increase profitability and revenue in the year ahead. Chieftain also compares favorably with its peers Pretium Resources (NYSE:PVG) and Teck Resources (TCK).
Pretium Resources Finds Gold, Shines in British Columbia
Back in May 2012, Pretium Resources announced that its high-grade gold Brucejack Project, located in Northern British Columbia, provided positive drill results. The study confirmed continuity of high-grade mineralization. The company had revealed that it intersected 1,855 grams of gold per ton. The Brucejack project holds significant amounts of undeveloped high-grade gold. The mining giant continued its efforts at Brucejack, only to please investors with further good news in November this year.
Pretium Resources announced a 66% increase in its gold resources at the Valley of the Kings, which promptly increased its share prices by 2% to $13 on November 20th. The company also has an established underground exploration program. The exploratory project will study and mine for a 10,000 ton sample. The results of this feasibility is expected in the second quarter of next year. The Brucejack property consists of silver and gold mining fields across West Zone, Valley of the Kings, Shore Zone, Gossan Hill, Bridge Zone and Galena Hill. Valley of the Kings is the most lucrative mineral deposit along with West Zone. Pretium Resources will prove to be an interesting stock to watch over the next few months, especially from now until it announces the results of the next feasibility study. So far, it is one of the most attractive stocks in British Columbia.
Teck's Role in British Columbia
Teck is an important mineral company that focuses on coal, zinc, and copper. The Vancouver-based company has significant operations in British Columbia. Back in September, it announced that it would spend $685 million to improve its operations in British Columbia. $210 million will be spent on upgrading an electronic waste recycling operation in Trail. The other $475 million will be spent in extending the physical life of a lucrative forty year old mine. The Highland Valley copper mine is located near Kamloops, British Columbia. These investments will help Teck to consolidate its existing facilities in the mineral rich state and also solidify its revenues and profits by ensuring increased productivity at its older mine and safeguarding the environment by upgrading the waste treatment operation.
Teck was recently asked by a U.S. court to pay for the cleanup associated with its lead and zinc smelter in Trail, British Columbia. The waste flowed to the U.S. through the Columbia River and may put a dent in the company's environmental record. However, Teck is still one of the most profitable Canadian mineral companies on the market today. It has total cash of $4 billion and an operating cash flow of $3.3 billion. With a gross margin of almost 42%, Teck is one of the most profitable companies around.
Conclusion
Chieftain Metals, which currently trades at $3, is projected to trade at around $7. The robust results of the feasibility study will further solidify financial backing from various sources for its Tulsequah Chief project in British Columbia. In the long term, Chieftain will be one of the most important mining companies in British Columbia and will compare favorably with its peers in Canada. I anticipate investors can look forward to consistent growth, stable finances, and likely increased profitability and revenue in the long term.
Disclosure: I have no positions in any stocks mentioned, and no plans to initiate any positions within the next 72 hours. I wrote this article myself, and it expresses my own opinions. I am not receiving compensation for it (other than from Seeking Alpha). I have no business relationship with any company whose stock is mentioned in this article.