Given the economic climate of the last several years, investors have been reluctant to invest in any company that produces "luxury" items. However, high-end customers have resumed spending at a quicker rate than the average consumer. With that in mind, it may be time to consider the best-in-breed luxury retailer, and I believe that to be Tiffany & Co. (NYSE:TIF).
The Tiffany & Co. brands include jewelry, watches, sterling silver items, china, crystal, stationary, fragrances, and leather accessories. However, jewelry is by far the largest revenue stream for the company, accounting for 91% of the company's sales in FY 2012. The company operates all over the world, with 50% of sales from America, and the bulk of the rest coming from Asia, particularly Japan. As of the end of FY 2012, the company had 247 stores in 22 countries, in addition to a web presence in 13 countries.
Now, with regard to the effects of the economic environment on the market for luxury goods, the recession was devastating at first. In fact, according to Bain & Company, in 2009, luxury sales declined 8% worldwide, the worst year on record. Jewelry sales were particularly hard-hit, falling 17% that same year. However, just the next year, in 2010, optimism amongst wealthy consumers rebounded quicker than the overall economy, and sales of luxury items rose 13% in 2010, with jewelry sales rising an even more impressive 23%. Bain also estimates that worldwide luxury demand increased 10% in 2011, with projections of a further 7% gain for 2012.
With regard to Tiffany, the recovery is apparent in its same-store sales data, reporting 11% growth in 2011 and 13% in 2012, both more than the increases in demand each year. Beyond this year, growth is expected to be fueled by TIF's entry into new markets. In FY 2013, the company will open a store in Prague, its first venture into Eastern Europe. The company has also expressed interest in opening in other emerging markets such as Russia and India.
As of this writing, TIF trades at $57.81, which is 17.9 times TTM earnings. For FY 2013, which ends on January 31st, the company is expected to report earnings of $3.35 per share. For FY 2014 (which is most of the upcoming calendar year), analysts' consensus is for earnings of $4.05 on 7% total sales growth and slightly higher EBIT margins (20.2% vs. 18.5%).
Tiffany does pay a dividend of $1.28 annually, which is above average for its sector. This translates to a 2.2% yield, and the company has an excellent history of raising its dividend. As the chart below illustrates, TIF has raised is dividend each and every year for the past decade, increasing it from 16 cents per share in 2003, all the way to the current level. With the continued opening of new stores and increased sales projected for the next few years, it is a good assumption that this trend will continue going forward.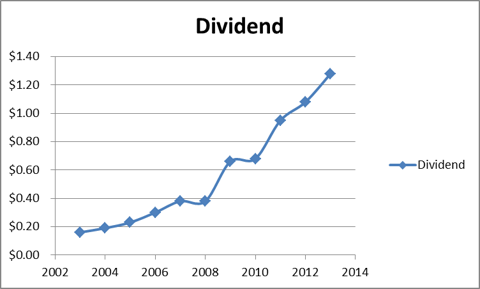 So, where could this stock go in a year? As stated before, TIF currently trades at 17.9 times earnings, which is actually less than its 10-year historical average P/E multiple of 19.4. Using the consensus FY '14 earnings, this gives us price target of $78.57. However, I'm going to be a little more conservative and base my goal on the current multiple. If the P/E stays at the current discounted level, next year's earnings should produce a share price of around $72.50, and a nice dividend increase to go along with it.
Disclosure: I have no positions in any stocks mentioned, and no plans to initiate any positions within the next 72 hours. I wrote this article myself, and it expresses my own opinions. I am not receiving compensation for it (other than from Seeking Alpha). I have no business relationship with any company whose stock is mentioned in this article.