I believe the market is currently undervaluing Martin Midstream Partners (NASDAQ:MMLP). The partnership announced on Nov. 19 that it was commencing a public offering of 3 million units at a price of $31.16 per unit. The proceeds from the offering are to repay outstanding indebtedness incurred under its revolving credit facility and for general partnership purposes. Amounts repaid under the revolving credit facility may be re-borrowed to fund future acquisitions and expansion in capital expenditures. The share price for the partnership declined about 10%, from $35, in anticipation of the secondary. I believe Martin Midstream Partners shares have upside, as the current price of $31.72 is still low, compared to the levels the stock was at only 45 days ago.
Martin Midstream Partners is a partnership engaged in the transportation and distribution of petroleum products and by-products. The partnership operates in four business segments: terminalling and storage, natural gas services, marine transportation and sulfur services. Estimated 2012 EBITDA is expected to be a mix of 35% sulfur services, 35% terminalling and storage, 18% natural gas services, and 12% marine transportation.
Martin Midstream Partners' general partner, Martin Resource Management Corporation "MRMC," has significantly assisted in the MMLP's growth. Approximately 25% of MMLP's cash flow is derived from contracts with MRMC. MRMC owns about 5.1 million in LP units and has a 2% general partner interest in MMLP. Drop downs of MRMC have totaled $400 million.
Martin Midstream Partners has grown rapidly since its 2002 IPO. In 2012 alone, the partnership has acquired or has been dropped down over $270 million in assets from MRMC.
Investors looking for a high yield might want to take a look at Martin Midstream Partners. The partnership offers a current distribution of $0.77 per unit each quarter. At the current price of $31.72, each unit offers a yield of 9.71%. The distributable cash flow from continuing operations, or DCF, for the third quarter of 2012 was $18.7 million, a distribution coverage of 0.96x. The partnership will further benefit from MRMC agreeing to suspend their incentive distribution rights in an amount totaling $18 million commencing in the fourth quarter of 2012. Excluding the impact of the incentive distribution right payment; DCF coverage without the IDR payment is 1.03x.
Martin Midstream Partners offers an attractive and higher yield even compared to other MLPs. Similar high yield, small cap MLPs include companies such as: Genesis Energy (NYSE:GEL), Holly Energy Partners (NYSE:HEP), and Calumet Specialty Products Partners (NASDAQ:CLMT).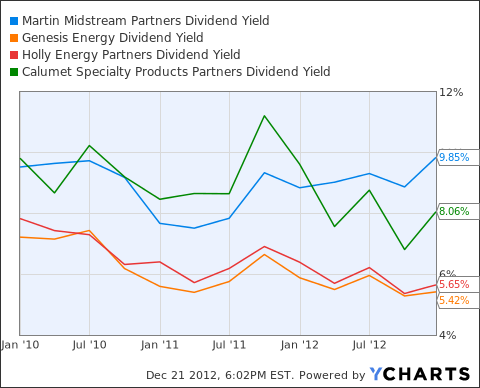 MMLP Dividend Yield data by YCharts
The recent decline in share price for most MLPs may have been caused by fears of a change in their tax status. However, it appears as if MLPs are now safe from tinkering related to the budget talks surrounding the "fiscal cliff".
I believe that Martin Midstream Partners is an interesting choice for those looking to invest in a high yield MLP. It has a unique and diverse business model, and it appears that its general partner will support it via continuing asset drop-downs and occasional suspensions of its IDRs.
Disclosure: I have no positions in any stocks mentioned, and no plans to initiate any positions within the next 72 hours. I wrote this article myself, and it expresses my own opinions. I am not receiving compensation for it (other than from Seeking Alpha). I have no business relationship with any company whose stock is mentioned in this article.