IPG Photonics (NASDAQ:IPGP) appears on track to produce good Q4 results. The company is the leading provider of fiber optic lasers for industrial applications. Sales in Europe remain flat due to weak financial conditions there. But solid improvement is being sustained in Asia and North America.
Existing products are being upgraded. Price performance features are improving. And the maximum power output of IPG's systems is increasing. New variants of the technology are being invented. That's opening up new applications, allowing the company to address a wider portion of the overall laser industry.
Distribution channels continue to be expanded, as well, enabling IPG to reach more customers. Capital spending is set to moderate in 2013 after a major capacity build-up this year, freeing up more cash for acquisitions. Those deals likely will target niche applications where IPG can upgrade the performance with fiber, and reach a wider audience with its worldwide marketing operation.
The company has achieved price parity, in many cases superiority, against conventional gas and crystal lasers. Fiber now accounts for 30% of the entire laser industry, with most of that produced by IPG. That penetration rate could double or more over the next few years. Non-laser applications like welding might be overtaken, as well, expanding the potential market.
An economic rebound could lead to a sizable uplift in orders. Margins remain at superior levels. Profitability could remain elevated for an extended period due to IPG's superior competitive position. Traditional laser manufacturers continue to experience problems in developing their own fiber laser systems. Our estimates are unchanged. A stronger 2013 performance is possible.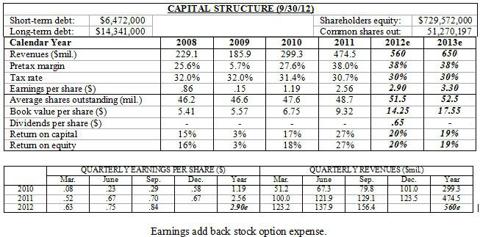 Disclosure: I am long IPGP. I wrote this article myself, and it expresses my own opinions. I am not receiving compensation for it. I have no business relationship with any company whose stock is mentioned in this article.