US Ecology, Inc.
(NASDAQ:
ECOL
) has delivered 9 straight quarters of positive earnings surprises, and has been a consistent payer of dividends since 2005. On October 29, the waste management and recycling services provider raised its fiscal 2012 earnings outlook on the back of an upbeat third quarter performance, which helped it attain a new 52-week high on November 6.
This Zacks #1 Rank (Strong Buy) stock currently offers a solid dividend yield of 3.2%, higher than the industry average of 2.43%. It is expected to deliver robust double-digit earnings growth in 2012 backed by continued growth in its Base Business and a healthy pipeline in the Event Business.
A Record Third Quarter
US Ecology's adjusted earnings per share of 49 cents in the third-quarter soared past the Zacks Consensus Estimate by 75%.
Revenues improved 15% year over year to $45.7 million, helped by a 12% growth in treatment and disposal revenues. The result surpassed the Zacks Consensus Estimate of $40 million. The acquisition of US Ecology Michigan was accretive by $2.9 million to total revenues in the quarter. Base Business revenues spiked 22%, offset by a 9% year over year decline in the Event business. Transportation revenues surged 40%.
On the profitability front, it was a record quarter with operating profit improving 29% year over year to a record $12.4 million, and adjusted EBITDA increasing 19% to another record of $16.7 million.
US Ecology expects 2012 earnings per share between $1.30 and $1.35, up from the previous expectation of $1.05 to $1.15. Adjusted EBITDA is now expected between $55 million and $57 million, up from the previous $48 million to $52 million.
Earnings Estimates Climbing High
The Zacks Consensus Estimate for 2012 has climbed 20% over the past 60 days to $1.37 per share, indicating an estimated annualized growth of around 36%.
The Zacks Consensus Estimate for 2013 has moved up 14% over the same timeframe to $1.43 per share, representing a projected year over year growth of roughly 4%.
Steady Dividend Stream
US Ecology has been a consistent payer of quarterly dividends since 2005. On December 12, the company preponed the dividend payout date to December 27, 2012, rather than January 25, 2013, given the uncertainty surrounding future tax rates on dividends beginning in 2013. US Ecology currently offers a dividend yield of 3.2% with a 5 year dividend growth rate of 3.71%.
With a steady earnings growth, dividend payout ratio of 50.2%, and a healthy debt to capital ratio of 31%, US Ecology has ample scope to increase its dividend.
Reasonable Valuation
US Ecology's shares are trading at a forward P/E of 16.41x, a 16% discount to the peer group average of 19.55x. However, the price-to-sales of 2.57x is above the peer group average of 2.05x. US Ecology has a 1-year ROE of 25.5%, which is well above its peer group average of 11%.
US Ecology has seen its shares rise roughly 20% year-to-date. Strong earnings surprises have contributed to the stock's recent rally. The stock price remains below fiscal 2012 and 2013 earnings estimate lines, reflecting that it is still undervalued.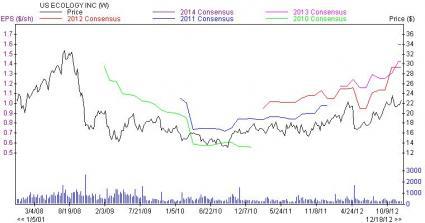 US Ecology operates within North America and provides radioactive, hazardous, and non-hazardous industrial waste management and recycling services. It caters to various commercial and government entities, which include refineries and chemical production facilities and manufacturers, among others. The company has a market cap of $410.3 million and employed 387 people as of December 31, 2011. The company derives revenues from treating and disposing of waste, which come under two categories - Base Business (recurring waste streams) and Event Business (discrete projects) and also from transportation services.