Recent developments in precious metals markets have offered another timely reminder that gold and silver prices are based on supply and demand in futures markets - not at coin shops or for exchange traded funds - as the paper market and physical markets continue to diverge. Despite rising demand for the physical metal, technically driven selling in futures markets has once again sent precious metals price tumbling and, unfortunately, that trend may continue.
Early in the week, the prospect of a massive new money printing effort in Japan sent gold and silver prices higher, but that soon gave way to selling after a budget deal appeared to be within reach in Washington and U.S. economic reports came in better than expected. Apparently, this compelled futures traders to think that recently announced monetary stimulus of $85 billion per month by the Federal Reserve might be curtailed.
Heavy technical selling ensued and precious metals breached key levels in the days that followed, both gold and silver breaking below their 200-day moving average and ending on Thursday at four-month lows.
For the week, the gold price fell 2.3 percent, from $1,696.20 an ounce to $1,657.00, and silver plunged 7.3 percent, from $32.31 an ounce to $29.96, its sharpest weekly decline since last December. The gold price is now 5.8 percent higher for the year, down 13.8 percent from its 2011 peak, and silver is now up just 7.5 percent in 2012, down 39.5 percent from its high more than 18 months ago.
There were a wide range of alternative explanations for last week's price declines and topping the list was the theory that a Morgan Stanley recommendation to withdrawal money from John Paulson's gold-denominated funds might spur liquidation in the popular SPRDR Gold Shares ETF (NYSEARCA:GLD).
As shown below, the fund's holdings have been rising in recent weeks as the gold price has tumbled and, with the Morgan Stanley recommendation reportedly only involving $100 million (less than two tonnes of gold), it's hard to imagine how this could have any substantive impact on the gold price.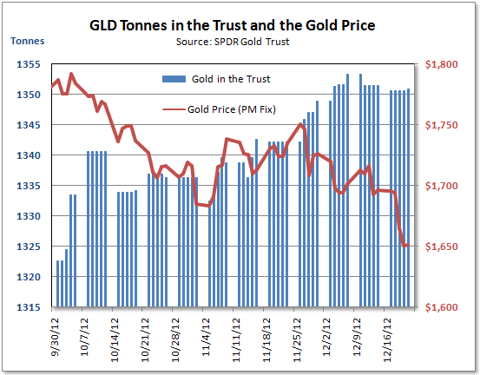 With GLD holdings now down just two tonnes from its record high set earlier in the month, these shares are clearly being held by strong hands - at least so far.
Nonetheless, the gold price dropping below its 200-day moving average for the first time since June was a major development and this will impact how traders view the metal.
Last week, UBS noted:
Gold's break of the 200-day moving average around $1,661 on Thursday spooked a lot of market participants and accelerated the sell-off. The technical picture doesn't look great, and neither does sentiment.
While Friday's rebound of almost $10 an ounce was encouraging, some analysts think it will be a struggle to recapture this previous support level and some are now pegging the low- to mid-$1,500 an ounce range as the next major area of support. As it stands, the gold price is down 7 percent in the fourth quarter, its worst performance since 2004, worse even than late-2008 when gold tumbled along with nearly every other asset class during the financial crisis.
As always, it's important to remember that all the fundamental factors that have driven the gold price higher over the last dozen years remain in place, namely, super low interest rates and negative real rates, growing demand from investors and emerging market central banks, and flagging confidence in paper money.
Lower prices will likely spur even more gold buying by central banks and investors in physical markets, as was the case a year ago when, after a similar mauling in December, the gold price surged nearly 14 percent in January when huge gold imports to China were reported.
Last month, Brazil purchased 15 tonnes of gold to raise their holdings to 67 tonnes, double the level of just four months ago. Russia bought almost 3 tonnes of gold in November and Iraq bought 25 tonnes in the third quarter, their first gold purchases in over a decade and one more indication that gold continues to flow from the West to the East.
In Asia, tumbling gold prices have spurred consumer demand and there is now concern of a supply shortage in the holiday-shortened weeks ahead as, last week, gold bar premiums in Hong Kong rose to their highest level since August. Silver premiums have also reportedly surged in recent days as the price has plunged.
Gold banking is on the rise in South Korea and, according to this Wall Street Journal story, Japanese pension funds began buying gold earlier this year for the first time. A report from Germany indicates people there are "hoarding" gold with some 69 percent of the population now invested in the metal with a per-capita ownership of more than four ounces of gold.
Here in the U.S., eBay has teamed with gold dealer APMEX to sell gold and silver bullion, so, despite the recent futures market action, this online marketplace giant has felt confident enough in demand from American investors to proceed.
As for silver, a similar paper market vs. physical market supply/demand dichotomy has also emerged with demand for shares of the iShares Silver Trust ETF (NYSEARCA:SLV) surging in recent weeks while prices fell as shown below.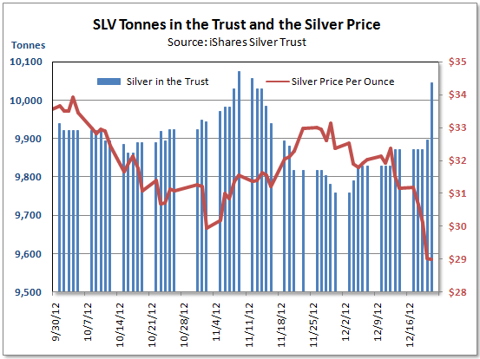 On Friday, after the silver price had plunged the day before, the ETF added a whopping 150 tonnes of the metal, the biggest single-day addition since August of 2011.
After increasing production when demand began to surge in October, the U.S. Mint announced last week they've run out of 2012 issue Silver American Eagle bullion coins, leaving a three-week gap until January 7th when 2013-dated coins are expected to be available.
For most of this year, sales lagged their 2011 pace, however, demand strengthened in the fall and, last month, gold and silver coin sales were more than double that of a year ago.
Silver vaults around the world (especially in Asia) are also in high demand as recounted in Silver Vaults Stuffed Means Price Rising 30% in '13 at Bloomberg.
Most investment banks also continue to think that the recent wave of futures market selling will subside as UBS reiterated its 2013 forecast last week for gold to average $1900 per ounce next year. Barclays put the average gold price at $1,815 in 2013, down only slightly from its prior forecast, and TD Securities believes prices will reach a new record high over $2,000 next year, though they cited potential weakness over the short term.
Lastly, Bank of America technical strategist MacNeil Curry said last week that the gold price should reach $3,000 to $5,000 an ounce within the next two to three years. Curry noted that the gold bull market remains stuck in the second of three phases - increasing public participation - and has yet to enter the highly speculative third phase, a point that I noted last week in That's Not What The End Of The Gold Bull Market Would Look Like.
Disclosure: I am long GLD, SLV. I wrote this article myself, and it expresses my own opinions. I am not receiving compensation for it (other than from Seeking Alpha). I have no business relationship with any company whose stock is mentioned in this article.
Additional disclosure: I also own gold and silver coins and bars.