While most of the market's attention is normally on the four largest Las Vegas-based casinos Wynn (NASDAQ:WYNN), Las Vegas Sands (NYSE:LVS), MGM Resorts (NYSE:MGM), and Caesars Entertainment (NASDAQ:CZR); Friday brought the spotlight to Pinnacle Entertainment, Inc. (NYSE:PNK) and Ameristar Casinos Inc (NASDAQ:ASCA). Pinnacle reached an agreement to buy its larger rival Ameristar for $26.50 per share, placing a total enterprise value on the company of $2.8 billion. While the two companies are located just a few miles apart in the country's gambling center, Las Vegas, neither company operates any casinos in the city. Instead Pinnacle and Ameristar largely own regional casinos located in the middle of the country.
This deal values Ameristar at about 8.3 times EBITDA, and when compared to other casino operators you can see why the market saw Pinnacle as a winner here too. The table shows the EV/EBITDA ratio for the largest casino companies in the country, and the average ratio is over 9.5. Even when you only look at companies with large regional exposure like Penn National Gaming (NASDAQ:PENN), Boyd Gaming (NYSE:BYD), Isle of Capri Casinos (NASDAQ:ISLE), and Caesars, they have an average EV/EBITDA of 9.0.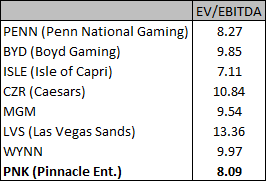 Casino stocks have largely been a troubled space and many of the regional casino operators have been hard hit. Most of the companies in the industry are highly leveraged, making them more sensitive to economic challenges. The deal between Pinnacle and Ameristar should allow the company to better compete with Penn National which has 29 properties and revenues of about $2.8 billion over the past 12 months. This deal also presents interesting ideas for what Pinnacle will do in reaction to Penn National announcing plans to spinoff more than half of its casinos into a REIT. Could the combined company consider a similar spinoff, or would it consider selling some properties to the newly-created Penn National REIT?
Ameristar Casinos has a strategic marketing relationship with MGM Resorts to allow the companies to market to some members of the other company's players club program and use each others assets as marketing tools. For example, Ameristar could use a trip to a MGM property in Las Vegas as an incentive to some of its regional players. This relationship is helpful to both companies as there is little overlap in the two companies' properties. I will be watching closely to see what becomes of this partnership after Pinnacle completes its takeover of Ameristar. I believe this marketing agreement is important to both companies to help them better compete against Caesars. Caesars uses regional casinos to drive customers to Las Vegas and uses trips to Las Vegas to drive customers into regional casinos. If this marketing relationship continues, I believe the Pinnacle-MGM partnership would likely have the best mix of regional and Las Vegas based casinos. It would also allow Pinnacle and MGM to better compete with Caesars and the Wynn-Penn National marketing partnership.

Pinnacle at this point seems fairly valued when compared to its peers. But there is potential for this company and I believe there is a great deal of potential in the company's 26% stake in Asian Coast Development Ltd. and its agreement to manage the second of five resorts being developed on the Ho Tram Strip in Vietnam. The first resort there is the MGM Grand Ho Tram Beach. Pinnacle's small investment in Asian Coast Development has a lot of potential as I believe Vietnam's location in central Southeast Asia gives the development great potential to compete with Singapore and Macau.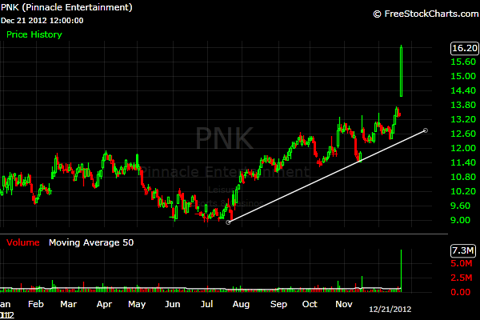 While I am bullish on Pinnacle's future, it has been in a strong uptrend since the middle of summer as investors have warmed to the Asian Coast Development investment. Friday's move on the Ameristar announcement has pushed the stock even higher. I would like the see the stock hold above past resistance at around $15 before I would buy in, should it move lower I would wait for it to revert to the uptrend dating back to July before starting a position.
Data sourced from: Company filings, and Yahoo!Finance. Chart from: Freestockcharts.com
Disclosure: I have no positions in any stocks mentioned, and no plans to initiate any positions within the next 72 hours. I wrote this article myself, and it expresses my own opinions. I am not receiving compensation for it (other than from Seeking Alpha). I have no business relationship with any company whose stock is mentioned in this article.