Invesco Mortgage Capital Inc. (NYSE:IVR) is a mortgage REIT. It invests in agency RMBS, non-agency RMBS, CMBS, and residential and commercial mortgage loans. IVR's more varied portfolio distribution is much better suited to the current Fed policy than many of the other mortgage REITs' portfolios. Many of the other mortgage REITs had to lower their dividends with the advent of Operation Twist and QE3. IVR has maintained the same $0.65 per share dividend scheduled for December 24, 2012 that it paid for Q4 2011 (12.99% annually). It is able to do this partially because it has a diversified portfolio. Many other mortgage REITs invest only in agency RMBS. The interest spreads of those have been narrowed dramatically due to the recent Fed policy. Due to its diversification, IVR's interest rate spreads have not narrowed as much overall.
The interest rate spread will likely stay low for some time. However, the ending of Operation Twist at the end of 2012 and the beginning of QE4 ($45B/month in Treasury Bond buying -- printing money) probably mean that yields on U.S. Treasuries will go up slightly. This is, in fact, what we have seen so far. For example, the 10-year U.S. Treasury yield rose from 1.59% on December 6, 2012 to 1.82% on December 18, 2012. It has since fallen back a bit to 1.80% as of December 21, 2012. Mortgage rates haven't move much yet, but the 30-year fixed rate loan rose from 3.34% to 3.43% during the week of December 17-21. This kind of movement will help interest rate spreads rise. It means that we have probably seen a low in the interest rate spreads. This is good news for mortgage REITs going forward. It may mean possible small reductions in book value, but it will almost guarantee overall health in the mortgage REIT industry. Plus, it should mean lower CPRs (Constant Prepayment Rates).
IVR is better off than most mortgage REITs. Interest rate spreads will still be low for agency RMBS. IVR's more distributed portfolio should continue to produce higher returns from its less safe, but higher interest other investments (described above). With the Fed backing the housing industry, these investments should still be very safe; and many should produce excellent returns, especially with regard to book value. Recent data indicate housing sector improvement. Existing Home Sales for November 2012 were 5.04 million. This was much higher than the expected 4.90 million; and it was even higher still than the 4.76 million in October 2012. Home prices were up 10.1% year over year. A healthy housing behavior like this will lead to large market value increases in the value of IVR's non-agency RMBS, CMBS, and residential and commercial mortgage loans. Companies with agency RMBS only will not benefit as much in market value because those loan values were already being guaranteed by the U.S. government. Even if the U.S. goes into recession in 2013, the Fed will still be backing the housing industry. The housing industry is unlikely to go into recession, although its growth may be retarded a bit. With the Fed backing the housing industry, mortgage REITs may be one of the safest and most lucrative investments for the next two or more years. Remember, the Fed has said it will keep rates low until mid-2015. This should guarantee that the mortgage REIT business will be both stable and safe.
The chart below contains a breakout of IVR's portfolio in terms of equity percentage: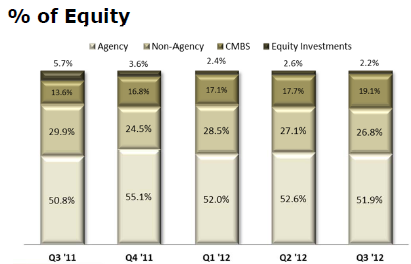 IVR actually owns far more Agency RMBS in market value that non-agency RMBS and CMBS, but the agency RMBS are more highly leveraged at 8.7x. Therefore, their equity% of IVR's total holdings is much lower than the market value comparisons might make agency RMBS holdings seem at first glance.
The chart below of a breakout of IVR's net income for the last five quarters adds to one's feeling of stability: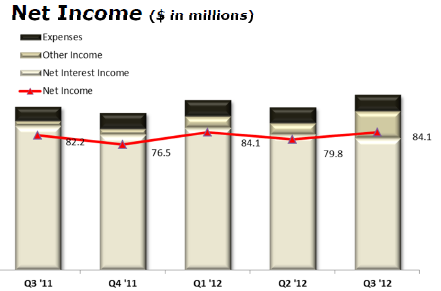 Please note that the net interest income has remained relatively stable. Not many mortgage REIT companies will be able to show a chart like the above. IVR is able to do so due to the diversity of its portfolio (and good management).
Some may now worry that IVR's non-agency RMBS are too risky. The chart below should quell such fears. The leverage in the portfolio was 2.8x in Q3 2012. The average CPR was 16.2.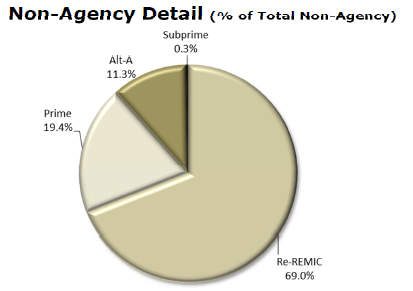 I have not included a chart of the CMBS breakout, but that too is similarly safe. In Q3, the CMBS portfolio produced a yield of 5.24% and a net yield of 3.65%. The leverage was 2.5x.
IVR's performance in Q3 2012 was good. EPS were $0.72 per share. This covered the $0.65 per share dividend nicely. Book value increased 13.75% from $18.40 at the end of Q2 to $20.93 at the end of Q3 2012. With a stock price as of the close Friday, December 21, 2012 of $20.02, IVR looks like a good bargain.
The two-year chart of IVR provides some technical direction for a trade.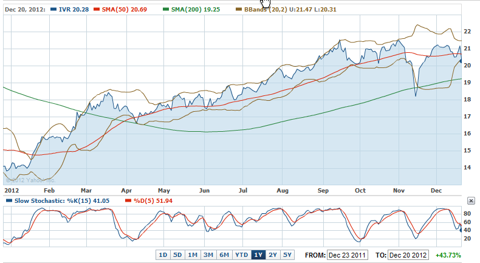 The slow stochastic sub chart shows that IVR is neither overbought nor oversold. The main chart shows that IVR is in an uptrend. There does not seem to be any fundamental reason for IVR to break down from here. Without a U.S. recession, one would expect IVR to continue its uptrend. It appears to be a well-managed company with good fundamentals (with the Fed backing those fundamentals). It trades at a quite reasonable PE of 7.23 and an FPE of 7.70. It has a mean analysts' recommendation of 2.3 (a buy); and it has a CAPS rating of four stars. Insiders have been buying in the last six months (+2.9%). Plus, it has a dividend of near 13%. On its own performance, it is a buy. The problem is that there is the upcoming fiscal cliff. This may cause the overall market to fall. IVR might well fall in sympathy with the market. Bernanke has warned about this. The CBO has warned that a recession will ensue if the U.S. goes over the fiscal cliff. With this in mind, it is appropriate to average into this stock around the fiscal cliff and a possible U.S. recession.
Note: Some of the above fundamental data comes from Yahoo Finance.
Disclosure: I have no positions in any stocks mentioned, but may initiate a long position in IVR over the next 72 hours. I wrote this article myself, and it expresses my own opinions. I am not receiving compensation for it (other than from Seeking Alpha). I have no business relationship with any company whose stock is mentioned in this article.