FedEx Corporation (NYSE:FDX) started overnight delivery in 1973 and is now the world's largest express delivery firm. The company generates two thirds of its revenue from its express division. With its massive international shipping network and rival DHL's exit of the domestic U.S. parcel delivery market in 2009, FDX enjoys a narrow economic moat with a costly entry barrier. FDX continues to adjust its operations and trade networks to adapt to the post-recession trade trends. For 2013, the company is expected to generate higher revenue and EPS at a valuation which is below the industry average.
Q2, 2013 Earnings Beating Estimate and Analyst's Call
On December 19, 2012, FDX reported earnings of $1.39 per diluted share for the second quarter ended November 30, compared to $1.57 per share last year. Superstorm Sandy impacted the quarter's result by $0.11 per diluted share due to reduced shipment volumes and incremental operating costs. By factoring out the Superstorm's impact, FDX's profit was $1.50, beating analysts' estimate of $1.41 according to Thomson Reuters.
As stated by Frederick Smith, FedEx Co.'s Chairman, President, and CEO,
Operating income for the quarter improved at FedEx Freight and FedEx Ground due to increased volumes and higher yields, while persistent weakness in the global economy and increased demand for lower-yielding international services limited profits at FedEx Express.
The company's ground business is taking market share from its larger rival, United Parcel Service (NYSE:UPS). FDX is also planning to trim costs, particularly at the air express unit, due to slumped profit.
Looking forward, FDX projected earnings to be $1.25 to $1.45 per diluted share and reaffirmed its forecast of $6.20 to $6.60 per diluted share for fiscal 2013 before charges related to the company's previously announced voluntary buyout program. Analysts are expecting an EPS of $6.38 for fiscal 2013, which is lowered from $6.57 as estimated 90 days ago. The Q2, 2013 earnings call transcript for FedEx Management Discussion from Seeking Alpha can be read here.
On December 20, the analyst at Jsyke Bank maintained a Buy rating on FDX with a 12 month target price set at $115. As stated by Jsyke Bank's analyst,
Although FedEx has today turned in OK quarterly results focus will most likely be on a weak forecast for Q3 2013. However, FedEx maintained its 2013 EPS estimate, which requires a considerable improvement in Q4. This does not seem unattainable. We reiterate our Strong Buy recommendation. The biggest price trigger is macroeconomic stabilization, which will particularly support Express. Therefore, macroeconomic stabilization is an important price trigger for the share. In the meantime, FedEx is doing its utmost to strengthen its earnings capacity and not least cash flow. It remains our view that FedEx will win market share in all divisions.
Key Stats Comparison and Valuation
With the data obtained from Morningstar, FDX's key stats will be compared to its peers in the Integrated Shipping & Logistics Industry, including UPS. FDX has a higher revenue growth (3 year average) of 6.3 and EPS growth (3 year average) of 174.5, comparing to the industry averages of 1.9 and 11.5. However, FDX had a lower operating margin of 7.2%, ttm, and net margin of 4.5%, ttm, as compared to the averages of 8.5% and 5.6%, ttm, respectively. FDX also generated a weaker ROE of 12.5, comparing to the average of 24.4. FDX has a healthier debt-to-equity of 0.1, as compared to the industry average of 0.8.
FDX currently has a P/E of 14.6, P/B of 2.0 and P/S of 0.7, which are below the industry averages of 19.4, 4.4, and 1.0. The Forward P/E is 11.4, which was below S&P 500's average of 14.2. The PEG ratio is 0.9. FDX is under-valued compared to its peers.
Technical Analysis
FDX closed at $92.74 with a 0.57% loss on Friday. The volume of 2.92M is 41.75% more than the 30 day average of 2.06M. FDX had been trading in the range of $82.78-$97.19 in the past 52 weeks. FDX has a beta of 1.24. The MACD (12, 26, 9) indicator had been showing a bullish sign since November 29; however, the MACD difference has now diverged. The momentum indicator, RSI (14), is showing a declining bullish lean at 63.73. FDX is currently trading above its 50-day MA of $90.26 and 200-day MA of $89.11. The next resistance is $93.90, as seen from the chart below.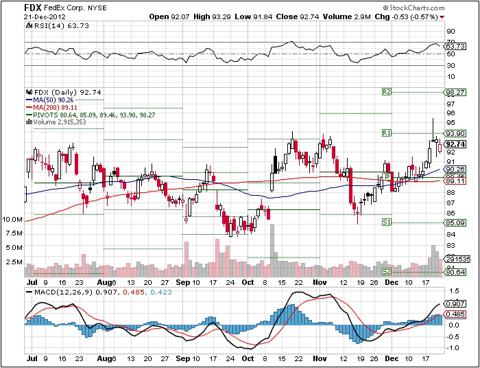 Source: StockCharts.com
Options Play
Positive growth, a solid balance sheet, consistent cash flow and a narrow economic moat give FDX a long-term buy rating. FDX is also bullish in the short-term, technically. A credit put spread options play will be reviewed for bullish investors who would like to acquire the stock at a lower price and gain some upside potentials.
Short 1x April 20, 2013 put at the strike price of $82.50 for the credit of $1.70

Buy 1x April 20, 2013 put at the strike price of $80.00 for the cost of $1.27
The maximum profit is $0.43, and the maximum risk/margin requirement is $2.07 ($2.5 loss - $0.43 credit received). If FDX closes above $82.50 on April 20, 2013, a 20.77% return on margin will be gained. If FDX falls below $82.50 upon options expiration, FDC stock will be acquired at $82.07, which is 11.51% lower than the current price of $92.74.
Note: All prices are quoted from the closing of December 21, 2012 and all calculations are before fees and expenses. Investors and traders are recommended to do their own due diligence and research before making any trading/investing decisions.
Disclosure: I have no positions in any stocks mentioned, but may initiate a long position in FDX over the next 72 hours. I wrote this article myself, and it expresses my own opinions. I am not receiving compensation for it (other than from Seeking Alpha). I have no business relationship with any company whose stock is mentioned in this article.