In early October, I ended the trade in Skullcandy (NASDAQ:SKUL) playing a bounceback from Morgan Stanley's devastating downgrade, but noted I would remain a buyer on dips (see "Skullcandy Recovers Losses From Downgrade - Now Comes The Tougher Part"). Sure enough, the 50 and 200-day moving averages (DMAs) served as stiff resistance and capped further upside on SKUL. Disappointing earnings a month later sent the stock down 22% over two days; the stock has yet to show any signs of life as it has scraped along all-time lows for a month.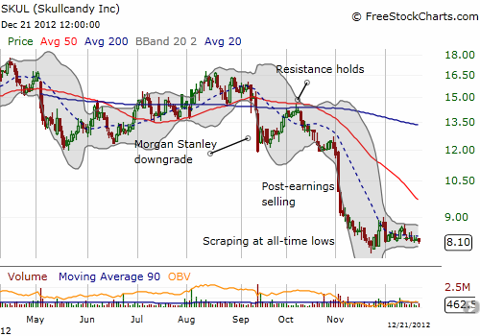 SKUL plunges to all-time lows
Source: FreeStockCharts.com
I have bought the dip twice so far, once before earnings and again after earnings. There are two main reasons I remain optimistic for an eventual recovery in SKUL's shares: a rapid reduction in shares short and the potential referenced in the earnings conference call despite acknowledgement of the challenging retail environment. The potential is expressed in management's strategic focus: raising average selling price, expanding the gaming business, growing international sales, and developing other brands and business categories.
Short interest in SKUL peaked over the summer, ahead of the Morgan Stanley downgrade and well-ahead of November's disappointing earnings performance. In fact, short interest is down an amazing 46% from August 15th to November 30th; short interest is back to where it began the year. The profit-taking appears to have occurred gradually enough to prevent a short squeeze (perhaps short interest is dominated by one major trader?).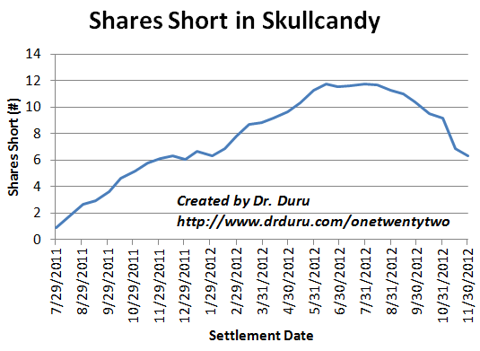 Shorts are steadily closing out positions against SKUL
Source: NASDAQ.com short interest
Supporting a positive interpretation of the change in short interest is the parallel drop in the open interest put/call ratio. Bearish sentiment has not simply transferred from shares to options. The open interest put/call ratio has fallen from about 1.1 in the summer to 0.7 as of December, 21st. In other words, bears seem to be sending an early signal that the downside opportunity in SKUL is abating. It is definitely possible shorts are just taking profits for tax purposes and will be back in business in early 2013 - something to watch.
SKUL's earnings conference call did not go well as the company disappointed by reducing 2012 earnings per share (EPS) guidance from a range of 1.10 - $1.20 to $1.00-1.04 although revenue guidance was simply tightened by raising the lower part of the $280M to $300M range to $290M. Management did what it could to address the pricing, margin, and product mix issues which have generated concern. In the sections below, I pull out the parts of the conference call that I found of greatest interest using Seeking Alpha transcripts:
Pricing and competition
"…continue to see a shift toward over-ear, competition in low-price bud categories intensified, retailers are becoming very promotional heading into the holidays…Over the past few months…retailers [became] more cautious in their outlooks for the holiday season."
"…online sales continue to be negatively impacted by price competition in the ease of online price shopping. We have taken steps to better control the pricing at selling of our products by third-party online retailers, but this remains a challenge for us…"
"…we have lost some share to [low-end] competitors."
"…the promotional environment…will be aggressive going forward."
Product Mix
"…the $50 to $100 price band is an area that we can offer high-quality differentiated products that appeal to both our core consumer and a growing number of consumers. This is a relatively undeveloped price band that allows us to aggressively compete on a branding, performance and design level. (The Hesh product was used as an example)."
SKUL "will continue to move [its] business to the mid-range price band of $50 to $100 through the introduction of new products that combine leading performance, design and Supreme Sound." SKUL notes that this segment is a small but defensible opportunity that should last for many years. Sales grew 60% year-over-year).
"An ongoing mix shift towards high-priced lower-margin products, including gaming, continues to be positive for gross profit dollars but negative for gross profit margin."
Over vs. on-ear mix seems to be stabilizing around 50/50 mix.
Make no mistake - the road to recovery for SKUL will not be easy and is not guaranteed. It will have to start with holiday sales that at least meet expectations. After that, SKUL will need to register success with any future acquisitions and in new products. With a relatively low valuation - 7.0 forward P/E, 0.8 price/sales, and 1.8 price/book - at least there is some margin of safety in betting on a positive outcome.
Be careful out there!
Disclosure: I am long SKUL. I wrote this article myself, and it expresses my own opinions. I am not receiving compensation for it (other than from Seeking Alpha). I have no business relationship with any company whose stock is mentioned in this article.