Despite a tumble on Wednesday and a pretty nasty dip on Friday, the bulls managed to log a victory last week thanks to a huge surge on Monday and Tuesday...when it actually looked like we may not fall off the fiscal cliff. Now we're back to square one, fiscal-cliff-wise speaking. With that as the backdrop, however, it's surprising the bulls were even willing to muster a small gain last week.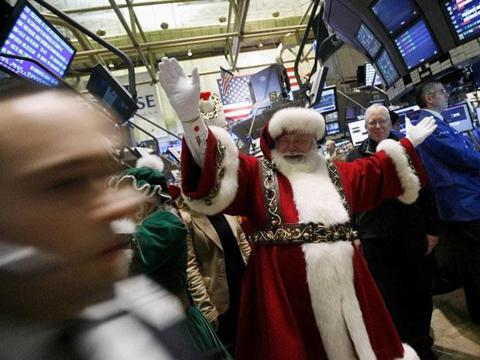 Is it a sign that - ultimately - traders still expect the government to avoid the fiscal cliff? Good question. We know that charts don't lie, and we also know that charts reflect investors' opinion of the market's future at any given time. So, it wouldn't be a stretch to say that last week's market advance (NYSEARCA:DIA) (NYSEARCA:IWM) does indeed indicate optimism about the future. Then again, the majority of the crowd is certainly capable of being wrong at times.
We'll dive into the argument in a moment, right after running down last week's and this week's major economic data.
Economic Calendar
A very busy week indeed. Let's just hit the highlights, in order of appearance.
The fireworks didn't start until Wednesday, kicking off with housing starts and building permits. Both were still very strong, especially considering the time of year. Starts fell from 888,000 to 861,000 in November (versus estimates of 875,000), while issued permits came in at 899,000, up from October's 868,000 (versus estimates of 876,000).
On Thursday we learned third quarter's GDP growth may have been even stronger than first assumed. Prior estimates had pegged economic growth at 2.7%, but economists have upped the number to 3.1%. That's about as good anybody has a right to expect.
Also on Thursday we got another dose of housing and real estate data. Existing home sales reached an annual pace of 5.04 million, and the FHFA housing price index edged up by 0.5% for November. That sales pace is 14% better than it was a year ago, and up 5.9% from October's levels. It's also the best annualized pace we've seen since 2009, and had it not been for an anomalous surge in 2009, it would have been the best pace since 2007 (when the numbers were on the way down). Once caveat - it's condos and co-ops pushing the march to new multi-year highs. Single family units are still just a tad under their surge levels from late 2009 and early 2010.
Housing Starts & Building Permits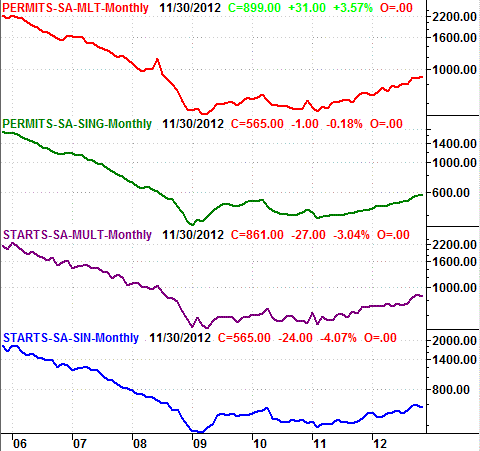 Friday's durable orders numbers rolled in better than expected too. The overall number with transportation grew 0.7%, topping expectations of a 0.2% improvement. Taking transportation orders out of the equation, durable orders soars 1.6%, compared to expectations of a 0.2% decline. That's the second big month of "ex-transportation" orders.
The rest of last week's data is in the grid.
Economic Calendar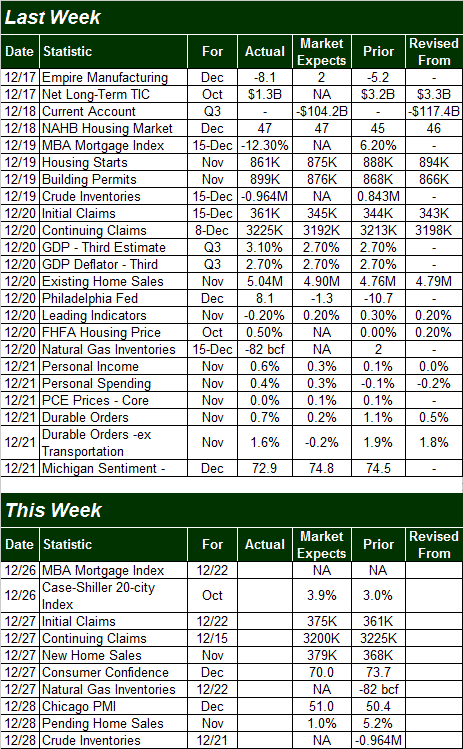 The coming week is going to be a light one, and not just because of the holiday closure.
On Thursday we'll continue to round out the real estate scenario, with the new home sales number for last month. The pros say the annual pace will be reported at 379,000, up a little from October's total.
We'll also hear about the Conference Board's consumer confidence score for last month. Experts are looking for the number to drop from October's score of 73.7 to 70.0 for November. Though it may come in a little lower, there's still a bigger uptrend in place here.
Stock Market
As if this time a week ago, the S&P 500 Index (SPX) (NYSEARCA:SPY) had fallen back to a close below the 50-day and 100-day moving averages. Although the CBOE Volatility index (VIX) (NYSEARCA:VXX) had also bumped into its upper Bollinger band at that time [possibly suggesting the pullback had already fully run its course], it looked as if the market was ready to keep tumbling. But, the bulls had other plans as of last Monday after palpable progress with the fiscal cliff seemed to materialize. As it turns out, that progress wasn't real, and the SPX peeled back later in the week. Indeed, Friday's dip was a pretty hard selloff in strong volume, made even more amazing by the fact that it was a Friday in front of what may as well be a four-day weekend.
Now what? Now, the S&P 500 is lodged squarely between a rock and a hard place.
There's a ton of support below the SPX right now. The converged 20-day and 100-day moving average lines at 1419 are one of those floors, and the 50-day line is just below that mark at 1413.
As for resistance, the upper 20-day Bollinger band (currently at 1445) is clearly a problem for the bulls, even if the S&P 500 briefly popped above that level on Tuesday.
The net result is a market that's stuck in the middle. And, given that we're now in the midst of what will likely be the mildest, low-volume week of the year, we really can't count on anything of real interest - up or down - playing out this week; the Santa Claus rally is pretty much out of gas.
Don't sweat the VIX's super-strong open and subsequent pullback on Friday. Between the calendar and the surprise non-progress with the fiscal cliff, the VIX is just getting slung around. The close is the important number for the day, and the VIX's close on Friday wasn't all that dramatic.
Just for some extra perspective, here's a look at the NASDAQ Composite (COMP) (NDX) (NASDAQ:QQQ). It tells the same story - the composite is finding support at its 50-day and 200-day moving average lines at 2991, but is dealing with a ceiling at its upper 20-day Bollinger band at 3053.
Taking a step back to look at the weekly chart doesn't really change anything in the near-term. Stocks are stuck in a rut, and that won't likely change this week. But, we are starting to see a longer-term reality become evident on the weekly chart. There's a huge ceiling forming at 1475, and given enough time, a major floor will develop somewhere between the 200-day moving average (at 1390) and the 26-week Bollinger band (at 1345) [the two are also on an intercept course]. Point being, the market's also walking into a longer-term trading range, trapped between major support and resistance.
That said, there's something else on the weekly chart that finally became watch-worthy as of last week. The VIX, stuck in a tight support/resistance band of its own since September (and really, since the beginning of the year) is finally starting to test the waters above its major resistance levels. It's still a little too soon to say the VIX is busting out of its trading range, but it sure took a good swing last week. The key line to watch is the upper 26-week Bollinger band at 18.74. Broadly speaking, a rising VIX would put bearish pressure on stocks. But, that's not a foregone conclusion. Either way, we'll monitor the situation and let you know how or if the weekly VIX chart is affecting things.
In the meantime, have a good week, happy holidays & best wishes to all, but know that trading will likely be light.
Disclosure: I have no positions in any stocks mentioned, and no plans to initiate any positions within the next 72 hours. I wrote this article myself, and it expresses my own opinions. I am not receiving compensation for it. I have no business relationship with any company whose stock is mentioned in this article.
Additional disclosure: BigTrends Rapid Options Income subscribers are in an open SPY options position.