It's no secret that gold has been one of the best performing - and safest - investments of the past decade. In a time when U.S. equities have endured two bear markets, gold has steadily climbed from roughly $300 per ounce back in 2000 to roughly $1,700 per ounce today.
But since peaking around $1,900 per ounce back in 2011, the gold bull has been unable to resume its run, and the price has slowly drifted downward ever since.
I think that gold's bull market has come to an end, and that both the fundamental and technical factors behind the precious metal's recent price stagnation point to one overwhelming conclusion: the gold bear has come out of hibernation.
The Technical Case
If you follow the price of gold - and I'm willing to bet that most of you do - then you'll know that the past few months have borne witness to a steady decline in its price, as shown in the daily candlestick chart below.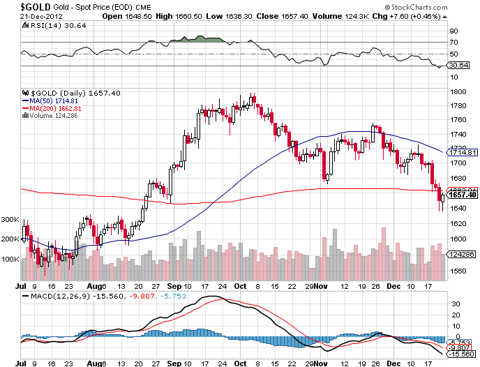 Since falling below the 50-day moving average in October, gold has tested it from below on several occasions and failed on all attempts to sustain any rallies and turn its resistance into support. Its price is currently below the 200-day moving average of $1,662, although its inability to break below $1,640 on two consecutive days - coupled with an RSI reading of 30.64 - indicates that its latest drop has left it oversold. I'll discuss the implications of this in more detail later. But as it applies to the current discussion I read it to mean that despite closing below it, the 200-day level is its current level of support.
However, the 50-day moving average has turned around and has started to fall since peaking around $1,740 back in November. This is an undeniably bearish factor - at least in the short term. But if gold stays in its current trend, a death cross is imminent within the next few months, signaling a bearish shift for the long term.
Additionally, gold's momentum - as indicated the MACD - has steadily declined since its failed attempt to break above $1,800 in early October. The MACD generated a sell signal at the start of December, and gold's price has fallen from roughly $1720 to $1657 since.
The weekly chart confirms the formation of a bearish trend.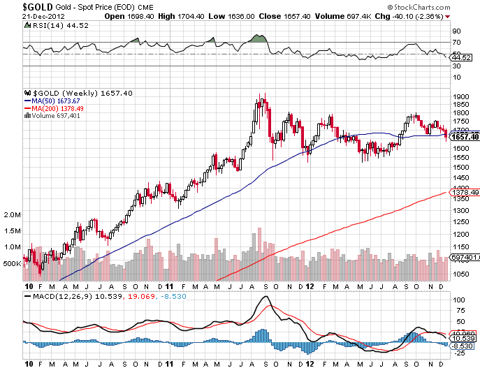 Here you can see gold's sharp drop from its peak of $1,900 back in 2011 and its inability to sustain a rally back to that level.
Most important on this chart is the sell signal that the longer term MACD generated back in November. The negative divergence between the moving averages has grown steadily since the signal was generated, indicating that gold's move to the downside is gaining momentum in the long-term, despite bouncing up from $1,640 twice in the last week.
Finally, gold's long-term RSI indicates that it is nowhere near oversold, and leaves it plenty of room to continue its fall.
The technicals don't look good. In fact, the only positive sign they show is gold being oversold in the short-term. But technical analysis alone shouldn't be used when deciding whether to buy or sell.
The Fundamental Case
Fundamentally speaking, investors buy gold for two reasons.
The first is as a hedge against the corrosive effects of inflation. This has especially weighed on investors' minds since the Financial Crisis of 2008-2009, when the Federal Reserve began to institute several rounds of bond-buying and Quantitative Easing with the aim of injecting liquidity into the financial system.
And although Ben Bernanke claims that increasing the Fed's balance sheet is not the same as printing money, many investors have bought gold to assuage fears that the Fed's actions - although arguably necessary at the time - will lead to high inflation.
Coupled with the open-ended nature of the latest round of easing - dubbed QE Infinity by many - it would appear that a time of great inflation is upon us as money is continuously printed and the Dollar shamelessly devalued in the name of saving the economy.
But if this were the case, gold would be gaining value. Since it's not, the reality of the situation must somewhat differ from the scenario above.
In fact, it's quite the opposite.
The most recent data shows that the Consumer Price Index - the widely accepted measure of inflation - not only increased at the alarmingly modest rate of 1.8% in the past twelve months, but actually decreased in November. This is all within the healthy range of inflation for our economy, and also within the Fed's predictions for the effects of Quantitative Easing on the value of the Dollar.
Some would argue that the effects of QE Infinity have just begun, due to its open-ended nature. But at its most recent meeting, the Fed announced that it would discontinue the program once the national unemployment rate fell below 6.5%. Considering the unemployment rate has fallen 1% within the past year to a current level of 7.7%, it seems as if QE Infinity won't be so infinite after all, and that the bogeyman of inflation is safely under the bed.
The second fundamental aspect of gold's appeal to investors is as a safe-haven asset in times of financial crisis.
And at the start of the year, crises abounded on the investment landscape. China's growth was slowing, signaling the beginning of a global recession. Greece was about the exit the Euro, heralding the failure of fiat currency worldwide. United States GDP growth was about to reverse and drag us into a double dip recession. Unemployment would sky-rocket and housing values would again plummet as a result.
But as the year progressed, one crisis after another was resolved.
China appears to have bottomed, restoring confidence in the growth of the world's emerging markets.
The Euro didn't fail, and although its member countries still have issues, they're slowly working them out and it seems fiat currency is here to stay.
On the home front, GDP is growing - and accelerating - faster than expected. As a result, unemployment is falling and the nascent housing recovery is gaining traction.
Since all of these crises failed to bring the financial world to its knees and the inflation monster has been kept in check, many investors have dropped their risk-off approach to investing and adopted a risk-on stance. As a result, they're pulling their money out of safe-havens like gold and putting them back into equities, dropping the price of the commodity in the process.
Where Does It Go From Here?
Gold is at a pivot point. And that's because there is still one crisis from this year that has been left unresolved: the Fiscal Cliff.
The failure of "Plan B" has reignited fears that we'll actually go over the cliff - quickly restoring gold's safe-haven appeal in the process. As a direct result, gold bounced from an intraday low of $1,640 to close at $1,657. And I think that bounce will continue every trading day until a cliff resolution is reached.
The technicals confirm this, since gold has twice failed to breach the $1,640 support and is coming back from oversold status. The MACD on the daily chart shows that the negative divergence has stopped gaining momentum over the past two trading days, and may be about to reverse course.
Given that trading will occur on both Monday and Wednesday, and the Senate won't reconvene until Thursday, I think it's likely that - barring an announcement that a deal has been reached - gold will again test its 50-day moving average before the end of the week.
Once that happens, investors who have money in gold - especially those with positions in highly liquid ETFs like GLD - should take the chance to begin selling out of their positions.
Because although we may very well go over the fiscal cliff due to a failure to reach a deal in a timely manner, I think it's highly unlikely that we'll stay over the cliff. To do so would be irrational, since no politician - however politically affiliated - actually wants to send us back into a recession just to prove a point. And I hope we can assume that our leaders are at the least rational creatures.
Gold will continue its bounce back from $1,640 every day until a cliff resolution is reached, be it before or after the January 1st "deadline". But once a budget deal is made, the last of the gold bulls will be chased out as investors leave its safe-haven and adopt more risk in a brightening economic future, pulling the floor out from its price and marking the beginning of its bear market.
Of course, if we do stay over the fiscal cliff long enough to drag our economy back into recession, then the gold bull will likely regain its footing as investors pile into safe-haven assets in a blind panic.
So it all comes to this: ask yourself what you think the most likely outcome of the fiscal cliff situation will be, and trade accordingly.
But I think that this final round of political brinkmanship will present gold investors with a holiday present - an opportunity to sell on the first bounce in a long way down in gold's bear market. Because with the fundamental price drivers removed and a death cross looming, the price of gold is about to go off its own cliff.
Trade wisely. And happy holidays.
Disclosure: I have no positions in any stocks mentioned, and no plans to initiate any positions within the next 72 hours. I wrote this article myself, and it expresses my own opinions. I am not receiving compensation for it (other than from Seeking Alpha). I have no business relationship with any company whose stock is mentioned in this article.