Momentum is very important when it comes to investing and trading. Fundamental, technical and news momentum have a very meaningful impact on stock prices. I will use an example of Green Mountain Coffee Roasters (NASDAQ:GMCR) to show the importance of momentum.
Green Mountain Coffee Roasters had a monster run of more than 1,000% since the start of 2009 until late September 2011. The run was caused by tremendous growth in earnings and sales. Earnings growth rate in the past five years has been 81.67% and sales growth has been 62.40% according to Finviz. At the same time, the PE expanded from about 30 at the start of the run, to as much as 85 at the peak price. A subsequent decline caused a drop in the PE ratio to as low as 10, showing that PE ratios are not to be solely used to make your decisions, as they do not properly show if the company is overpriced or undervalued.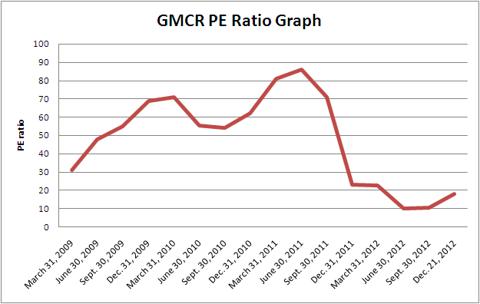 The PE of 85 was justified at the moment, since the growth rates have been outstanding in the period, being above 100% in much of the quarters at the time of the price run. However, the situation changed for the worse in October 2011, when hedge fund manager David Einhorn shorted the stock, citing accounting issues and patent expiration in September 2012, which would bring pressure from competition. As time passed, bad news continued to hit the stock price, and the earnings and sales growth rates slowed significantly in the following quarters.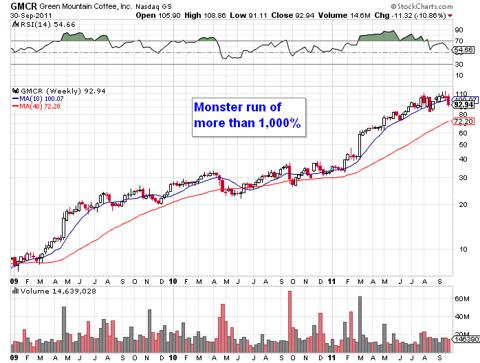 Source: stockcharts.com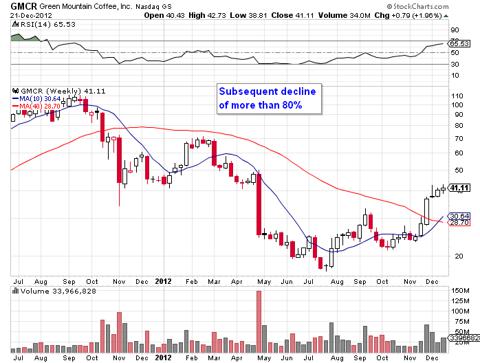 Source: stockcharts.com
So, we had an amplified momentum on the upside for almost three years as the price increased more than 1,000%, and a 10 month decline of more than 80%. It has surely been a wild ride for investors and traders with this stock. Now, the price has increased about 140% since bottoming in late July. This price moves show that it is very dangerous to be on the other side of the momentum.
According to current valuations and projected future growth rates, the stock is relatively fairly valued at the moment. Trailing PE of 18.03, and forward PE of 13.39, with a PEG ratio of 0.97, and a projected growth rate of about 18.5%.
High growth phase for the company is over. Some of its patents have expired in September, and other companies have already introduced some of the competing products, like Starbucks (NASDAQ:SBUX) with the Verismo brewer. Kroger (NYSE:KR) plans to introduce store-branded single-serve coffee cups, which are compatible with Green Mountain Coffee Roaster's popular Keurig brewers. That will likely put pressure on Green Mountain's earnings, sales and profit margins.
Summation
After tremendous rides up and down, the stock turned up again recently, rising as much as 140% from the late July bottom. The move was helped by better than expected quarterly results, and a stock buyback program. It is very important to take notice of the momentum a specific company is having, and not to be on the wrong side of it. There will be apparent clues that the momentum is over, such as wild price breaks to the opposite side, slowdown in earnings and sales growth or even a drop in earnings and sales, and in this example, accounting issues or other bad news that will hit the company and cause the collapse of momentum. Usually, after the momentum is over on one side, it quickly builds on the other, since valuations are too cheap or too expensive at the end of the move.
Disclosure: I have no positions in any stocks mentioned, and no plans to initiate any positions within the next 72 hours. I wrote this article myself, and it expresses my own opinions. I am not receiving compensation for it (other than from Seeking Alpha). I have no business relationship with any company whose stock is mentioned in this article.