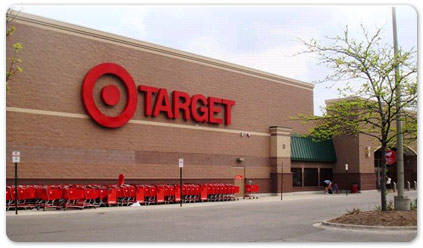 Target Corp (NYSE:TGT) recently reported a decrease in November 2012 revenues by 2% compared to the same month of prior year. As analysts were expecting a boost in sales for the holiday season, this drop brought disappointment. November holidays and Christmas crowds bring an upsurge in sales of retail stores in the fourth quarter every year. Success of retail giants is highly dependent on store traffic in the last two months of each year. But TGT was not lucky enough to enjoy the boost in 2012 as much as it did in 2011. This decrease can mainly be attributed to the decline in customer purchasing power which Sandy brought to the country. This effect coupled with macroeconomic issues seems to have affected the real purchasing power of people in US.

However, despite the drop in sales of November 2012, we are bullish about TGT and suggest that it can be a good capital gain opportunity for investors. This is because we anticipate that long run operations of the store will remain unaffected by this short run drop of revenues.
Let's take an overview of TGT's operational performance in Q32012 by benchmarking to Q32011. One Major area of concern for TGT is the costs of operations as the increase in costs is greater than the revenue increase. But despite the cost increase, TGT maintained a good net profit in Q32012 compared to Q32011. This indicates sound managerial performance of the store.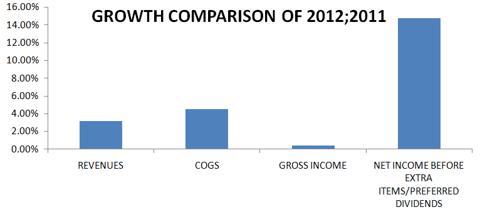 Source: Globenum Research
From a relative perspective, we feel the stock of TGT has some value for investors in future. The company has the lowest multiples in the industry making it a profitable future investment. Although Q32012 showed a drop in EPS compared to the previous quarters of this year, the growth rate is still higher than that of Q32011 showing a positive return to investors.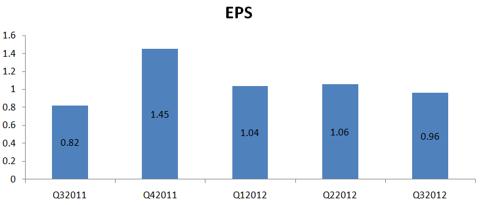 Source: Globenum Research
With a historical P/E of 13.69x and a forward EPS of $4.85, we set a future price of $67. Considering this price, investors can expect a capital gain of 12% which is higher than its key rivals i.e. Wal-Mart (NYSE:WMT) and Costco (NASDAQ:COST). However, we feel that while it has been a very attractive stock for dividend investors in the past, things might be different in the coming quarters. This is because as TGT plans to open new stores, the increase in CAPEX will lead to a cut in future dividends. This argument gains more strength as TGT recently guided that the next boost in dividend would be in 2017.
Current business model of TGT is well-suited for the economic environment as consumers look for value and quality but at a lower price. The recession has resulted in overall decrease in purchasing power which has put cost challenges to retail stores. But TGT has successfully taken this challenge by providing high quality products at lower prices gaining a competitive advantage in the market.
We feel that there are some catalysts which might increase the future gains of TGT's stock. Current promotional strategies of toys adopted by TGT are better compared to its competitors. TGT is one of the most successful retailers in its promotional strategies. However, we feel that the recent strategies adopted by its key competitor WMT can act as a negative catalyst for TGT. WMT recently announced that it will sell Apple (NASDAQ:AAPL) products at a significant discount. While WMT will certainly benefit from such a deal, it might also make customers switch away from TGT. As the holiday season is TGT should come up with promotions related to strong brands.
Our stance:
TGT seems to be a business with steady model, high expected revenues in future due to increase in retail stores in 2013 and high expected capital gains. We have a buy for TGT.
Disclosure: I have no positions in any stocks mentioned, and no plans to initiate any positions within the next 72 hours. I wrote this article myself, and it expresses my own opinions. I am not receiving compensation for it (other than from Seeking Alpha). I have no business relationship with any company whose stock is mentioned in this article.