About a month ago I wrote a Seeking Alpha article on Dallas-based Ashford Hospitality Trust (NYSE:AHT). As I wrote, one key differentiator of the lodging sector REIT is its higher level of inside ownership:
Ashford is unique among its lodging REIT peers because the company manages its risk at an "ownership" vantage point. Accordingly, Ashford can focus its investment strategies in markets where decisions are not influenced by institutional underwriting but instead by controlling risk that results into more proactive strategies.
Back then, I recommended the uniquely positioned lodging REIT at an entry price of $9.00 per share, and since that time, shares in the stock has climbed over 16% to a recent closing price of $10.44.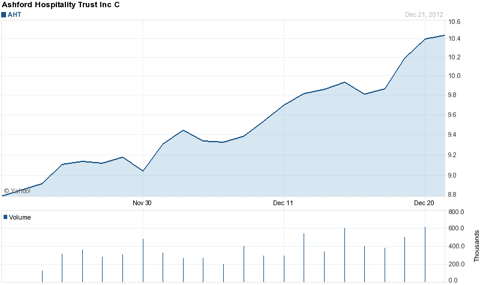 As a result of the forecasted growth (predicted by The Intelligent REIT Investor) of Ashford, I decided to explore other lodging REITs to determine if there could be yet another REIT that could be defined the same Grahamian "margin of safety" methodology or what Ben Graham constitute as:
A favorable difference between price on the one hand and indicated or appraised value on the other.
Much along the same line of reasoning as Graham, I decided to determine whether there could be more value in the lodging sector and perhaps I could find, through methodical analysis, if there is a REIT with the same explainable defensible intrinsic valuation attributes as determined by the presence and size of the "margin of safety" principles.
Filtering Out another Lodging REIT Stock
Ben Graham's methods greatly minimize such risk by "filtering out" disadvantageously positioned securities from the outset. Conversely, and for that reason, I prepared the following snapshot (below) that illustrates the most expensive as well as the cheapest lodging REITs: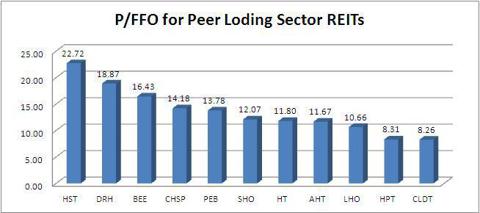 Along these same lines, yesterday I was reading a Seeking Alpha article by Dane Bowler (How To Value REITs With Questionable Alignment), in which the author explained:
The market fears externally managed companies and trades them at significantly lower earnings multiples. Such a discount is in many cases justified by the degree of misalignment between management and shareholders, but when this misalignment is only perceived and not practiced, the discount is an opportunity.
Bowler's article did not mention the lodging sector REIT, Hospitality Property Trust (NYSE:HPT); however, he did explain that CommonWealth (NYSE:CWH) - an ownership related entity- and its related external manager, Reit Management & Research LLC (NASDAQ:RMR), are both "stigmatized" and that CommonWealth's "extremely low valuation is, unfortunately, justified by poor managerial performance and therefore does not represent a solid opportunity."
Bowler went on to explain another related RMR entity:
Senior Housing Properties (NYSE:SNH) stands out as having one of the highest valuations of any externally matched company at 13.1, but it still remains cheap compared to its peers. It is the cheapest play on the senior housing market which looks very strong in the current environment. Much like SIR, it is performing well, but I am left wondering if it will follow in CommonWealth's footsteps.
So is there Value - or Disappointment - in Owning Hospitality Properties Trust?
As I started researching the hotel sector, the first thing that caught my eye was the extraordinarily high dividend yield of Hospitality Property Trust (or HPT in this article). Unlike, the peer group (averaging a dividend yield of 3.16%), HPT boasts an exceptionally high yield with an "EIGHT PLUS HANDLE" - 8.18% to be exact!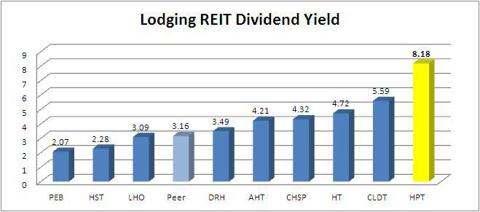 Now, that yield seems to could to be true: A REIT stock that trades at one of the lowest P/FFO ratios (8.31) with one of the highest dividends (8.18%) in REIT-dom? Let's check under the hood…
HPT owns 471 properties consisting of 286 hotels and 185 travel centers that are operated under ten management agreements or leases (and one leased hotel, which is operated under a separate management agreement). 231 of the company's hotels are leased by HPT to the wholly owned TRSs and managed by hotel operating companies, one hotel is leased by HPT's TRSs from a third party and managed by a hotel operating company and 55 are leased to third parties (as of September 30, 2012).
As of the latest quarter (Q3-12), HPT had around $5.373 billion in assets and total debt of $2.402 billion (with zero secured mortgage debt). Based upon income invested, HPT has two uniquely positioned operating platforms: Hotels - making up around 62% of invested capital - and Travel Centers - making up around 38% of invested capital.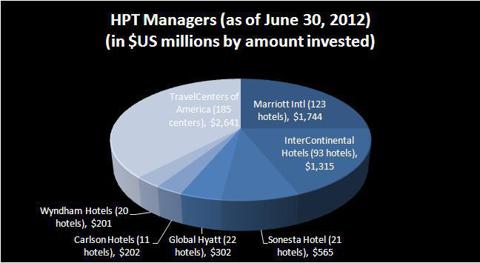 Unlike most internally-managed REITs, HPT is managed by an outside management company, Reit Management & Research LLC (RMR). HTP became a public company in 1995 and the REIT became the first of several incubator REITs to form subsidiary operating platforms, including Senior Housing Properties Trust , a REIT that primarily owns healthcare properties; Government Properties Income Trust (NYSE:GOV), a REIT that primarily owns and leases office buildings that are majority leased to government tenants and Select Income REIT (NYSE:SIR), a REIT that is focused on owning and investing in net leased, single tenant properties.
One rather unique feature of HTP is the broad-based income that the REIT generates. As noted above, HTP is essentially an owner of real estate leased and operated by well known hotel and travel center brands, including many "best in class" hotel chains such as Marriott (NYSE:MAR), Carlson, Hyatt (NYSE:H), and Wyndham (NYSE:WYN). In addition, HTP generates considerable income from its Travel Center partner (more on that later), TravelCenters of America (NYSEMKT:TA).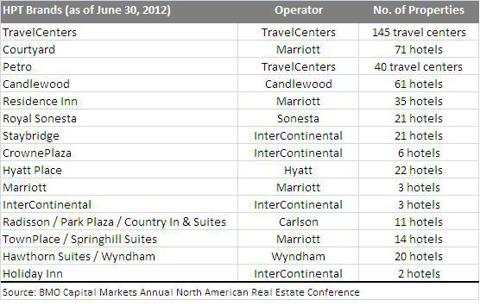 HPT's hotel operating platform, consisting of 290 hotels with 43,515 rooms, is structured to provide stable income through economic cycles. The REIT's operating agreement structure reduces cash flow volatility in tough economic times and allows upside participation when the cycle turns. For example, HPT has seven agreements covering 269 hotels that feature manager guarantees and/or security deposits that protect cash flow when hotel operations fail to cover minimum rents (or returns).
HPT also receives additional rental income based on gross property revenues over threshold amounts, and certain hotel management agreements provide additional yield enhancement to HPT based upon hotel net operating income.

HPT's properties are geographically diversified, with the largest concentration in Texas (11.4%), California (11.6%), Georgia (5.6%), and Arizona (4.4%).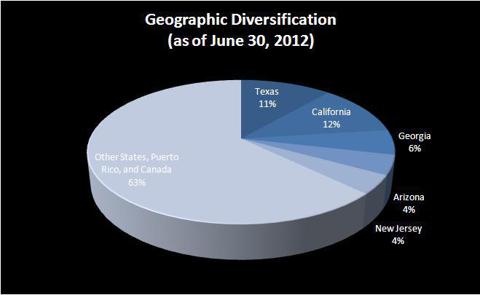 The HPT contracts also provide diverse geographic exposure and defense against cyclical market downturns.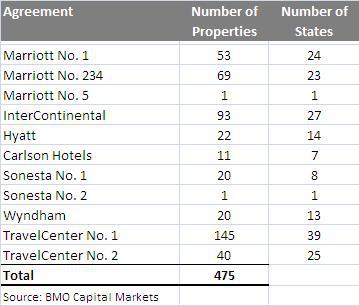 HPT has $4.3 invested in 290 hotels operated under 17 nationally recognized brands. This broad-based portfolio includes exceptional "best in class" flags including Courtyard by Marriott (10,281 rooms), Candlewood (9,220 rooms), and Residence Inn (4,695 rooms).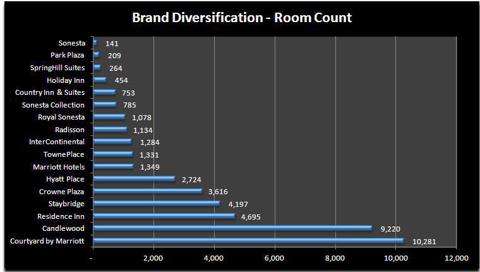 In May HPT announced a strategic agreement with Wyndham Hotel Group to convert 20 hotels to Wyndham brands (4 branded as Wyndham and 16 branded as Hawthorn Suites). The management agreement provides for payment to HPT of an annual minimum return of $9.2 million, and Wyndham Worldwide has provided HPT with a $20 million limited guarantee.
HPT - A Hospitality Brand Extended
On January 31, 2007, HPT completed the acquisition of TravelCenters of America, Inc. and upon completion of the acquisition; HPT restructured the business of TravelCenters and distributed all of the common shares of the former subsidiary, TravelCenters of America LLC to shareholders in a spin off transaction.
TravelCenters is one of the largest operators of truck stops along the U.S. interstate highway system and formerly owned most of the sites it operated. TravelCenters and a smaller truck stop chain (Petro Stopping Centers) were purchased by HPT and simultaneously, HPT entered into a sale/leaseback transaction (see my article on sale/leasebacks here) whereby it retained the real estate, and entered into a long-term lease agreement with TravelCenters, which it spun-off to HPT shareholders.
In a previous Seeking Alpha article (Why TravelCenters of America's Relationship With Hospitality Properties Trust Is Key), Skeptic LLC, explained that the sale/leaseback transaction between TravelCenters and HPT are self-dealing and the results could have potential impact (and risk) for investors to consider:
TravelCenters does not own the locations it operates. Instead it leases them mostly from Hospitality Properties Trust. HPT is managed by REIT Management & Research, which is majority-owned by Barry Portnoy. TA was spun-off from HPT and right now Barry Portnoy has a higher interest on HPT than he has on TA, which might mean that he can favor HPT when setting the leases and other contractual affairs. Also, TA's CEO and CFO are employees of RMR and two of its managing directors (one of whom is Portnoy) are also directors for RMR (source: Nathan Kawaguchi, IgnoreTheMarket.com).
In the same article, Skeptic LLC went on to explain the apparent conflicts of interest with the self-dealing transaction:
The potential for conflicts of interest in negotiating a suitable, stable long-term economic arrangement between HPT and TA (and RMR, the management company) are huge and unsustainable. Why should all of these parties expose themselves to ongoing charges of self-dealing rather than using the negotiation of deferred rent due as a catalyst to redo the deal and put it on a sustainable footing. HPT is basically being offered a mulligan on the TA transaction, and it would be wise to take the opportunity. Continuing to have such a large exposure to such a shaky tenant is clearly not going to build long-term value and credibility at HPT.
Since the time HPT acquired TravelCenters (early 2007), the revenue stream for the REIT portfolio has been balanced by three differentiated income generators: hotel operating revenue, hotel rents, and travel center rents. Needless to say, the hotel sector was decimated with the business-based revenues that fell during the Great Recession; however, the trucks kept rolling and HPT's uniquely orchestrated sale/leaseback transaction with TravelCenters provided valuable stability from the sustainable rent checks generated by the monetization of the self-dealing owners.

For HPT (and insiders), the sale/leaseback transaction with TA appeared solid; however, as Skeptic, LLC explained:
When the bottom eventually fell out, TA traded below 2 per share by late 2009. The sell-off was understandable: TA had no debt, but was a highly leveraged business due to its huge fixed lease obligations to HPT. On the operating side, TA's income statement was directly exposed to the decline in economic activity, and revenue and gross profit dropped alongside falling trucking activity during the depths of the recession (revenue also varies due to fuel prices, but this is mostly a pass-through... only fuel gallons and the margin/gallon really matter).
As the snapshot below illustrates, HPT's net income fell considerably in 2008 and 2009; however, the revenue generated by TA rent checks provided durable income for the REIT.

As the largest tenant of HPT (38% of funds invested) and in order to provide durable income for investors, TA must be able to provide sustainable income. In doing so, TA must be in a healthy financial position so that it can afford to pay the lease costs due from HPT. When negotiating the lease with itself (HPT and TA) in late 2006/early 2007, HPT was likely more interested in comparable cap rates and rental costs (at the height of the CRE market) to derive the maximum cash flow (generated by the travel center leases).
The Golden Rule: He Who Has the Gold, Makes the Rules
As explained by Skeptic, LLC:
HPT owns the valuable, "irreplaceable" interstate highway locations, and TA just has a long-term lease to manage and operate these locations. But just keeping TA around as a subsistence farmer on HPT's land really doesn't work in the long-term. The cash flow from the TA leases is very significant to HPT's dividend level. Simply put, over the long-term, HPT requires a healthy TA as a tenant. Even if they could extract a little more cash from the company by repeatedly raising the rent, pushing them to almost file bankruptcy, and bailing them out again and again... what would be the point? The Wall Street analysts will punish your multiple on such a low quality stream of cash more than you will gain in incremental lease cash. In general, if HPT had such a low quality tenant in any other property, they'd probably seek to boot them out and replace them. But this tenant, TA, is effectively of HPT's own making, and nobody else would step up to pay the lease rates that HPT set.
So, it is critical for investors to examine the financial performance of TA and now that the company has been a landlord for over six years, how does the TA balance sheet look today?
First off, and as noted above, HPT is one of the largest shareholders in TA (2,540,000 shares or 8.83% valued at $12.192 million). With a current market capitalization of around $138 million, TA has assets of $1.129 billion and no long-term debt (except for the considerable lease debt associated with the HPT relationship).
Since 2010, TA has begun to turn its profitability around (past 24 months), including latest results (Q3-12) that exceeded EBITDAR for the last 11 consecutive quarters. TA generated net income of $19 million, or $0.66 per share for the third quarter of 2012, a decrease of $1.8 million or $0.08 a share from the third quarter of 2011. TA's 2012 third quarter EBITDAR was $83.6 million, an increase of $600,000 or 1% of the 2011 third quarter.
For the first 9 months of 2012, TA generated net income of $35 million or $1.20 a share, an improvement of about $9 million or 33% of the net income we generated in the first 9 months of 2011. The company generated EBITDAR of $227 million for the first 9 months of 2012, an increase of about $17 million or 8% over the first 9 months of 2011.
During the company's latest (Q3-12) earnings call, TravelCenters CEO commented:
We attribute our 2012 improvements to the capital investments we've made in existing properties during those 2 years, favorable fuel margins, particularly during the 2012 second quarter and our ongoing improvements in customer service delivery, as well as our continued program to acquire travel centers.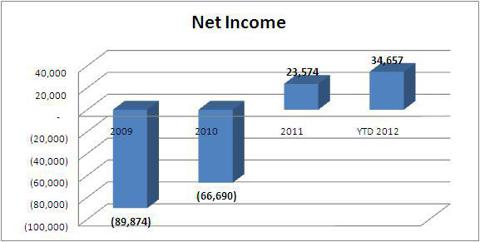 It appears that at $4.80 per share (on approximately $138 million market cap), TA offers a good "margin of safety" on a valuation basis, and the company's largest creditor, HPT, is continuing to provide risk-aligned off-balance sheet capital (for TA) to generate accretive investments such as renovations and opportunistic travel center acquisitions.
Although not investment grade rated, TA has begun to turn its fortunes around and the unique "partnership" with HPT will allow the companies to provide opportunities for both. TA can remain competitive with the largest peer (privately-held Pilot/Flying J), by utilizing the financial and strategic flexibility (of HPT) to counter the force and remain competitive in the market. HPT can continue utilizing its financial muscle that includes a well capitalized balance sheet: $400 million in unsecured floating rate debt, $1,796 billion in unsecured fixed rate debt, and $2.944 billion in shareholders' equity (book value).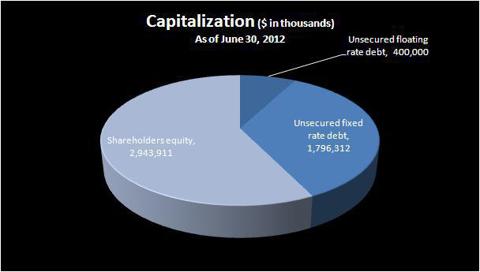 HPT has no secured debt and that makes it much easier to sell or reposition assets that are leased to TA. HPT has $17 million in cash (as of Q3-12) and no amounts outstanding on the company's $750 million revolving credit facility. In addition, HPT is the only lodging REIT that has an investment grade credit rating.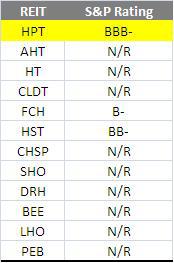 Is The Thrill of Victory Worth the Agony of Defeat?
The net-net-net of HPT's value proposition has everything to do with the net-net-net of the company's largest income source: TravelCenters of America. There's a single tenant net lease issue that demands caution, and that explains the discount associated with HPT and its incestuous relationship with TA.
As most know, I like the net lease investment model as it is conceivably one of the safest and structurally soundest REIT platforms. I believe that the concept of marrying up daily rental income (i.e. hotels) with longer term net-lease income makes a lot of sense. In practical terms, the self-dealing orchestrated sale-leaseback transaction with TA has proven to reduce volatility and in all likelihood it should continue to provide balance to the overall safety of the dividend.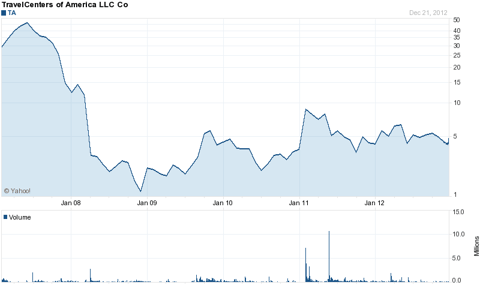 However, the apparent conflict of interest (with HPT and TA ownership) might make it hard for TA to trade at a full valuation, and is clearly the biggest issue for this equity. In turn, this will continue to drag the shares of HPT down making the shares trade seemingly cheap. In the end, however, that could prove to be rewarding for HPT investors - especially if TA is sold or merges its shares creating an enhanced credit rating or perhaps a better defined track record of performance by TA.
As mentioned in the opening, HPT is traded at a P/FFO multiple of 8.31 (one of the lowest in the lodging REIT sector) and the shares are trading at $22.98. Upon review, HPT is trading 9% below consensus NAV of $25.00 and the dividend yield (8.18%) is over 500 bps above peer hotel REITs.
Recently, HPT raised its regular quarterly common share distribution by $0.02 to $0.47 per common share ($1.88 per share per year). This distribution (paid to HPTs common shareholders of record on or about November 21, 2012) was an increase of 4.4% and in a recent (Q3-12) earnings call, John G. Murray, President and COO offered the following comments:
There are a lot of factors that went into it. Mark (Mark Lawrence Kleifges is CFO with RMR) will probably share some of his thoughts on it, too. But we get a lot of calls and questions from investors about the timing of dividend increases. We've been employing various tax strategies over the last couple of years to enable us to keep as much free cash flow as possible to help fund the renovations in our portfolio. And -- but as we were continuing to see improvement post-renovations at the hotels and starting to make acquisitions, we thought it was time to send a message to the shareholders that we are thinking of them and thinking about our improving cash flows, and so that's why we made the increase when we did.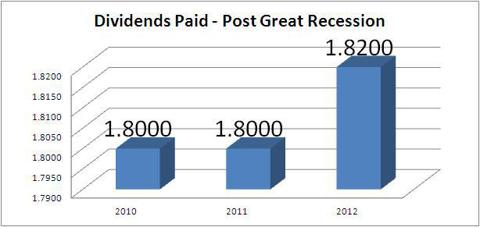 For HPT, that is good step in the right direction, and although the TA sale/leaseback strategy should provide a continued measure of income diversification (which smoothes out the impact of an occasional outlier), investors must consider the risk of owning a REIT that derives a considerable amount of income from one small-cap outlier tenant.
Remember, there are three net-lease REITs that did not cut dividends during the Great Recession - Realty Income (NYSE:O), National Retail Properties (NYSE:NNN), and W.P. Carey (WOC) - and the primary reason that these three REITs continued to pay and increase their dividend was due to the exceptional diversification fundamentals of these operators. On the other hand, HPT stopped paying its dividend (during 3 quarters in 2009):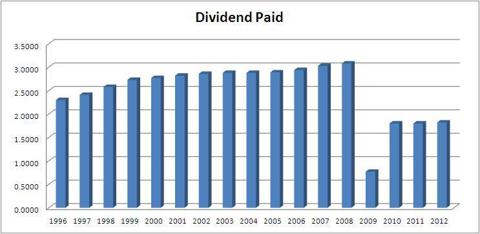 As the legendary investor and author, Howard Marks explained (in his book, The Most Important Thing):
Great investing requires both generating returns and controlling risk. And recognizing risk is an absolute prerequisite for controlling it.
Accordingly, investors should utilize the margin-of-safety concept to "advantage and distinguish the differences in an investment operation and a speculative one (Ben Graham)." As Ben Graham explained:
A defensive investor should confine himself to the shares of important companies with a long record of profitable operations and in strong financial condition.
In summary, I believe HPT offers a compelling opportunity to own shares in a REIT that is moderately under-valued. HPT's dividend yield is over 2x the yield of all-star blue-chip performer, Realty Income (dividend yield of 4.5%) and HPT's considerable concentration to one tenant (TravelCenters) has a measurable higher risk value proposition (compared with other REIT peers).
Clearly, there is an advantageous margin-of-safety in the value of HPT's shares and the driving force behind the lower valuation is also the disadvantageous attribute of concentration, the opposite of diversification. In fact, it's ironic that Ben Graham defined diversification as "the cheapest and simplest way to widen a margin of safety" and in the case of HPT, the high exposure to one tenant is the catalyst for the cheap valuation of the REIT.
Simply said, HPT has a value proposition that is clearly defined by the self-dealing interests of HPT insiders. The majority of the company's income stream is generated via a diverse and growing number of hotel rooms; however, the low multiple of the REIT is driven by the highly concentrated exposure to TA. With no significant debt (and no long-term debt) on TA's balance sheet, HPT has an enviable competitive advantage due to its strategic relationship with insiders. This may not be good for TA investors; however, it is immensely advantageous for HPT investors.
The Intelligent Investor must be able to capitalize upon
a favorable difference between price on the one hand and indicated or appraised value on the other (Graham).
At the same time, investors should pay special attention to the risk/reward value proposition. This is best explained by Howard Marks (The Most Important Thing):
Whereas the theorist thinks return and risk ate two separate things, albeit correlated, the value investor thinks of high risk and low prospective return as nothing but two sides of the same coin, both stemming primarily from high prices. Thus awareness of the relationship between price and value - whether for a single security of an entire market - is an essential component of dealing successfully with risk.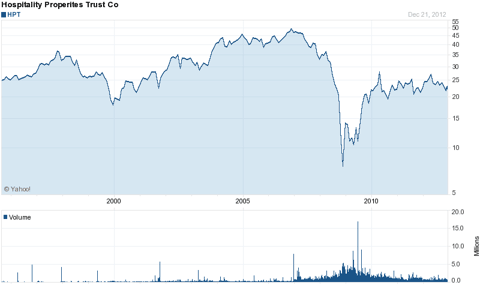 Other REITs mentioned: (NYSE:HT), (NYSE:CLDT), (NYSE:FCH), (NYSE:HST), (NYSE:CHSP), (NYSE:SHO), (NYSE:DRH), (NYSE:BEE), (NYSE:LHO), and (NYSE:PEB).
Source: SNL Financial and BMO Capital Markets 7th Annual North American RE Conference (from HPT website)
Disclosure: I have no positions in any stocks mentioned, and no plans to initiate any positions within the next 72 hours. I wrote this article myself, and it expresses my own opinions. I am not receiving compensation for it (other than from Seeking Alpha). I have no business relationship with any company whose stock is mentioned in this article.