Following my article on Friday Will New SouthGobi Troubles Wreak Havoc On Turquoise Hill?, there has been a reversal in the case. Expect Turquoise Hill Resources (NYSE:TRQ) and SouthGobi Resources (OTC:SGQRF) to be up on the news today. This may, or may not, signal the beginning of a shift in Mongolian political policies and public relations that will allow all Mongolian stocks to rise.
From Yahoo! Finance:
HONG KONG, CHINA--(Marketwire - Dec 23, 2012) - SouthGobi Resources Ltd. (SGQ.TO)(1878.HK) (the "Company" or "SouthGobi") has received notification from the Mongolian Independent Authority Against Corruption [IAAC], that it has concluded its questioning of SouthGobi''s Chief Legal Counsel Sarah Armstrong and that she is no longer a suspect in their investigations. The IAAC has informed the Company that she will shortly be able to leave the country.

The IAAC has also confirmed to SouthGobi that it is continuing with its investigation into historical licensing issues. The IAAC advised that it is investigating the divestment of certain SouthGobi licenses to third parties, and the involvement and conduct of government officials in connection with this.
Since this story began on October 24, 2012, with Ms. Armstrong's arrest, the share price of Turquoise Hill Resources have been beat up while SouthGobi shares have languished at low level due to a series of actions against the company extending back to April 2012.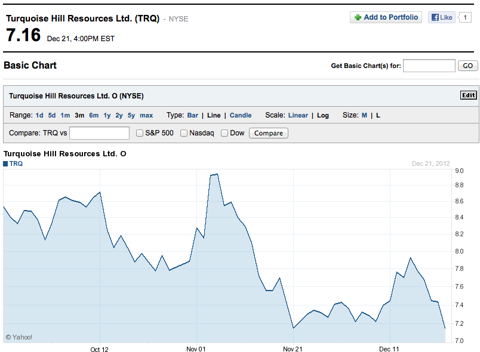 Source: Yahoo Finance 3 month chart for Turquoise Hill.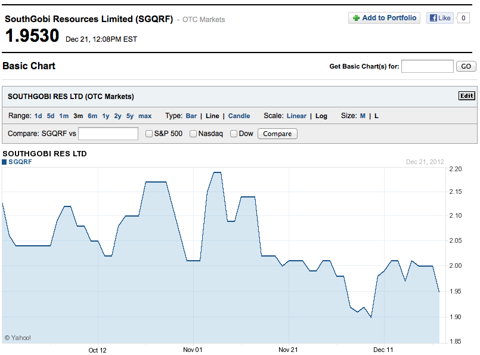 Source: Yahoo Finance 3 month chart for SouthGobi Resources.
With presidential elections in June, I continue to believe the best long-term investments are three companies I suggested in October 2012, though I believe short-term Turquoise Hill, SouthGobi, and more speculative mining stocks may do better on this news.
Declining Foreign Direct Investment has become a problem as I have been writing about and, sooner or later, the government needs to commence a series of moves to reassure foreign investors and get the financial plumbing of the economy flowing. The move to release Sarah Armstrong may be the signal of the first in a series of such moves, or it may only be political calculation to see how much foreign investment can be restored by this single move. Revisions to the new foreign investment law [SEFIL], mining laws, and so on, remain to be done to fully improve the outlook for foreign investment and investors.
Disclosure: I have no positions in any stocks mentioned, and no plans to initiate any positions within the next 72 hours. I wrote this article myself, and it expresses my own opinions. I am not receiving compensation for it (other than from Seeking Alpha). I have no business relationship with any company whose stock is mentioned in this article.