When it comes to the tech industry, Google (NASDAQ:GOOG) and Apple (NASDAQ:AAPL) have dominated the news of 2012 and will mostly likely continue the trend into the future. In large part, Apple is more in the public eye due to the love affair both investors and consumers have with its wide product range and seamless software development. The advent of the iPhone 5 and iPad Mini alone were enough to entice loyal Apple consumers to make the transition into the "hottest" product or in the case of the iPad Mini to hand over $399.00 to have the latest gadget. Though each of these new products sold over 3 million units in their first week alone, Apple's stock has taken a substantive hit over the change in sentiment by investors as to whether the company in the long term can continue to innovate and release new and revolutionary products that extend beyond the realm of a "newer" iPhone or a "thinner" iPad. These fears have not subsided and have only been met by heightened competition by its largest competitor - Google.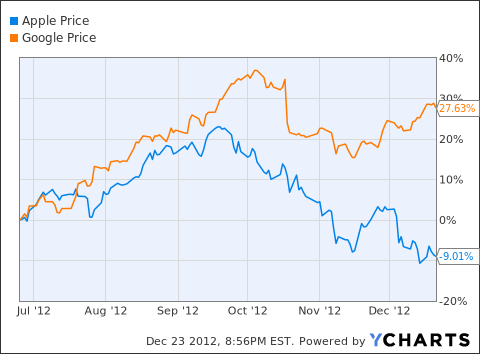 The Fundamental Strength of Google:
Google has not experienced the same type of investor uncertainty as Apple has in large part because its business model is drastically different. Google operates a business that is in many facets income driven through both its search fees to customers (website owners) and the advertising income it receives via the tremendous traffic its platforms garner. In 2011, 96% of Google's revenue came from advertisements through hundreds of channels. In this way, Google's primary business is guarded from changes in the market or the fickleness of consumers due to its dominance within the internet space. There is a very high barrier to entry in the search engine space and for this reason, Google's core business is safe by many measures. This stands is contrast to Apple's business where the company must continue, for the most part, to wait for customers to buy its new devices. Though iTunes and the App Store have grown to be substantial companies in their own right, they only represent 5.9% of Apple's revenue and thus Apple's "bread and butter" is still within its sale of devices. In addition, though, to Google's core business, it has built the Android operating system that powers 46% of smartphones in the marketplace - a whopping figure that is only expected to increase. Principal analyst at Informa Telecoms and Media Malik Saadi says,
Looking forward, Android is expected to continue gaining market share globally and, by 2015, one in every two handsets sold worldwide will be powered by it.
Google is not stopping its battle against Apple, though, only within the software sector. In the past several weeks, news has been released of Google working with Motorola Mobility (a company it acquired in May 2012) on an "X-Phone" that will take on Apple from the hardware side as well. This attempt by Google to enter this space yields little downside, but tremendous upside. As opposed to past partnerships like the Nexus 4 or Nexus 7 where the product is produced collaboratively with LG or Samsung, the "X-Phone" will be produced by Google's sister company Motorola in an attempt to truly enter the hardware space.
Google's Entry Into Hardware & New Businesses:
"X-Phone": Next Year, Google is expected to enter the hardware side of tech with the advent of the "X-Phone", but this move does not mark a departure from its current advertisement driven business model, but rather an extension of the wildly successful platform of Android. As of right now, Google does not have to contend with the peaks and valleys of consumer preference in terms of devices, but rather has to only focus on making the best possible operating system that has proven itself iteration after iteration. The entry into the hardware side of the business opens up a whole new world for Android as it vertically integrates the product in the same way Apple has with its iPhone. The advantage Google has, though, is that not only would the software and hardware be made by Google, but the internet interfaces would also be under the same roof. This provides Google with a go-to-market strategy that is hard for any other company to beat. A good way to think of this is that it is easier for Google to manufacture the "X-Phone" and break into the market of hardware than it is for Apple to break into the search industry. This makes Google's business model far less penetrable than Apple's and thus more secure for long-term investors.
Google Fiber: In addition to the "X-Phone", Google is also testing Google Fiber in Kansas where it is providing consumers with unbeatable internet and TV service that Netflix has dubbed, "The Most consistently ISP in America." As recently as last week, Eric Schmidt, Google CEO, stated that this is not merely a test for Google and will reach other areas quickly. This illustrates that Google is preparing and systematically entering new markets where it can show its strength and build off its current business model.
What This Strength Means For Investors Going Forward:
For investors looking at the long-term vitality of both companies, it is important to constantly be thinking about how the company at hand produces its revenue. There is no denying that Apple is not a wonderful, prosperous, and well positioned company for the future, but its true test of time will be whether or not new products and innovation can hit the market and drive Apple into new segments. Google, as mentioned, is positioned differently and relies far more on its core business of selling advertisements along with continuing to innovate its Android operating system. This business model is more sustainable in the long-term because it:
Is less reliant on customers to buy "new" products and is more reliant on the built-in revenue streams that its businesses have.
Is integrating itself both vertically ("X-Phone) and horizontally (Android overall), while Apple has built a proprietary business around the synthesis of its hardware and software. For investors, this means that while Apple's business model has proven successful in the past, Google has a more diversified and stable portfolio of revenue streams.
Has a business model built around its internet platform, which has higher barriers to entry than the fickle and more consumer driven business that Apple ultimately has created.
For investors the choice is between two brilliant companies that each earn their respected revenue through different business models. Google is in a position to organically enter new markets through its strong hold on multiple industries, while continuing to dominate its search business that provides a relatively safe source of revenue. Apple on the other hand must bring people to buy the "newest" and "lightest" product in the face of rising competition. Though each have their pros and cons, Google is positioned extremely well to continue to drive stable and incremental revenue for its shareholders. The same case does not hold entirely true for Apple...
Disclosure: I have no positions in any stocks mentioned, and no plans to initiate any positions within the next 72 hours. I wrote this article myself, and it expresses my own opinions. I am not receiving compensation for it (other than from Seeking Alpha). I have no business relationship with any company whose stock is mentioned in this article.