Markel (NYSE:MKL) may now be offering all Berkshire's upside but without the "Buffett Succession" Risk.
Investors are all aware of Warren Buffett and the long-term success he achieved with Berkshire Hathaway (NYSE:BRK.A) (NYSE:BRK.B) as a closed-end fund-like investment vehicle.
Berkshire garnered a lot of recent attention when they bought back a major block of stock from the estate of a long-time shareholder at what they claim is a bargain price at nearly 120% of book value.
Extreme volatility in reported earnings makes long-term growth in book value the best way to judge the success of these type of companies. Berkshire had a good record in this regard based on their numbers from year-end 2002 through YE 2011.
Continuous shareholders did less well than the company itself.
While cumulative book value grew more than 145% the stock returned just above 51%. That occurred because the premium to book value declined from about 70% to 15% over that nine-year span.
That decrease in Berkshire's Price/Book Value ratio is pretty much equivalent, and had the same effect that P/E compression had on formerly high-flying stocks like Oracle (NYSE:ORCL), Home Depot (NYSE:HD), Wal-Mart (NYSE:WMT), Coca-Cola (NYSE:KO), Walgreen (WAG) and IBM (NYSE:IBM). None of those stocks performed nearly in line with their EPS growth over those same years.
The "Buffett halo effect" still allowed Berkshire to outperform 60% of Value Line's 1700 stock research universe over the long haul.
Markel invests essentially the same way Berkshire does. They are known for their insurance operations but maintain a huge investment portfolio made up of retained earnings plus the float on premiums collected but not paid out in claims.
Neither BRK nor MKL have paid out any cash dividends. They prefer to reinvest their profits internally. That avoids the double taxation burden on distributed dividends.
How did Markel management perform over that 2002 - 2011 period compared with Berkshire Hathaway? Very nicely indeed.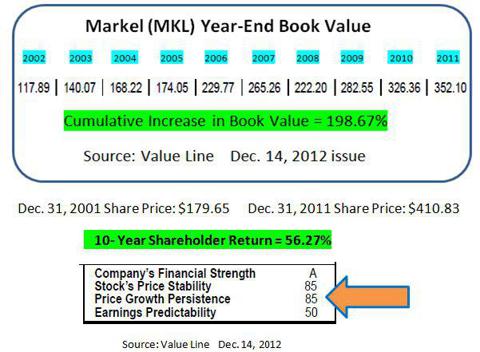 Book value increased by 198.67% That was 36.19% greater than Berkshire's growth in per-share asset value. MKL suffered a similar collapse in their share price premium to book value. Markel's premium dropped from 70% to 13%.
Their better absolute growth, though, allowed for shareholder returns of 56.27%. MKL thus beat Berkshire once again in the one metric shareholders care about most.
Markel shares outperformed 85% of Value Line's entire research universe over the most recent decade.
Markel shares had been climbing again in both absolute terms and in its price/book value relationship. The stock touched $502.20, about 1.43x BV, in November.
That positive momentum sharply reversed upon the announced stock and cash purchase of rival insurance company Alterra (NASDAQ:ALTE), at what was then a 34% premium sent MKL's own shares plummeting.
At Friday's close of $430.98 Markel is now available at the same nominal price as it was 4 ½ years ago. That comes despite a major increase in its asset value since then.
Markel's management thinks they can improve on ALTE's performance while eliminating redundant costs. The acquisition price is not overly generous in relation to Alterra's book value.
Those with faith in Markel might wish to take advantage of the greater than $71 pull-back in price. It's likely that Markel's book value will continue to increase over time.
A reflation of Markel's share price could get an extra kick if its P/BV regresses towards historical levels.
The prospects for a future expansion of MKL's P/BV would appear to outweigh the chances of a further contraction.
Merkel's Price to Book Value ranged from a low of 142% to a high of 255% during the entire period from 1996 through 2007.
Markel's low post-recession valuations were the outliers. That trend had been steadily reversing until the news of the Alterra merger drove the price down, perhaps via arbitrage selling.
Investors who took positions the last three times sharp sell-offs occurred were all well rewarded. This time should be no different for those with a reasonable (12 - 18 month) time horizon.
Disclosure: I am long BRK.B, ORCL, KO, WAG. I wrote this article myself, and it expresses my own opinions. I am not receiving compensation for it (other than from Seeking Alpha). I have no business relationship with any company whose stock is mentioned in this article.
Additional disclosure: I may initiate a position in Markel over the next 72 hours.