One of my late father's favorite sayings was "Life is like a pendulum. It swings too far to the left, it swings too far to the right and it is rarely in the middle". I am reminded of my dad's folksy wisdom when I look at the performance of gold mining stocks over the last two years. Despite a nice rise in gold prices over the last 24 months, gold mining stocks are actually down over that time period and have underperformed the actual gold price by some 40% (See Chart).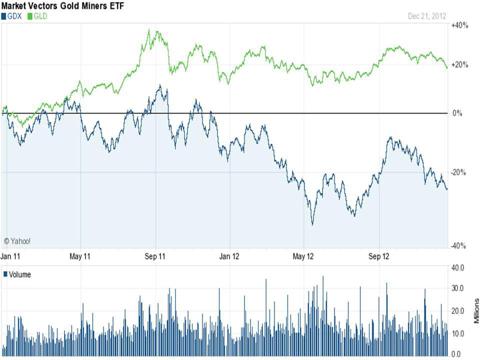 There are a variety of reasons for this underperformance. The main ones are inflation in mining costs due to higher energy costs and escalating worker demands. Strikes and governments demanding a bigger piece of the pie despite existing contracts have also not been helpful. This presents a dilemma as a lot of gold mining stocks seem cheap from a valuation perspective and have a long way to go to catch up with the price of gold. On the flip side, the factors that have driven margins down could continue to persist. One tailwind could be an increasing price for gold over the next two years due to the massive expansion of central banks' balance sheets around the world.
I want to make a bet that gold mining stocks "revert to the mean" and catch up some to the current and potentially escalating cost of gold. At the same time, I want to limit my downside should the miners continue to face increasing cost inflation. I am going to do this with long term call options on two undervalued gold stocks outlined below.
Barrick Gold Corporation (NYSE:ABX) produces gold and copper from 27 operating mines in North America, South America, the Australia Pacific region, and Africa.
Valuation: ABX is dirt cheap at under 7x forward earnings and provides a 2.4% yield as well. Analysts also expect revenue to jump more than 15% in FY2013 and have a median price target on the stock of $49 a share.
Option Strategy: The stock looks like it has some sort of technical support here (See Chart) so I am going to buy the Jan 2015 40 calls for around $5. If the stock reaches its current price target or gets back to the $55 level it was traded at just a little over year ago; I will make a substantial profit of 80% to 200% (Using the $49 price target and previous high of $55 as parameters). My downside is limited to my $5.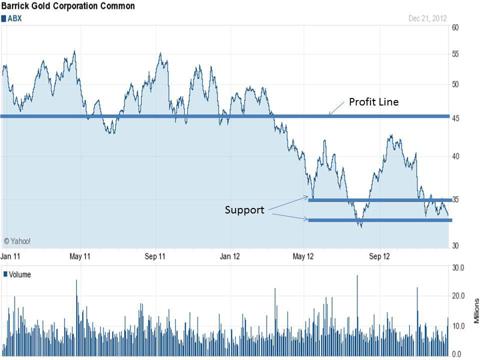 Goldcorp (NYSE:GG) develops and mines gold, silver, copper, lead, and zinc from its properties in the United States, Canada and Latin America.
Valuation: GG goes for less than 12x forward earnings, has a five year projected PEG of less than 1 (.95) and pays a dividend of 1.5%. Analysts also expect revenue to jump almost 30% in FY2013 and consensus earnings estimates for both FY2012 and FY2013 have risen over the last three months. The 21 analysts that follow the stock have a median price target of over $57 a share on GG.
Option Strategy: The stock chart looks very similar to the one on ABX (See Chart). I also like the Jan 2015 40 calls on this stock. They go for around $5.50. If the stock reaches its current price target over the next two years, I will get a better than a 200% return on my investment. My downside is limited to my $5.50, so this sets up as a good risk/reward bet with a long time frame.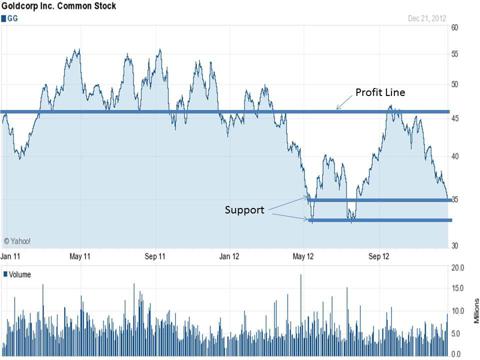 Disclosure: I have no positions in any stocks mentioned, but may initiate a long position in ABX, GG over the next 72 hours. I wrote this article myself, and it expresses my own opinions. I am not receiving compensation for it (other than from Seeking Alpha). I have no business relationship with any company whose stock is mentioned in this article.