One year ago today I published a list of 10 stocks that I believed would do better than the broad market in 2012. The article appeared on Marketwatch.com in the Trading Deck section. Here is a link to that article. The stocks I selected are shown in the table below.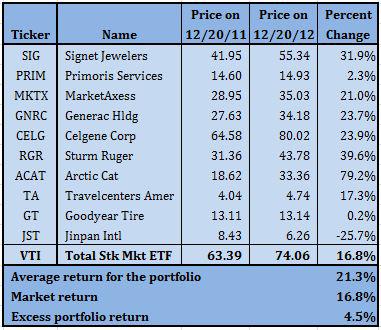 The results are in, and the list did in fact beat the market (as measured by VTI, the Vanguard Total Stock Market ETF) by 4.5% or 450 basis points. That's not bad, considering the following.
I am not an expert stock picker. In fact, I discourage my clients from trying to beat the market by picking individual stocks. I believe in building diversified portfolios that cover many different asset classes, and then rebalancing periodically. So why did I go on record with a list of stock picks?
One reason is because my clients wanted me to. I think it's just part of human nature to speculate about which stocks will go up and which will go down. Even though I discourage people from participating in this kind of gambling, I recognize that it's part of our culture.
So I devised my own stock picking methodology in a way that remains true to my philosophy of using critical thinking and statistical analysis. I came up with a 3 factor screening model that utilizes very different approaches to the task of price prediction. The three screens are Zacks earnings estimates, VectorVest fair value and price momentum, and Thomson Reuters consensus analyst forecasts.
By looking at these three very different valuation and prediction methods, I can feel confident that I'm not just falling in line with mainstream thinking. It's very Bayesian. Start with earnings estimates, surprises, and revisions from Zacks. Then take the best names from that screen and look for price momentum and fair value estimates, and finally take a poll of the entire analyst community to see which names have the best professional sponsorship with institutional investors.
What you end up with is a short list of stocks that have a higher than average probability of performing well over the next 12 months. So without further ado, here's my list of stock picks for 2013.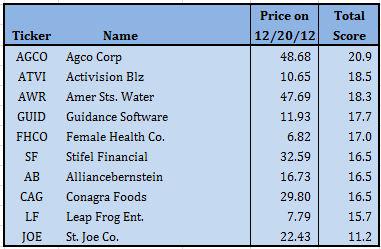 Keep in mind that these picks are the result of a mechanical process of screening, not fundamental analysis. If you plan to use this information in your own stock selection process, make sure that you do your own due diligence before pulling the trigger.
Disclosure: I am long FHCO for myself and my clients.. I wrote this article myself, and it expresses my own opinions. I am not receiving compensation for it (other than from Seeking Alpha). I have no business relationship with any company whose stock is mentioned in this article.