As we wind down another year, and look ahead to 2013, it's time to step back and take a little bit of a longer term view of where we have been, and consider where we might be going in the coming year. Once again I will refrain from making predictions on the coming year, which to me are little more than educated guesses, but will share with readers my thoughts on positioning based on trends that I see developing as the current year draws to a close.
Looking Back: We've Come a Long Way
Stocks: We are nearly four years into the current stock market cycle that began in March 2009, with the S&P 500 up 114% since the bottom. I do not define market cycles by regular periods of time (years, decades, etc.) as they are somewhat artificial. Instead I define them as periods between major market tops and bottoms. Having said that, four years is getting a little long in the tooth. We have seen longer lived bull markets, for example in 1995-99 and 2003-07, but historically they are not very common. The current bull is showing signs of getting tired, but some reasons for optimism remain. Heading into 2013, here is what I like:
Small caps are outperforming large caps
Emerging market stocks are outperforming U.S. stocks
Bank stocks are outperforming the broad indexes
It is difficult to be bearish when you see trends like those. If there was serious risk aversion in the global markets, we would not be seeing any of them in the data. Having said that, there are some things I don't like:
Volatility is picking up; whether investors are hedging fiscal cliff fears, or something else, vol is vol and it makes me a little uneasy
Economic data point to economies in the U.S. and the developed world that are struggling to create growth
The eurozone still gives us reason to be cautious, because they really haven't solved the structural problems and the banking system remains fragile
On balance we remain about 90% invested in the equity portfolio. What we want to see in 2013: new highs on the major U.S. equity indexes. As I look at some of the longer term charts of those indexes I see the ominous picture of double and triple tops, and current price plots that are starting to lose upward momentum as they approach those previous highs. The longer we remain under the old highs, the more vulnerable we are to a significant correction.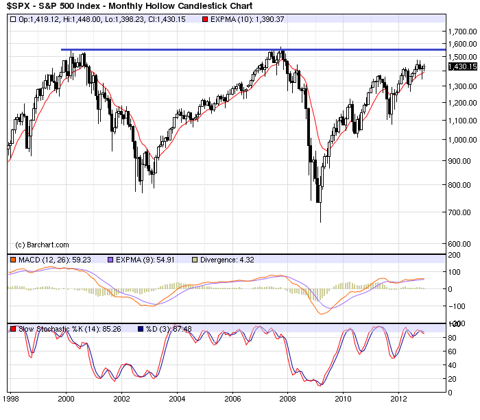 Bonds: Over the course of this market cycle we have observed a massive rotation out of equities and into fixed income. Combined with central bank activity in the markets, that re-allocation has driven yields to all-time lows. This has made for a very crowded bond trade, and a number of prominent money managers have expressed a negative outlook on the bond market in general. I have tended to be more sanguine, and periodically over the course of the last couple of years have rolled out a long term chart of the yield on the U.S. Treasury 10-year note just to lend some perspective.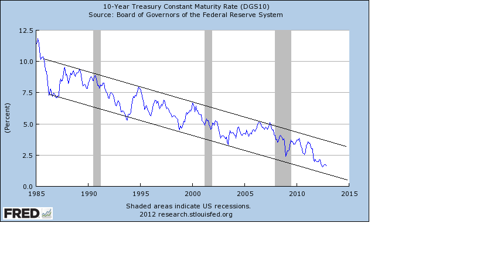 We remarked about a four year equity bull market perhaps showing its age. Investors understandably ask, what about a four decade bond bull? It is a fair question, and perhaps impertinent to answer it with another question, but…what is going to break this long trend? In the short term yields look like they are putting in bottoms, and major bond ETFs are showing technical weakness, but looking at the bigger picture, here are the major points I see:
Global growth is slow, and austerity budgets in various forms remain on the agenda in the U.S. and in Europe - Japan looks like it could be the outlier here.
The private sector de-leveraging process coming out of the last decade's debt bubble is ongoing
Inflation continues to be tame (a controversial point to be sure), even if the threat of deflation has receded, and there is some probability that the commodity boom is winding down
On balance we have been gradually and tactically reducing our fixed income holdings across the board, even in our income portfolio, but not because I believe the old bond bull will be broken in 2013. It is rather because yield has become difficult to find and prices are unattractive in fixed income. The Fed has been quite open about pushing investors away from "safe" assets. We are responding as they intended.
Commodities: Regular readers of my articles know that I turned negative on commodities months ago. That is not the view of a commodity futures trader, but of a portfolio manager who uses commodity ETFs in asset allocation. Looking at the broad commodity indexes in both shorter and longer term time frames, they are showing continuing weakness with a series of lower highs since the 2008 blowoff top. We maintain, as we have for some time, a small allocation to gold, but the rest of our commodity positions were liquidated long ago.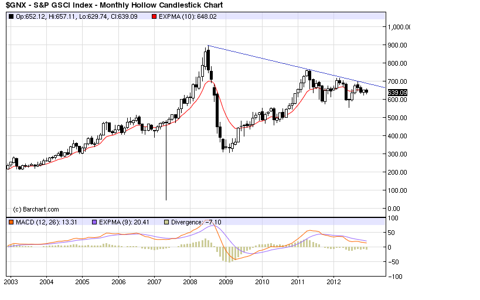 Looking at the prospects for commodities in 2013, I see the same weak macro factors at work that were listed in the discussion of bonds, with one added element: a strengthening U.S. dollar. After all the analysis is done, one thing the commodities cannot stand in the longer term is a strong dollar. Those who don't subscribe to the idea that the dollar has put in a major bottom, and will strengthen in the coming year, may disagree with my outlook for commodities. Indeed, I am not committed to it either; the market will tell us whether it is right or wrong, and we will re-position accordingly.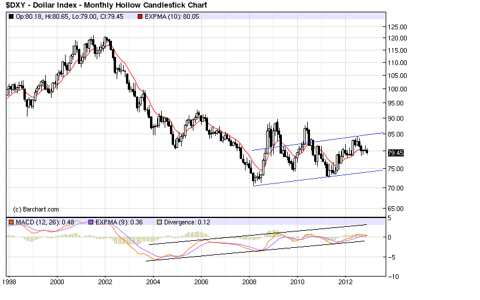 As a last word on this, I remain a dollar bull because I continue to view the U.S. as the strongest and most dynamic economy in the world, as a place where people from around the world - like my parents and my wife's father did years ago - aspire to make a home for their families. A place where people go to be educated, to start businesses, to find opportunity, peace and freedom. All of it is relative of course; we have our problems, and my glasses are not rose colored, but for the most part I remain bullish on my adopted home county.
In summary, my outlook going into 2013 is:
Stocks: positive
Bonds: neutral to slightly negative
Commodities: negative
Looking Ahead to the New Year
I will be introducing a slight change in format for my articles and a new direction in 2013. The weekly full review and commentary on the four major asset classes will be replaced by a summary of outstanding positive and negative developments I saw in the prior week, and brief comments. The reason for this change is that readers can get high quality market reviews and extended commentary from any number of sources, including several fine authors right here are Seeking Alpha.
My intention is to add more value by providing actionable ideas for self-directed investors in a new blog that will be launching in the coming days. It will follow two different strategies: a tactical ETF rotation model, and a long and short S&P 500 model. They will be provided free of any charge for the foreseeable future.
In the coming days I will provide a link to these strategies on my Instablog here at Seeking Alpha. I would like to take this time to thank my readers, and the staff and editors at Seeking Alpha, for all of your support. I wish all of you the best of the holiday season, and a joyous, peaceful and prosperous New Year.
Disclosure: I have no positions in any stocks mentioned, and no plans to initiate any positions within the next 72 hours. I wrote this article myself, and it expresses my own opinions. I am not receiving compensation for it (other than from Seeking Alpha). I have no business relationship with any company whose stock is mentioned in this article.